UEFA Euro 2008 Austria-Switzerland
Make or break for England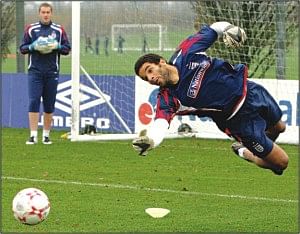 John Terry gave England a boost ahead of their make-or-break Euro 2008 qualifier against Croatia when he returned to training with the rest of the squad here on the eve of the match.
The England skipper has been sidelined by a knee injury since mid-October and, because of his lack of match practice, is not expected to play any role in the final match of the qualifying campaign, in which his side require a point to secure their passage to next year's finals.
As well as missing Terry, England will be without fellow central defender Rio Ferdinand on Wednesday because of suspension while strike duo Michael Owen and Wayne Rooney are ruled out by injuries.
With Peter Crouch expected to play as a lone striker, manager Steve McClaren's main selection dilemmas concerned the issues of whether to replace his first-choice goalkeeper Paul Robinson with the in-form Scott Carson and whether to retain David Beckham in the starting line-up.
Beckham looked off the pace in Friday night's friendly win in Vienna but it was his ability with a dead ball that allowed Crouch to head the winner from a corner and the 32-year-old's experience of big-pressure matches could ensure he keeps his place at the expense of Shaun Wright-Phillips.
Fit-again Manchester United midfielder Owen Hargreaves is expected to return to the side to provide a shield for a central defence in which the inexperienced Joleon Lescott is set to partner Sol Campbell.
Peter Crouch believes he can fire England to Euro 2008 as long as David Beckham is given the chance to supply the ammunition.
Steve McClaren must decide whether to keep faith with Beckham in England's decisive showdown against Croatia on Wednesday after the midfielder's lethargic display in Austria last week.
Beckham has hardly played for LA Galaxy this season after a series of injuries and McClaren could opt to bring in Shaun Wright-Phillips for the former Manchester United star.
But Beckham can still present a persuasive case to win his 99th cap.
Despite his lack of match fitness, he delivered the corner that led to Crouch's headed winner in Vienna. And he has plenty of experience of this kind of crunch match, with his last-minute free-kick against Greece that booked England's passage to the 2002 World Cup still a vivid memory.
Crouch is convinced his best chance of scoring the goals on Wednesday that would make him an England hero lie with Beckham.
"He's still one of the best at delivering from set-pieces or out wide, so for someone like me who scores the majority of my goals from crosses he certainly a player to have," Crouch said.
"He's a fantastic player for me. The last time I started for England against Estonia he created a goal for me.
"With someone like him, I just know I need to get into the box because, given half a yard, he is going to whip a cross in. An early cross is perfect for me and David always provides that."
Injuries to Michael Owen and Wayne Rooney have left Crouch to shoulder England's attacking responsibilities. It is a challenge he is relishing.
After several years as a figure of fun in the English game, the giant forward's record of 13 goals in 23 internationals has earned him respect but now he wants to be the main man.
"It's exciting for the players who are picked on Wednesday," he said. "They will have a huge chance to be a hero and put England through to the tournament.
"It's something you dream of. It would be nice to be remembered for the sort of goals that Michael Owen scored in the World Cup or David Beckham against Greece.
"Apart from a silly dance there's been a few great moments. But I haven't had a chance to play in a defining match when we can get to the finals. When given the chance I'm sure I'll be capable of doing that."
Under Sven Goran Eriksson England were serial quarterfinalists in major tournaments but, if they do make it to next year's finals in Austria and Switzerland, Crouch has no doubts McClaren's team can win the competition.
"We've got good enough players. It's time to show how good we can be," he said. "We all believe we have the capabilities to win it and there's no reason why we can't."
While Joe Cole hopes to spend next June and July helping England live up to Crouch's boast, the winger is ready to send his Chelsea teammate Tal Ben Haim for a more low-key holiday.
Cole promised to pay for Israel defender Ben Haim's vacation if his country did England a favour by beating Russia on Saturday.
Ben Haim duly obliged and Cole has lined up a trip to one of England's less glamorous seaside resorts. He said: "Yeah, I've got him a few brochures for Clacton-on-Sea. He'll have a great time.
"Seriously, I'm a man of my word. It started off as a joke, and he'll probably say I don't have to do that, but I'll send him and his wife somewhere nice. I'm sure we can cut a few corners!"