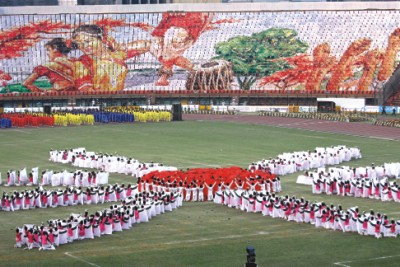 The 11th South Asian Games got underway with a dazzling opening ceremony at the Bangabandhu National Stadium yesterday with thousand of athletes and performers taking part in the three-and-a-half hour programme.
Prime Minister Sheikh Hasina declared the 12-day regional sports extravaganza open. Bangladesh had hosted the event in 1985 and 1993.
The colourful opening ceremony started with the march-past led by Afghanistan and completed by host Bangladesh with huge cheers and fanfare from the invited crowd.
Commonwealth Games gold medal winning Bangladeshi shooter Asif Hossain Khan hoisted the red and green flag to lead the 453-strong Bangladesh contingent.
A total of 1,793 athletes including 478 women from eight participating nations will fight for 156 gold medals in a record 23 disciplines that would see three fresh ones--cricket, golf and handball--included for the first time in the 27-year history of the games.
Renowned singers Sabina Yasmin, Andrew Kishore and Shuvro Dev sang the welcome song riding on a caravan along the athletic track of the big bowl and Bangladesh football team's captain Aminul Haque and Bangladesh's fastest woman Nazmun Nahar Beauty conducted the oath taking ceremony.
Following the games declaration of Prime Minister Sheikh Hasina, thousands of balloons and pigeons were released to symbolise peace. Legendary footballer Kazi Salahuddin kindled the torch of the games.
Finance Minister AMA Muhith, also the chairman of the organising committee of the games, urged the athletes to uphold the spirit of modern Olympic movement "faster, higher, stronger" in his welcome speech.
"Participation itself is more important than triumph, this is what we believe and we have organised this games with that inspiration in mind," said Muhith before the prime minister pronounced, "I declare the meet open".
It was a night to remember for the nation as they watched some dazzling performances from some 7,500 performers from schools, colleges, Bangladesh Army and Ansar and VDP as well as aquatic and laser shows and intense fireworks.
Performers upheld Bangladesh's rural life, festivity, culture while 600 Santals portrayed their struggle for freedom from the British colonial regime with a play titled "Nacholer Rani".
The most exiting part of the opening ceremony was, however, the aquatic and laser show which impressed everyone including foreign journalists and guests. The historic speech of Bangabandhu Sheikh Mujibur Rahman on March 7, 1971, and George Harrison's famous song "Bangladesh" was played and displayed through the aquatic and laser show.
In a quest for spreading out the games and generating enthusiasm among people, some of the events have been placed at divisional headquarters Khulna, Sylhet, Rajshahi and Chittagong. Khulna and Sylhet will host cycling and wushu while a few matches of football and cricket will be held in Chittagong and Rajshahi.