Actor Black Anwar passes away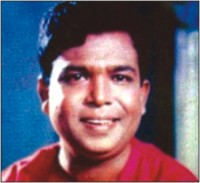 Actor Black Anwar is no more. The artiste passed away on November 10, following cardiac arrest, says a press release. He was admitted at the National Hospital and was later taken to Birdem, where the doctors declared him dead. He was 67.
Black Anwar was born on July 10, 1941 in Sutrapur, Dhaka. His father's name is Sona Mian, who was also an actor. His debut film was Shuorani Duorani. Over the decades Anwar had acted in numerous films, TV plays, stage plays and TV commercials. Known primarily for his comic roles, the artiste was a familiar face to the audience. His roles in Onotoprem, Oshanto Dheu, Shakkhi, Shoth Bhai and more earned him popularity. His last film was Kabuliwala.