A nation should never stop to think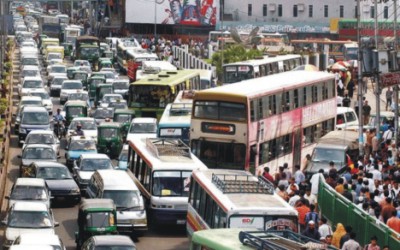 The traffic situation in Dhaka city is deplorable, worsening at the rate of (they say) 100 new cars on the road per day, is an understatement. In reality, it now takes over two hours to get from, say, Gulshan 2 to Dhanmandi Russel Square. That is what I experienced last week. I was not walking for sure. There are of course worse scenarios and every one has a tale to tell, what with hours of waiting at the end of a long tail.
The reasons for the awful circumstances which have developed over the past decades, not suitably tackled by successive governments, include the city having half the required road area, encroachment of available roads by business people and residents, rampant violation of traffic rules, illegal conversion of basement and other parking area, manual control of traffic when electronic lights are in place and working, inability of traffic police to employ punitive measures against errant drivers.
In view of the above sufferings to the common man, the government, over the last few years and more so the past few months, has delved into the matter, drawn up mega plans, conducted years of studies, and now stepped forward to implement different forms of mass rapid transit (MRT).
The common conception, and the line the government has chosen based on extensive research and brainstorming, is that Dhaka will have underground and above-ground conveyors to move people within and through the city, one of the largest by population in the world.
This is where Urban Planner Dr. Mohammad Shakil Akther steps in with an alternative idea countering the common belief.
Considering that the MRT will have to be achieved at a huge cost, and many years of undertaking, every opinion is valuable, even if some may be rejected after analysis.
The positive in the negative bearing of today's piece is that some of the thoughts may yet be incorporated in the final plan.
A nation should never stop to think, even if a decision has been made.
The author is Consultant to the Editor on Urban Issues, and National Commissioner, Bangladesh Scouts