Making public toilets work - part I
An assessment of public toilets in Dhaka city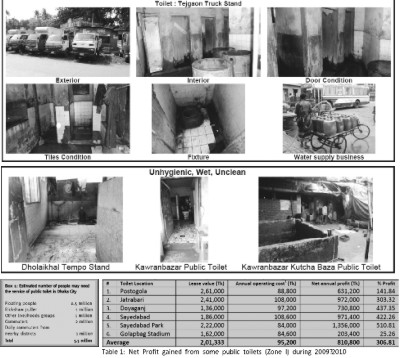 Public toilets matter to everybody. They have huge public health implications. Unfortunately, this issue remained under-focused until now in the policies and the programmes. As an inevitable consequence, urinating and defecating in open have been usual in the cities and towns of the country. This study on public toilet conducted by Centre for Urban Studies in collaboration with WaterAid in Bangladesh focused on Dhaka City's public toilets. Detailed and systematic assessment were made on the existing situation of this important service in terms of volume of the needs, existing service volume and quality; operations, maintenance and management system; and regulatory framework especially roles of responsibilities of different agencies. Based on these, several policy recommendations have been formulated. This report presents a summary of the findings and recommendations.
The context
Dhaka, the capital of Bangladesh, is the city with the highest population growth in the world. With its current population of more than 14 million, and with its current growth rate of over three per cent, Dhaka bears the distinction of being the fastest-growing cities in the world. Nearly half a million migrants flow into Dhaka each year to try to make a living in the city due to various push and pull factors. If this trend continues, predictions show that by 2025, Dhaka will be home to more than 20 million people1 larger than Mexico City, Beijing or Shanghai.
Dhaka accommodates more than one-third of the total urban population and about nine per cent of the total population of the country in an area of 797 sq km.2 Population density, therefore, is extremely high with 27,700 people living per square kilometre. Although, the average income is high in Dhaka, in absolute terms, a large number of people remain poor. An estimate suggests that the poverty headcount rate was around 32 per cent in 20063 in Dhaka City.
Slums house nearly one-third of all residents of Dhaka and they continue to absorb most of the new migrants every year.4 Additionally, about one million people are assumed to be living in the city who do not have a particular place to live in. They are considered to be floating population living in stations, parks, market places, etc in the city.
With this massive influx of population which already poses challenges of overcrowding, pollution, poverty and overtaxing services, in absence of any planned development, the situation has already become unmanageable. Disaggregated data is not available for the Dhaka city. However, an estimate done in 2001 shows that about one-third of the total population of Dhaka city does not have access to any sanitation facilities. They defecate either in roadside drains or other open places. Since there has not been any major development project, it is likely that this situation has worsened by now.
On the other hand, a very conservative assumption shows that at any time point during the day, about two to three million people stay on the streets for managing their livelihoods and other daily necessities. An estimate shows that the number of rickshaws in Dhaka Metropolitan City in 2000 was about 280,0005 and it is very likely that this number has doubled in 10 years. If it has been so, then the total number of people involved in rickshaw pulling alone is about one million who spend, on an average, more than five hours a day on the streets.
In addition, according to different newspaper sources, more than one million people travel to Dhaka City every morning from the neighbouring areas such as Narayanganj, Tongi, Gazipur, Munshiganj and other places in connection with work, and return home in the evening. Therefore, in absence of any systematic study, a rough estimation suggests that about five and a half million people stay outdoor in the city for an average of five to eight hours a day for different reasons.
There is no doubt that this huge population needs the service of public toilet facilities to meet their demand. Unfortunately, the issue of supply and demand of this important facility in Dhaka City has not been studied comprehensively and drawn attention of the policy makers. Centre for Urban Studies conducted a study on the public toilet system of Dhaka in 2007 which could not be disseminated properly due to the then political and aftermath situation. Based on the learning of the study of 2007, there were needs to update and expand the scope of the study to comprehensively capture situation of different types of public toilets and understand their regulatory framework. It is in this context, the Centre for Urban Studies in collaboration with WaterAid in Bangladesh conducted this study on the situation of public toilets in Dhaka City to inform the policy and the programmes.
Methodology
The scope of this study includes all the available types of public toilets in the city. The study has collected information and provided an analysis of the issues relevant to assess the existing situation, implementation mechanisms and pitfalls, policy relevance and policy constraints, users' opinions, and identify future growth potentials. The Centre for Urban Studies conducted a feasibility study on the public toilets in Dhaka City in 2007. The findings of that study have been updated by this study and used for analysis. In addition, the scope of this study was expanded to include other types of toilets available in the city which, to some extent, function like public toilet. Therefore, four different types of 'public toilets' were studied in this study.
A. Public toilets (open access):
These are constructed and leased out by Dhaka City Corporation (DCC). These toilets remain open almost 24 hours and are meant to be used exclusively by the general public. All the DCC-constructed toilets were surveyed in the study.
B. Public toilets in markets:
These are the toilet facilities constructed by the DCC (in case of the DCC-owned markets) or other market authorities (private or company-owned). These facilities only remain open during the shopping hours and provide services for the people who use the markets. In this way, these toilets are not 'open access public toilets'. A sample survey of 23 markets with public toilets was conducted in the study.
C. Public toilets with restricted access:
These are the toilets located in places and constructed by the different independent authorities where use is restricted. Such places are the religious institutions (e.g. mosques), government offices, stadiums, community centres, cinemas, hospitals, clinics, educational institutions, parks and recreational places, filling stations, inter-city bus terminals, inland water transport terminals, etc.
D. Public toilets for special occasions (mobile and temporary):
These types of toilets are constructed or arranged temporarily (such as mobile toilets), mostly for public occasions or fairs, for example, Boishaki Fair, Plantation Fair, Trade Fair, etc, and/or for political party gatherings. In addition to detailed survey and observation of the toilets of the above-mentioned categories, information was collected from different authorities to identify their institutional roles in and responsibilities for public toilets.
Key findings of public toilets
Open access public toilets are the facilities constructed by the Dhaka City Corporation (DCC). They are leased out to the private operations who are selected through a competitive bidding process. These private operators are mainly responsible for day to day operation and maintenance and DCC supposed to play the role of monitoring and supervision. These toilets should ideally remain open for public use 24 hours a day. This study identifies that a total of 69 such toilets were constructed in the city, of which 36 were constructed under the Urban Primary Health Care Project (UPHCP) and later on handed over to the DCC. Out of this small number of toilets, two have already been demolished because they were constructed blocking the existing footpath. This study further shows that out of 67 physically present public toilets, 10 were not operational at the time of the study.
Operational status of the toilets:
The study findings suggest that out of 67 toilets which are physically available, only five (8.78%) are fully operational meaning that all facilities such as urinal, washing, and toilets facilities are available with basic standard. In most other cases, toilets are partly operational, which means that some of the essential facilities do not exist in those toilets. Most strikingly, 10 out of 57 or 17.54 % physically available toilets are not at all in operation, meaning that no other facilities than the physical structure are available in those toilets.
Physical condition of the toilets:
The physical condition of the toilets which are fully or partly operation is not very good. Only four (8 per cent) toilets were observed in good condition and more than half in non-usable condition. The table below presents the details of the physical condition of the toilets. The assessment further suggests very unhygienic condition of the apparently operational toilets.
Gender appropriateness of the toilets:
Out of the 47 toilets which are currently operational, most (74%) do not have any separate provision for the women to use the facilities. On the other hand, those toilets which have separate provisions for the women are not in very good condition (in terms of cleanliness, hygienic conditions, etc), thus limiting the use to the women. Out of 60 caretakers only 2 were found to be female which is a serious limiting factor for women's use of public toilets. If this is taken in account the gender appropriateness of public toilets will reduce further.
Security situation in the toilet surroundings:
Personal security is an issue of particular concern for the users in deciding whether to use a public toilet. This was difficult for the study to assess. However, given the surrounding environment of the toilets, the locations of about 39 per cent toilets are not very secure, particularly after dusk.
Further, the toilets do not provide any security facility such as lockers to keep the users' personal valuables secure. Most importantly, if, for example, the case of a rickshaw puller or a street hawker is considered, there is no provision in any of the public toilets to keep his rickshaw or business items in secure positions while they use toilets. This single reason could be the vital one which prevents millions of people from using public toilets. They inevitably use open spaces.
Cost of toilet use:
As per the provision, there is cost involvement in using a public toilet. However, the cost of use varies significantly. As per the agreement between the DCC and the operating body, the cost should be ranging from Tk 0.5 to Tk 2 depending on the nature of use but the study observes that in practice, this varies from Tk 2 to Tk 10 depending on type of use, irrespective of the users' economic condition. It is very likely that the provision of "cost for use" prevents a large number of people from using the available public toilets in the city. On the other hand, the lack of oversight allows the leaseholders to generate extra income violating the lease terms.
Availability of water and light in the toilet:
While the overall situation of the public toilets in the city is so unsatisfactory, it was not very surprising to find that three out of the 46 fully or partially operational toilets do not have any water connections at all. Out of the remaining toilets, more than half do not have any regular water supply. Only 43 per cent toilets have regular water supply. Only 20 per cent toilets have functional lighting facilities. Six toilets (10 per cent) do not have any functional lighting system at all while the remaining 70 per cent have insufficient lighting facilities.
Toilets being used for other purposes:
The study observed that majority of the toilets (70 per cent) is used for other purposes such as washing cars, selling water, etc, in addition to toilet service. A number of toilets were used for people to sleep over night, some toilets used as wear-houses for their leaseholders' other business and some sub-leased for shop keeping. Only 14 toilets were found providing exclusively toilet services to the users.
Despite the fact that most of the public toilets are used for other purposes, they have never faced any challenge against such deviations. This also signifies the poor state of the existing oversight mechanisms with regard to this important service delivery.
Toilets under litigation:
This study identifies that out of the 57 open access public toilets in the city, 18 have been under litigation. There is more than one case against some of the toilets which are under litigation. In most instances, cases have not been disposed for a long time for unknown reasons. Thirteen out of the 24 cases have been pending for more than four years. This surely helps the operators of the toilets financially. The DCC, on the other hand, is losing money. The study has detected that only for the six pending certificate cases, the DCC is to receive Tk 99,86,651. This amount is increasing over time. The ultimate result of this is that the general people for whom the toilets are built are not getting any benefit.
Revenue generated from public toilets:
This study has made an attempt to review the income earned by the government (DCC) using the existing system whereby toilets built by the corporation are leased out in a competitive bidding process to the private operators for operation and maintenance. However, the findings of this study suggest that this system is not very efficient in terms of operation and maintenance as well as achieving the intended objectives of the provision of public toilets in the city. The table below presents the overall situation of revenue generated through the existing system which shows that on an average, the corporation received about Taka 200,000 annually from each of the public toilets it constructed and leased out to the private operators. On the other hand, on an average, each of the private operators earned a net profit of about Taka 800,000 which is 307 per cent more than what they have invested. In all the cases, most part of this revenue has been derived from the activities like the selling of water and the washing of cars.
In calculating the expenditure, the average bills for water, sewerage and electricity are considered. However, in the current arrangements and practice, bills are issued in favour of the DCC. The DCC sends the bills to the respective leaseholders for payment but since bills are not issued to them, the operators take the chance and do not pay this bill.6 As a result, as the study has found, the overdue bills for water and sewerage account for more than Tk 10 million. Further exploration suggests that a similar situation is in practice in the case of electricity bills, however, the actual overdue amount could not be determined. If the overdue bills are taken away from the calculation of expenditure of toilet operation in the city, net profit should increase even to a much higher level.
The study, therefore, concludes that profit maximization, in an absence of a functional and effective monitoring and supervision system, led the operators to make money otherwise undermining their lease agreement. The study has observed that the DCC has not received money for the toilets under litigation although the operators are making money out of them. On the other hand, the operators are not paying the water, sewerage and electricity bills which in the existing system are issued in the name of the DCC.
It is, therefore, important to rethink about the whole policy agenda of leasing out public toilets to the private operators on a leasehold basis for operation and maintenance. As this study shows that in a weak monitoring and supervision system through the administrative process, this does not produce any benefit for those for whom the toilets are built. Instead, only a small number of people (leaseholders) are getting benefits of these huge government investments.
(TO BE CONTINUED IN PART II)
1 United Nations Population Division: World Urbanization Prospects: the 2009 Revised Population Database. (http://esa.un.org/unpd/wup/unup/p2k0data.asp)
2 Statistical boundary of the Dhaka City.
3 Sammerai, S. A., 2007, Changes in employment in Bangladesh: the impacts on poverty and gender equity. A background paper for Bangladesh Poverty Assessment. South Asia Region. The World Bank.
4 Islam, N. 2005. Dhaka now: Contemporary Urban Development, Bangladesh Geographical Society, Department of Geography and Environment, University of Dhaka.
5 http://www.economicexpert.com/a/Rickshaw.htm
6 Leaseholders had to deposit Tk 50,000 as security money with DCC. Some leaseholders mentioned during the interview that bills are adjusted by DCC against this security money. However, this is not the purpose of keeping the security money. In many cases, it was found that the overdue bill amounts exceed the amount of security money
kept by the DCC.