World Pneumonia Day
Combat pneumonia, help children struggling to breath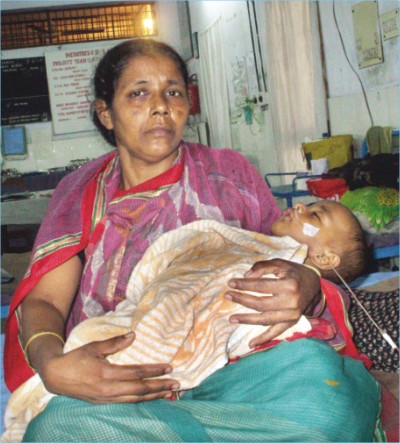 "The objective to mark the World Pneumonia Day is to reduce the gap in the availability of vaccines and other treatment supports between developed and developing countries. Policy makers should consider preventive measures as the right of the children rather than privilege."
Dr Samir Saha,
Executive Director of Child Health Research Foundation
Every 15 seconds, pneumonia claims another child. It kills more than 2 million children under 5 each years old — more than measles, malaria, and AIDS put together. Still, Pneumonia is the single biggest killer of children in the developing world. But prevention strategy and treatment facilities are yet to provide at standard level. In order to draw proper attention to this major neglected threat World Pneumonia Day will be observed for the first time on November 2.
Pneumonia is an inflammation of lungs, usually caused by infection by bacteria, viruses, fungi or parasites. However, numerous conditions, including malnutrition and systemic illness, can lower the normal protection and allow harmful organisms to invade our body's defense.
The lungs become inflamed and filled with fluid, leading to the difficult breathing that characterises many types of pneumonia. Children have nascent immunity and much prone to develop pneumonia. Childhood pneumonia is more dangerous and it is our main concern.
The bacterial pathogen, severity of the disease, and age of the patient may cause substantial variations in the presentation of acute bacterial pneumonia. Infants may have fever, cough, difficulty in breathing, running nose, excessive crying, restlessness, difficulty in feeding. If any child vomits everything, becomes unconscious or has convulsion than then it needs immediate hospitalisation. The mortality of these children is very high.
Treatment of suspected pneumonia is based on the presumptive cause and the clinical appearance of the child. For mildly ill child who do not require hospitalisation, oral antibiotic is recommended. Ironically only 28 percent children get antibiotic during pneumonia in Bangladesh. Some antibiotic are resistant to microorganisms that cause pneumonia. Some are costly for poor people of Bangladesh. So it is better to prevent pneumonia than treat.
Handwashing can help a lot to reduce the spread of germs and diseases. This is a simple and inexpensive way to help protect children from pneumonia. Zinc is an important micronutrient that has been found to prevent child pneumonia and reduce the risk of death from pneumonia. Undernourished children may need inexpensive zinc supplements for their growth and make up the lack of zinc in their diets. Zinc supplementation can reduce that rate of pneumonia in children by 14 to 25 percent.
Babies born with a low birth weight are at risk for pneumonia, other health problems and even death. Low birth weight is related to the health and nutritional status of mothers, so should be maintained properly.
Exclusive breastfeeding during the first six months of life is one of the best ways to protect children from pneumonia and many other diseases. Exclusive breastfeeding can reduce the rate of pneumonia among young infants by 15 to 23 percent.
Malnutrition weakens children's immune systems. It also weakens their muscles, making it more difficult to cough and breathe if they become sick with pneumonia. Undernourished children are at higher risk for illness and death. So it is critically important that all children receive good nutrition.
Indoor air pollution may be caused by many different sources, including cigarette smoking and the burning of biofuels for cooking in the poor urban and rural setup. Reducing indoor air pollution can help to protect children from pneumonia and other respiratory diseases.
Some diseases, like measles and whooping cough, can lead to pneumonia as a complication, so vaccination against these diseases should be ensured.
Haemophilus influenzae type b ( Hib) is an important cause of pneumonia. Government of Bangladesh has introduced Hib vaccine in its national immunisation programme. Improving immunisation coverage should be an imperative to ensure that each and every child receives these vaccines. Pneumococcal conjugate vaccines are used throughout most of the developed world to protect children from pneumococcal pneumonia.
The greatest tragedy is — most of these child deaths can be prevented through vaccines, early diagnosis and proper treatment with antibiotics. Integrated and multi-sectoral programmes are needed to save our child from pneumonia.
There are some policy issues that our stakeholders should prioritise. Vaccine to prevent pneumonia is part of the solution, and it is available now. We should not make delay for decision and proper action. We can NOT afford to miss the train of hope – the pneumococcal vaccine that could save millions of children every year from early grave. Time lost means lives lost. We must act immediately to help our children struggling to breath.