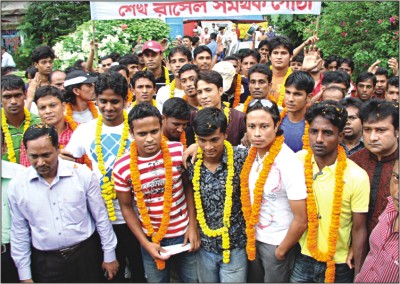 With a bunch of young booters, Sheikh Russel completed their players' registration formalities for the season yesterday.
The new powerhouse of country's football made a bold presence at the BFF Bhaban as near about hundred supporters chanted slogans during the registration of 21 players including three from the national team with a hope to become champions in the country's lone professional football competition: B. League.
Russel finished third last season and set a target to improve their standing despite the fact that they didn't rope in any big names to their tent.
Their coach Kamal Babu is even quite optimistic to clinch all football titles of the season.
"Sheikh Russel always forms the team with a target to become champions and there is no exception this time. I think we have got a good team to be successful in this season," hoped Babu.
"Our striking position is a bit weak, but this will be met by recruiting foreign players. Three Serbian players and one Ghanaian player are already practicing with us and we will pick them if we think they are good enough," he added.
Sheikh Russel however was excited at the inclusion of young Mohammedan goalkeeper Majharul Islam Himel.
"I think we have got a good player to stand under the bar," said Kamal.
Besides Himel, midfielders Emon Mohammad Babu and Mobarak Hossain Bhuiyan were the other two players who are in the national team squad. .
Russel kept faith with new faces as they included 16 new players in the 21-member squad and only five old players managed to continue with the club.
Asked why they dropped most of their old players, Kamal said: "This time, we wanted young and energetic players. So, we gave them the chance."
Players registered for Sheikh Russel: defenders Zahirul Islam, Aminul Islam and Raquibul Islam, midfielders Mobarak Hossain Bhuiyan and Rajan Mia (Sheikh Russel), custodian Mamun Kahn (Chittagong Mohammedan), defenders Ramjan Ali Mollah and Uttam Kumar Banik, striker Mohammad Yusuf and midfielder Khokon Das (Farashganj), striker Nurul Afsar, defender Mamun Mia, midfielder Emon Mahmud Babu and custodian Mohammad Sunny (new registration), defender Kamal Hossain, custodian Majharul Islam Himel, midfielder Maruf Ahmed and striker Mohammad Ronny (Dhaka Mohammedan), defender Shoeb Hossain Sunny (Abahani), midfielder Abdullah Al Parvez (Brothers Union), midfielder Aminul Islam Ripon (Rahmatganj).