Try upcycling with beautiful antiques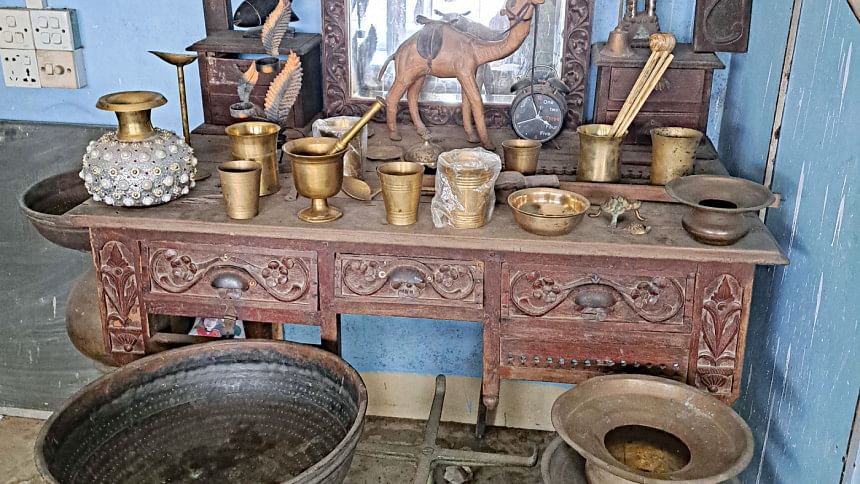 Bamunshur is a sleepy hamlet tucked inside the belly of the bustling Keraniganj. While many may hardly visit this part of the city outskirts, they might, however, cross this odd place while driving towards the Bosila river point from the popular Ati bazaar at the Keraniganj end.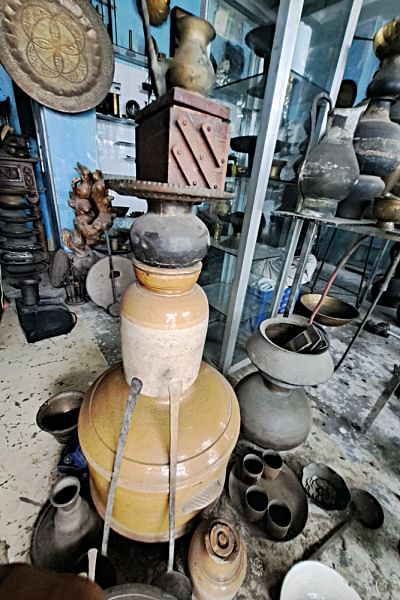 You can also venture from the Mohammadpur end till you reach Ati bazaar.
This unremarkable place has nothing to offer except an old antique store, almost hidden from public gaze.
The haphazardly piled copper and brass cauldrons on display will grab your attention for a few fleeting seconds.
But if you are a veteran in shopping for vintage items, you will know instantly that in this odd store, in the middle of nowhere, you have hit the jackpot – assuming, of course, old rusted, forgotten pieces excites your imagination.
Old bell metal, or kasha as it is colloquially known, used utensils, with the owner's name engraved on it; tea pots and chinaware dating back to the British rule that are stamped with Made in England or Holland labels; teak wood antiquated dressers and various sizes of cooking pots and other belongings of a lost generation are on display here.
They are, however, not stored carefully like in any normal antique shop; the place looks almost rundown. You have to really look for the treasure in the mess. The place does carry some fine vintage items, dating back roughly a hundred years or so, after the end of the British period.
Times are now leaned towards recycling and upcycling, so vintage or antique shopping has gained momentum among a niche group of enthusiasts, even in Dhaka.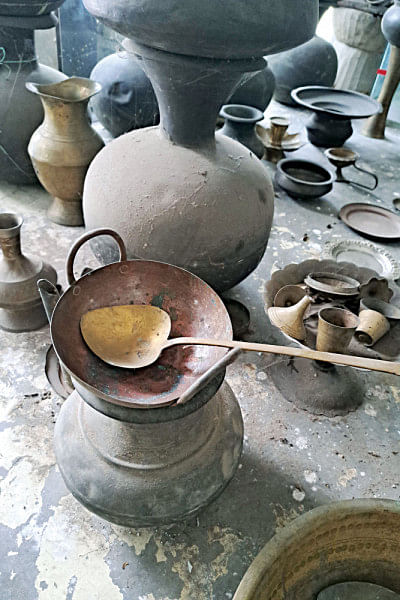 If you are the kind that fancies the ethnic chic style of décor, using offbeat old furniture or huge cooking pots or storage tubs as statement decor pieces in your home, then this store, Ronny Collection, belonging to the passionate Aminul Islam Ronny, might be just what you were looking for.
"My father had a brass and bell metal store in Karwan Bazar. My interest in these wares started early on. When my father gave up his business and wanted to close shop, I continued it on my own. My main source of earning is actually from selling tea and snacks at a corner of my gallery, and antique collection is my obsession.
"My peers call me crazy but I am a zealot in this regard. I source these by going house to house, asking if they are willing to sell me their vintage items, which aren't in use anymore. I go to all parts of the country, as far as Rangpur, to buy old items," said Ronny, while serving tea to his customers.
"These are slow items, and you cannot think of making a steady income or profit out of it, at least for small collectors like me. I don't keep replicated items, just the original one. I feel happy when someone appreciates and picks up a few items from my shop. It makes me think that there is someone else other than me who see wonders in old pieces."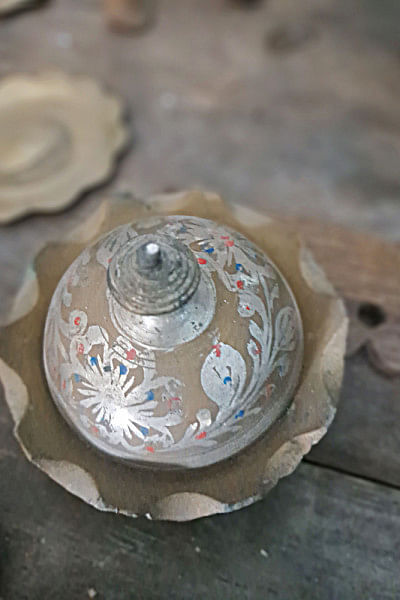 Prices vary on the weight of the product, after which, Ronny adds his cut. Small items like cast metal candlestands start from Tk 1,500, a copper pot to hold clarified butter is Tk 2,000, and big cauldrons can go up to Tk 16,000.
There are many stores in Dhaka and websites selling antiques. We are now looking back at our history and picking up by-gone designs and possessions and replicating them.
When recycling is trending, these items, perceived as holding their value because of their age, aesthetic, or historical significance, can be re-used in many ways. Many of Dhaka's elites are pursuing this hobby of collecting such vintage items.
A small cooking pot made of copper, with a name engraved on the rim — Aziz Miah — excites your imagination as to what this pot was used for in the past! Was Aziz Miah a chef, or a patriarch? What sort of a man was he? This tiny pot, after a copper polish, could be reused as a planter for assorted ferns, for example. The lively green and old copper would be an impressive centrepiece.
A uniquely shaped cauldron or witch's kettle can be made into a table or a tub to house a big ficus tree in your balcony, while an antique Chinaware bowl can be placed as a centrepiece in any food spread while hosting a party.
A little bit of imagination, entwined with creativity and a sprinkle of love for the vintage, can allow unknown collectors like Ronny to keep on pursuing their passion to find and stock up more such vintage wonders for Dhaka's buyers to purchase.