Dhaka Chronicles: City's charm in souvenirs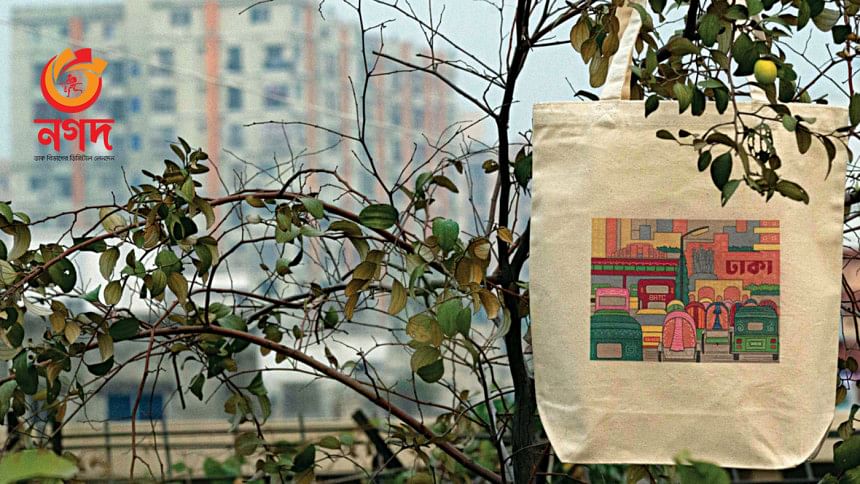 In a life dominated by smartphones, where pictures taken in them are seen as the only way of capturing moments in a frame, souvenirs come with the amazing ability to celebrate life and the magic that surrounds us. Be it the forgotten simplicity or the regular complexities of our lives, it's surprising how much emotion each of these mementoes holds in them.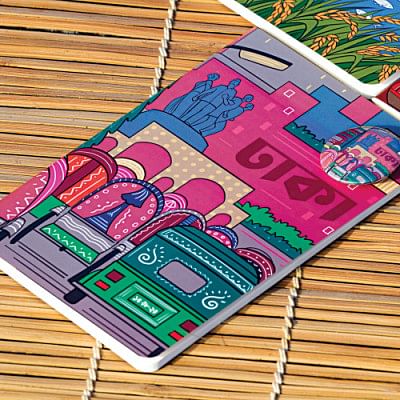 Among souvenirs of the past is the humble fridge magnet that stands out as a nostalgic beacon. A small emblem that is placed on the refrigerator, marking our presence at a particular time and place. However, in the desire to collect souvenirs from far-off lands, one often forgets to appreciate the charms of their hometown itself. The narrow streets, busy markets, and whispered histories of Dhaka form a complex narrative that is as vivid as any memento acquired by a traveller.
If you are indeed a vintage soul who loves this city in all its chaotic energy, local souvenirs are just the thing for you.
Not only do these bring a renewed sense of appreciation for the city but also shows how sometimes the most amazing things are within our very reach.
Souvenirs like rickshaws, auto-rickshaws, flags and the like are not hard to come across but if you are in search of the ones that will speak "Dhaka", you'll have to narrow your search down a little. Thanks to the rise of online shops that seem to have the answers to all our whims these days, simply browsing through Facebook or Instagram will get you the mementoes you want.
Dacca Souvenirs, for instance, offers a glimpse into a world of unique keepsakes, waiting to be taken by those who want to celebrate Dhaka's essence. From hand-painted fridge magnets, stamps, and poster frames to miniature figures of iconic landmarks of the capital, these souvenirs are threads that weave together the past and the present, intertwining our lives with the heartbeats of this city.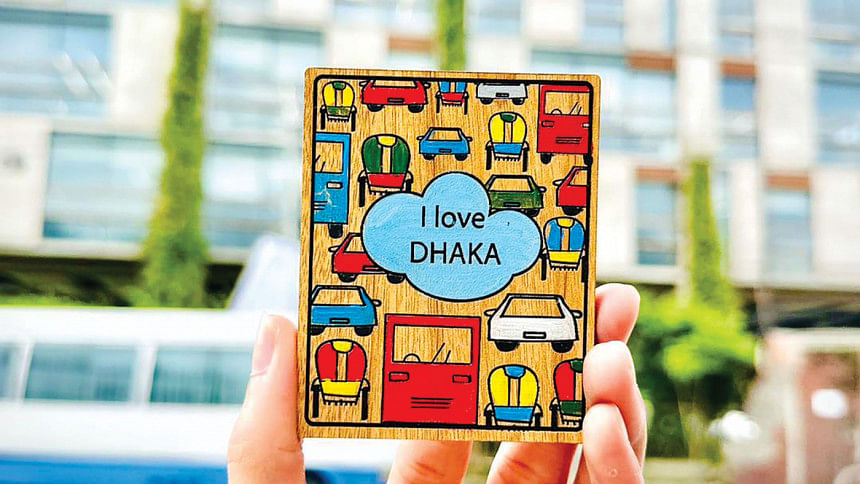 Sevendaysnotes is another page that highlights each city, including Dhaka, of our country into vibrant notebook covers. If you are in the habit of writing down your thoughts, I suggest you get your hands on one of these and fast.
There are a few things that come to mind when you think of Dhaka: the loud New Market area, Dhanmondi Lake, the heart of Dhaka University -- TSC square, vintage establishments still standing in Old Dhaka or even Baitul Mukarram. Whatever fits your perfect visualisation of Dhaka, there is a souvenir for it.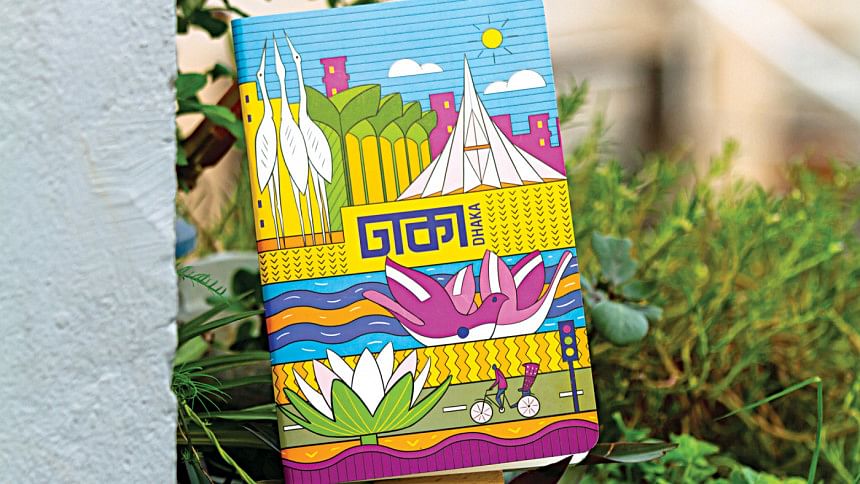 Perhaps, the best part of online shopping is the absolute freedom of customisation. Several online pages now can take your favourite designs, or in this case, your favourite part of Dhaka just as you want, and replicate them in accessories like wrist bands, key rings, brooches, caps, or even a cool and casual t-shirt. 
In this whirlwind of existence, allow yourself the luxury of remembrance, the joy of holding a piece of Dhaka's essence in your hands. Be it to remember the streets you have roamed or to list the ones you yearn to walk, let this be your gentle reminder to collect a piece of Dhaka's heart.