"The Line" in Saudi Arabia: What's all the hype about?
Futuristic city's design unveiled by Crown Prince Mohammed bin Salman
Saudi Crown Prince Mohammed bin Salman has unveiled the designs for "The Line" in NEOM, which according to its twitter handle is "a city that offers a healthier and more sustainable way of life."
The Line "will be an architectural marvel running in a straight line from the mountains of NEOM to the Red Sea," adds the description.
The zero-carbon city will have vertically layered homes, offices, public parks and schools within a mirrored facade stretching over 170 km (150 miles), Saudi state media reported the crown prince as saying on Monday.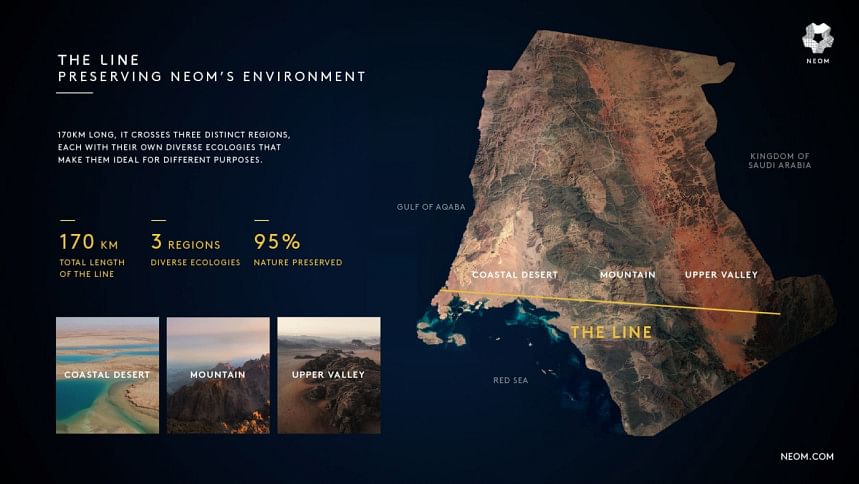 The crown prince had launched in January last year the initial idea of the city redefining the concept of urban development and what future cities should look like, according to WWW.NEOM.COM.
"It will run on 100% renewable energy and prioritize people's health and well-being over transportation and infrastructure as in traditional cities. It puts nature ahead of development and will contribute to preserving 95% of NEOM's land," reveals the press release issued by the state quoting Price Mohammed bin Salman.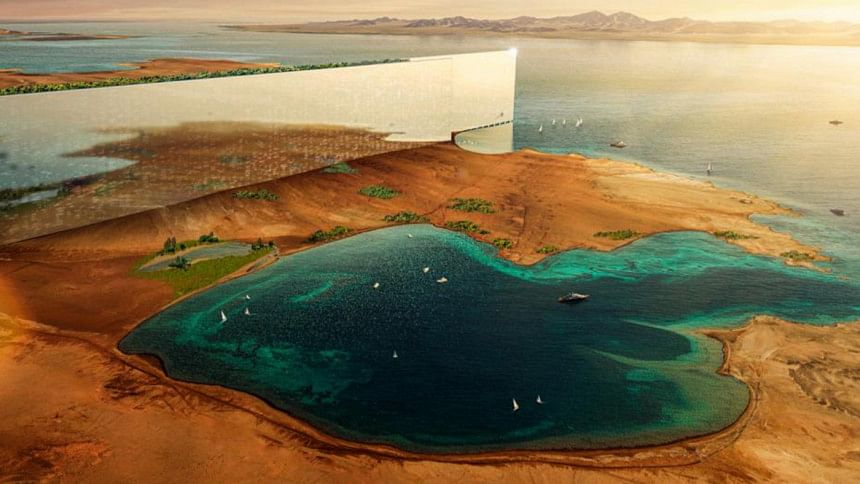 The city will be only 200 metres wide, 170 km long and 500 metres above sea level.
It will eventually accommodate nine million residents and will be built on a footprint of 34 square km, added the release.
It will have ideal climate all year-round which residents can enjoy while traveling on foot, the release also quoted the Saudi crown prince as revealing.
Residents will have access to all facilities in the city within a five-minute walk.
There will be a high-speed rail with an end-to-end transit of 20 minutes.
"The Line will tackle the challenges facing humanity in urban life today and will shine a light on alternative ways to live," the Saudi crown prince claimed.
"NEOM will be a place for all people from across the globe to make their mark on the world in creative and innovative ways. NEOM remains one of the most important projects of Saudi Vision 2030, and our commitment to delivering The Line on behalf of the nation remains resolute," he added.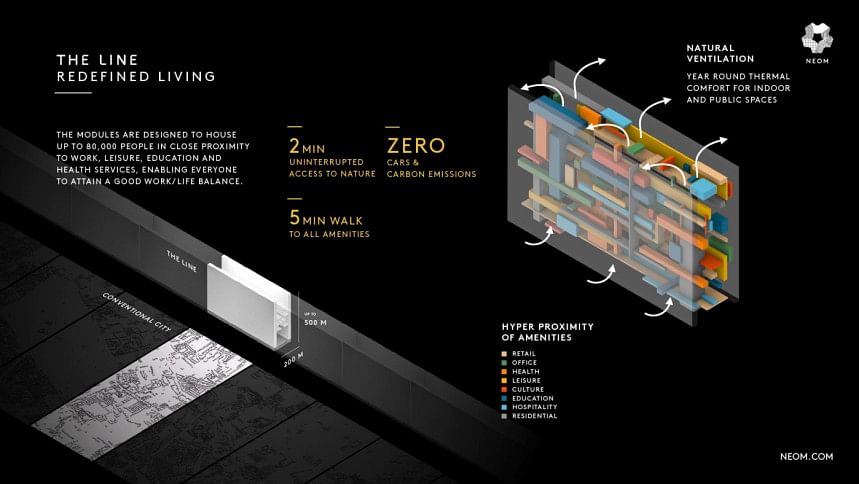 The Line will also reportedly have an outer mirror facade which will allow it to blend with nature, according to the press release.
Its interior will be built to create extraordinary experiences and magical moments by a team of world-renowned architects and engineers, it added.
Prince MBS had said last year that the project's infrastructure would cost $100 billion to $200 billion, according to Reuters.