CHT measles outbreak: Tripura community protests Khagrachhari DC, civil surgeon's remarks to PM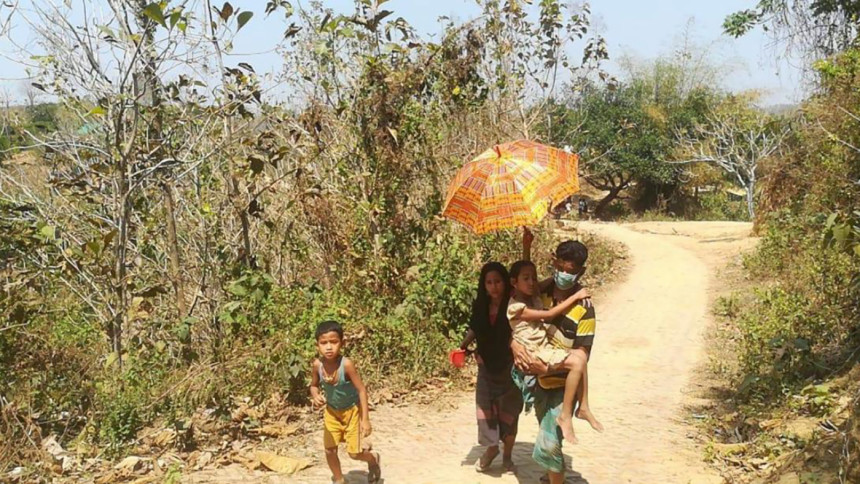 Leaders of the Tripura community in Khagrachhari today protested the remarks made by the Khagrachhari deputy commissioner and civil surgeon to the PM that the communities' "superstition" is the sole reason for the spread of measles in the Chattogram Hill Tracts region.
Bangladesh Tripura Kalyan Sangsad (BTKS), a platform for the welfare of Tripura people, made the protest in a statement.
Khagrachhari DC Pratap Chandra Biswas and Civil Surgeon Dr Nupur Kanti Das had made the remarks while informing Prime Minister Sheikh Hasina about the measles outbreak situation through a video conference on Tuesday that was broadcast on BTV.
They told the PM that people of the hill tracts did not take vaccinations because of their superstitions.
Terming the officials' remarks as motivated and "prejudiced", BTKS alleged that the DC and CS had cunningly avoided the main cause of measles outbreak in CHT -- a lack of monitoring by the health staff.
"Superstition is not the main reason for the measles outbreak; rather it [the measles outbreak] is their failure," Mathura Bikash Tripura, an author and a leader in the Tripura community, told this correspondent.
Health services often do not reach remote areas and the health service providers do not go to those areas to provide vaccinations, the BTKS statement read.
"We call upon authorities to ensure health services in the measles-affected areas," said Ananta Kumar Tripura, general secretary of BTKS.
BTKS demanded that the officials immediately retract their "prejudiced" statement and called upon authorities concerned to take departmental action against them.
The platform also demanded compensation to the families of the children who died of measles.