Manmohanji, why this asymmetry?
Manmohanji, why this asymmetry?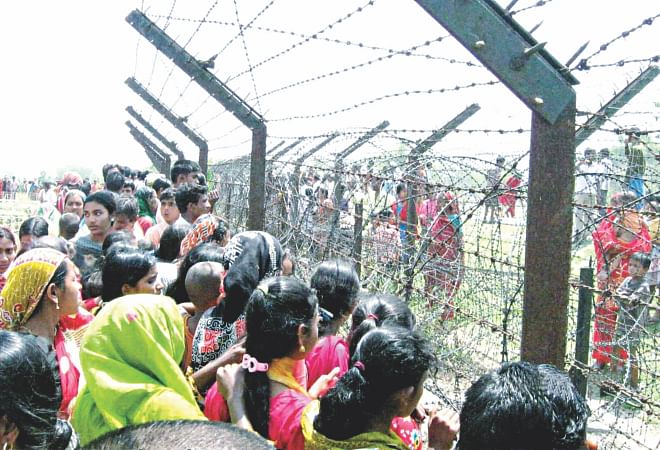 Source: Star
It is you Manmohanji who told us five years back, that your country India of which you are its Prime Minister and tiny Bangladesh are back in business. We were welcomed in New Delhi with great fanfare in January 2010 to agree on  a joint communiqué where we agreed to more than 50 different points on the basis of which our bilateral relationship would be based.
You know that we have many Bangladeshi opinion leaders who were simply not agreeable to begin a new era of friendship and cooperation. We had bitter past experience to go along with India and the Government of Prime Minister Sheikh Hasina of Bangladesh who both advocated for such a close economic and political cooperation. Yet, as our Prime Minister was bold enough to show India what mettle we Bangladeshis were made of we agreed to take our chances. We knew that perhaps we were giving away much than we took from India. We were alive to your security concerns in North- East Indian states, and  we agreed to your needs. Bangladesh was behind our Prime Minister in whatever risks were involved.
Now look at the state of our bilateral security, political and economic relationships. Do you have much to say? In India, you are going to hold your national elections in the very near future. There is likely to be change in the political scenario. Where Manmohanji have you left tiny Bangladesh ?
Let us start with our bilateral trade. Although the value and volume of Bangladesh exports have increased, yet Indian exports to Bangladesh have increased manifold in the last five years .We are now India's largest trading partner in South Asia and the largest export destination. In 2010-11 Bangladesh imported $4.5 billion worth of goods and exported $.5 billion to India. In 2012-13, our imports from India stand at $.56 billion leaving a deficit of $4.1 billion.
Manmohanji, just as bilateral trade volume had increased slightly since 2009, but so has our imbalance in bilateral trade. We had pleaded with India for duty free access of our exportable goods to India. In September 2011 when you had honored us with a visit to Dhaka, you granted us zero applicable duty on 46 ready made garments (RMG) items into your mega markets. In addition you gave us duty free access to all products from Bangladesh into the Indian market barring 25 banned items under the SAFTA.
But why did our exports not take off in your markets, Manmohanji ?Inspiteof the fact that you have operationalized a Standard Operating Procedure allowing trucks carrying bilateral cargo to cross upto 200 metres beyond the zero line and unload cargo at your warehouses, yet there are no significant increase in Bangladesh exports to India. We are appalled that in spite of the fund of goodwillyou have shown towards us, your creaking trade bureaucracy is not able to improve the  infrastructure facilities of the increasing numbers of land customs stations/land ports, harmonize standards and attempt to mutually recognize certificates. You have also been unable to remove non-tariff and para-tariff barriers that exist when we trade with India. So our exports in spite of your positive attitude, it has not helped our export numbers.
Is this too bad ? Are numbers the only matter of concern? Many trade experts opine that as long as a country can import good quality stuff at competitive prices then export figures do not matter. True,  we do not remain a stickler on this issue. But Manmohanji, where is the level playing field which you had promised tiny Bangladesh? Your broad shoulders were ready to accommodate and ease transactions so that Bangladeshi exporters enjoy the same opportunities as your traders have been provided. Let us assure you that if India relents and do it quickly, our exports to India will diversify, will be competitive and occupy a larger share of your market. This will not be so big as to scare your traders. Why Manmohanji do you bother to supply to north-east Indian states? As a member of the Rajja  Sabah from Assam you must assure that Bangladesh would be the main supplier of various products for your people in those regions. Between the traders of our two regions we can build up a mutually acceptable and strong trade links that would eventually be the envy of the rest of India.
We have already taken a number of initiatives to promote other economic activities between our two countries. We have agreed to increase the number of border haats, opened new Land Customs stations and even signed a bilateral agreement on Trade and Investment Protection and Promotion.
Manmohanji, you must be aware that in our keenness to explore new areas of economic cooperation with India we have agreed to regular consultation to address trade and commercial issues between our two countries. Besides our regular foreign office consultations and commerce secretary level talks, we now have Joint Working group discussions on custom measures, the Joint Working Group on trade and Joint Secretary level talks between jute and textile ministries. Our subcommittee on development of infrastructure on land ports/land customs stations are plodding on.
Source: Star
So why are we not making any progress in our exports to your country? Manmohanji, for one India has a larger basket of export products than us. But we have also allowed the import of huge quantities of industrial raw materials, essential commodities, vehicles and capital machineries from your country. We are not choosy about importing similar stuff from neighboring China, Chinese Taipei or even from countries like Indonesia and Thailand. But Manmohanji, we have chosen your country India with the hope that both of us can resuscitate the historical trade ties, link with our traditional trade links which were natural arteries of trade and commerce even during the British period. The Assam area had always been Bangladesh trade hinterland. So was places like Tripura and adjoining areas. Recall that elephants were exported from Assam through the city of Dhaka to markets in Delhi even during the Mughal period. Manmohanji , have you also been thinking along these lines and beyond ?
Bangladesh today need easy market access for her world famous RMG products into India, just as over the centuries our highly successful muslin cloth had access to your markets and beyond. We need you to be flexible on quality control. You have recently withdrawn excise duty on your locally produced RMG. Yet you have not withdrawn equivalent counter-vialing duty (which is a whopping 12.36%) on imported RMG. This is adversely affecting our RMG exports to India.
Now can we look at a few other areas of our bilateral economic relationship. You have generously given us a $1 Billion credit line ( at low interest) which includes a grant too. This you have given us under certain conditions to purchase Indian products. These are mainly to buy locomotives, rolling stock and vehicles for use in the transport sector. You have also agreed to utilize some of this loan to utilize it for our river training, dredging (buying your dredgers) our waterways,etc. But there are problems of standard and quality of goods that we want to buy. Take the case of dredgers. Your technology is not state of the art. Yet here we in the past procured dredgers from the Netherlands or Germany. They were expensive but time serving.
So far we have been able to procure rolling stock, buses, trucks from India through cash payment, etc. But what about infrastructure improvements? We understand some conditions to implement these works are quite difficult to abide by before the money allotted can be utilized. Here again we need India's understanding as a friendly neighbor. We can plan the projects in such a manner that our priorities are well thought out. We need to consider each other's need and see that some of them can help India achieve  an integrated transit route for it vehicles through Bangladesh to North east India. But any rush to just get these projects off the ground could be fraught with political and strategic risks. They may not stand the test of time. If there is a change in political leadership in India after your LokShahba elections we cannot at this stage predict the state of our future economic relations.
Manmohanji, if your advisers have been reading this piece, they may convey to you why we in Bangladesh consider our bilateral economic relations now asymmetric. We have no better word to describe this state of affairs. However we do know that time is on both our sides. What we need is a more sympathetic even to the point of being liberal in our mutual trade and economic dealings.
Can you Manmohanji leave a short note on this matter on the above lines to your political successor?
The author is a former Ambassador and a regular commentator on contemporary issues.