FOREVER IN FASHION
Highlighting our heritage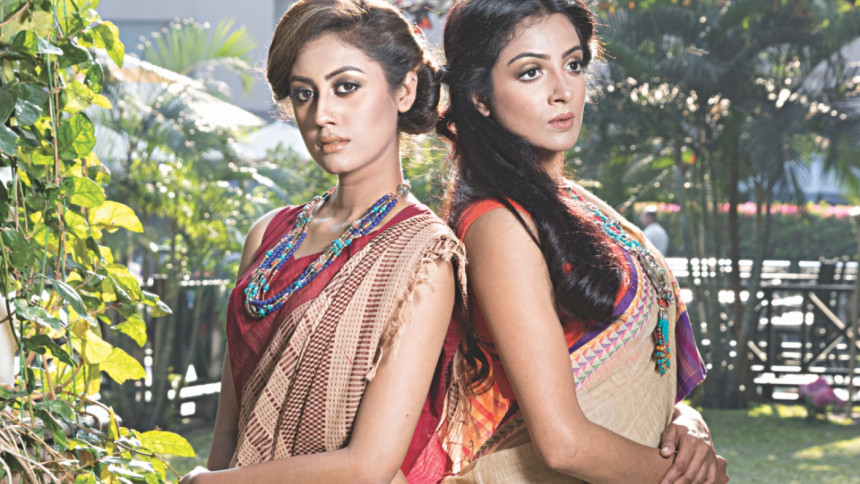 Bengal throughout the ages has been famed for creating superior fabrics and weaves. In the world map of textiles, our land had held - and arguably continues to hold - a dominant position in terms of quality and uniqueness. And therefore it is of no surprise that history is dotted with accounts and anecdotes which reflect this glorious past.
These accounts and anecdotes speak highly of Jamdani and Muslin. Our Khadi and the brilliant Rajshahi silk had enjoyed great reputation. Our canvas of art and storytelling even include quilts. Our land - with its geography, environment, and skilled people - had endowed us with textiles unparalleled in quality.  
What we have today is a glorious legacy. It is therefore the responsibility of this generation (as it has been for every generation) to carry this legacy forward - towards better times, whilst keeping the heritage intact and well preserved.
Are we doing so? Yes - a positive answer we would instinctively give. Indeed, from research work to awareness campaigns, many endeavours are taking place. However, there are challenges yet to be met, looming threats to be dealt with, untapped opportunities to reap, and more awareness to be created. And perhaps most importantly, the current and ongoing initiatives, too, need to be scrutinised, as some of them have the potential to bring more harm than good!
Above all, the objective is simple: taking heritage textiles forward.     
Building an information bank
Chandra Shekhar Shaha, President of National Crafts Council of Bangladesh (NCCB), is a veteran researcher and an expert on textiles, motifs, crafts, and culture at large. NCCB had conducted an elaborate study on 'Preservation of the Jamdani motifs and designs'. Shaha, who was one of the team members of the project, says that when he was conducting the research, he was acutely aware of the lack of previous study done on the subject. Indeed, he did find a book which had a list of names of motifs, but there were no pictures or diagrams corresponding to the names. Nevertheless, the book came to at least of some help for his study.
This is just one case of the lack of research. "If an extensive study was conducted fifty years ago, imagine how easy it would be for a contemporary researcher to build on the previous work and take it to the next level," Shaha said.
To preserve, promote and carry heritage textiles forward, we must accumulate a body of knowledge - from studying the attires and fabrics in the collection of museums, antiquarians, and households to reading up historical accounts.
It is crucial to identify what we call to be 'authentic' and what we consider to be our legacy. "If you take a so-called Jamdani sari with distorted motifs and deem it as a true reflection of heritage, it would be disastrous," Shaha said while explaining how cautious research work should be.
A case of excellent research involves Bengal Muslin's (an initiative of Drik) efforts on reviving Muslin. The organisation has conducted and extensive study about Muslin, and continues to research, with the aim of bringing Muslin quite literally back from the dead: the cotton plant responsible for producing the fine thread is extinct, and the team is working towards identifying 'close cousins' which might be worked with. Their book, 'Muslin: Our Story', has earned raving positive reviews, reflecting the intensive study they had conducted.
"We must have a detailed and comprehensive information bank," Shaha suggests. "Let's create that, and then give us ten years; the progress will be astounding."
When designers distort
Ruby Ghuznavi, a former President of NCCB, is one of the pioneers in the revival of natural dyes. Her work heavily involves studying Bangladesh's crafts and working with designers and weavers. She believes that fashion designers have a crucial role to play in not just promoting heritage weaves, but preserving them too.
This crucial role is about understanding what not to instruct weavers. "A weaver once showed me a so-called 'Jamdani' with animal motifs," she speaks from bitter experience. "Jamdani motifs have a strong Persian/Muslim influence, and traditional Jamdani sari would not have designs inspired from animals."
There are some designers who impose new designs upon artisans which are not reflective of the tradition of that craft. Perhaps, they do it because they think that the market 'demands' it. But this has deadly consequences. And the chain does not stop there. When that same weaver will be assigned to work independently again, the influence of the designer is likely to play into his creative process, and the artisan may, then, create designs which do not adhere to the original theme and concept.
In his presentation on preservation of Jamdani motifs (which was held last year at Bangladesh National Museum), Shaha had pointed out how traditional motifs are losing their identity. In one of the slides, he showed an original motif, and then showed how it could transform into something completely different. He did this by extrapolating the diagram to the future, portraying that if distortion continues, we will get designs which are in no way related to our heritage.
Back at his office for our interview, he further added, "And even at that time the sellers will label these as Jamdani!"
The designer should appreciate history, have reverence for the craft of the weaver, and ought not to dabble with motifs to the extent that an unwanted metamorphosis may take place.
Keeping up with changing times: Diversification is key
When we are dealing with heritage products, we are essentially dealing with crafts numerous centuries-old. Times have changed. Should we not innovate and play with new rules, then?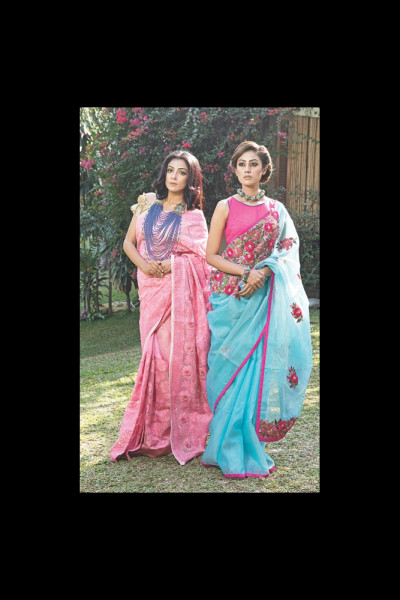 Yes! But, we must understand when to push the brakes just as much as we need to know when to press the accelerator. We must find relevance in today's world. Otherwise, bluntly said, we will simply go out of business. Our design, production, and marketing should be geared in such a way that the basic characteristics do not suffer.
Shaha has been in this industry for many decades. Having worked with country's top brands, like Aarong, he believes that diversification is a brilliant way forward. "Naksi kantha's primary purpose is to cover the body in order to provide warmth. But now you have simpler and cheaper blankets," he explains. "So, along with stitching kantha, we have tried out, with success, creating cushion covers and other lifestyle products."
Ghuznavi also agrees. "The sari market is relatively small; moreover, women nowadays are not wearing this attire regularly. But Jamdani can also be translated to other products such as fabrics, home textiles, etc."
Keeping up with changing times calls for smart innovation, not mindless innovation.   
Innovation and the international platform
Smart innovation is not easy, but it is a process which can contribute to establishing a strong foothold in the international fashion market. For Living Blue, a Bangladeshi brand which focuses on the international high fashion arena, contemporising is essential.
Producing indigo and applying quilting and shibori (a Japanese tie-dying technique) to make products, Living Blue exports to countries such as the UK, USA, Japan, Canada, France, Germany, etc.
The brand had participated in many exclusive and prestigious platforms - from Maison d'Exceptions, to Paris Fashion Week's Designers Apartment Showroom, to Berlin Fashion Week's Greenshowroom.
Mishael Aziz Ahmad of Living Blue had shared his experience in applying for Maison d'Exceptions in an article published in Star Lifestyle, The Daily Star. "Maison d'Exceptions is extremely selective. It is not enough to simply prove yourself as the master of a skill or technique; you also need to show varied applications and uses for it in the contemporary fashion world."
The beauty of handmade products
Maheen Khan, an eminent designer, had worked with heritage weaves like Khadi and Nakshi Kantha. She believes that there is a bright future for handmade, hand-woven, eco-friendly products. "The whole world is looking for items that make a difference in people's lives," she had said at an event of Project Fashionscape (an initiative of Ice Today), held last year, on 23 January. "There is a high end-market for products that are eco-friendly, those that have a story behind it and those that are indigenous and hand-woven".
Eco-friendly and heritage textiles like Khadi, if patronised and promoted properly, are of enormous value in the global fashion world. 
Creating craze at home
In recent years, there have been a lot of efforts and campaigns to educate the local consumers to buy 'deshi'. Some have been more successful than others.
Kudos to Bengal Muslin on their month-long campaign in 2016! The Muslin Festival was hosted by Bengal Muslin in collaboration with Aarong and Bangladesh National Museum. Their campaign comprised of exhibitions, fashion shows, tours to weavers' villages, and seminars in order to create awareness among different stakeholders, including the common people. The festival was absolutely brilliant and had been an eye-opener for many.
Bengal Muslin even published a graphic novel to reach out to the younger generation, who may not be customers today, but can surely become a patron of 'deshi weaves' in the future.
Meanwhile, there had also been festivals which did not truly reflect the heritage weaves they aimed to highlight. "If you have a festival of a particular heritage product, but then inject other fabrics and concepts, you are misrepresenting and confusing the people," Ghuznavi complained.
Indeed, festivals and promotional campaigns are great, but they need to be planned out with caution.
Prices too steep?
Heritage weaves may come with expensive price tags. "Historically, Jamdani has always been made for the affluent," Ghuznavi exemplified. "But in current times we are trying to come up with saris which would be more affordable to buy; although the intricacy of designs on those dresses would consequently be lesser."
Buying what's 'deshi' has its own selling point. And the biggest contribution a citizen of this country can make in taking heritage weaves forward is by actually making a purchase. If you are buying a Jamdani sari, you are essentially paying for the bread and butter of a weaver for say, a week, or even a month!
Meanwhile, unfortunately, there is indeed a segment of people who have the affordability, but many among them opt out for imported products - and perhaps this is where branding and promotional activities have a role to play.
What's in a name?
Heritage textiles are no doubt invaluable assets for any country. The traditional art of Jamdani weaving is enlisted in UNESCO's Representative List of Intangible Cultural Heritage of Humanity. It may be argued that there are other textiles too which can get this recognition.
Last year, Jamdani had earned the Geographical Indication (GI) registration. When a product is linked with a particular region and enjoys a reputation for being of that origin, that product may be applied for GI registration. In our country, the relevant Act was formulated in 2013; the rules were set in 2015; and Jamdani was registered in 2016.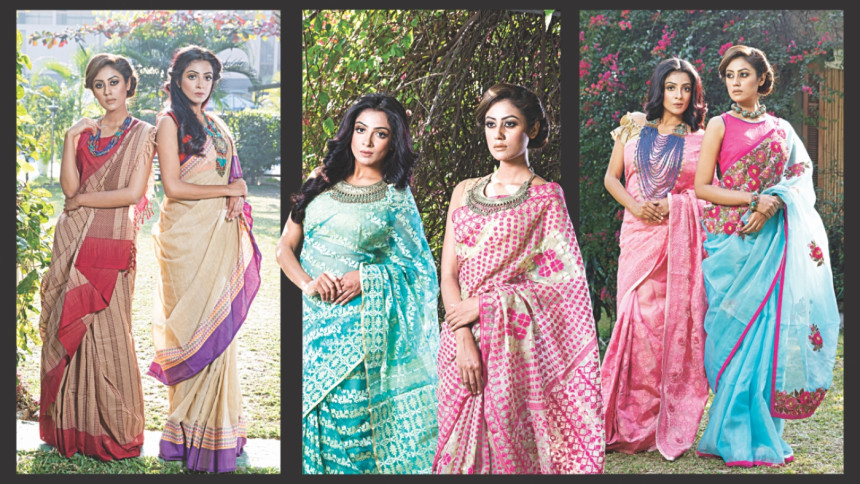 While it is good news, it must be noted that this framework applies only within the borders. India too, had registered Uppada Jamdani sari within their legal framework! Jamdani is uniquely ours; the geography, the skill, and the historical accounts point at that. Now that Jamdani is registered under the national GI, we are in a better position to fight back if required.
Yet right now, Ruby Ghuznavi seemed to eye an even bigger threat. "Some weavers are making saris using automated looms, and by applying Jamdani motifs, they are passing them off as Jamdani," she informed. "These saris are cheaper alternatives, and they are destroying the market. There is no problem in making saris in automated looms, but you should not call them Jamdani."
Fine yarns
Cotton-count is an important measure of quality. Most of the saris that you see on the market are, generally speaking, of less than 100 cotton-count. Finer threads and higher cotton-counts would a big step in reviving the previous glory of Muslin and Jamdani. "Imported yarns should be made more readily available in order to have more attires on the market with higher cotton-counts," Ghuznavi suggested. "Government organisations, such as the handloom board, may come forward in this regard."
Did you know that Bengal Muslin, after relentless efforts and experimentations, had actually produced a fabric of 400 cotton-count? Incredible, isn't it?
Do you know what it means, though? The weavers of this era still possess the skill and capability required to make superbly high quality fabrics which our land had historically been famous for. Of course, a lot of practice will be needed to make this a norm again.
In taking heritage weaves forward, one thing is for sure: our artisans will not fail us. Let us - as designers, entrepreneurs, marketers, and consumers - not fail them.
The writer is a Reporter of The Daily Star and can be contacted at m.h.haider@live.com
Model: Oshin, Doyel
Wardrobe: Tangail Sharee Kutir
Jewellery: Kolors of Kathmandu
Location: Pan Pacific Sonargaon, Dhaka
Makeup: Farzana Shakil's Makeover Salon