FOREVER IN FASHION
Bangladeshi fashion on the world stage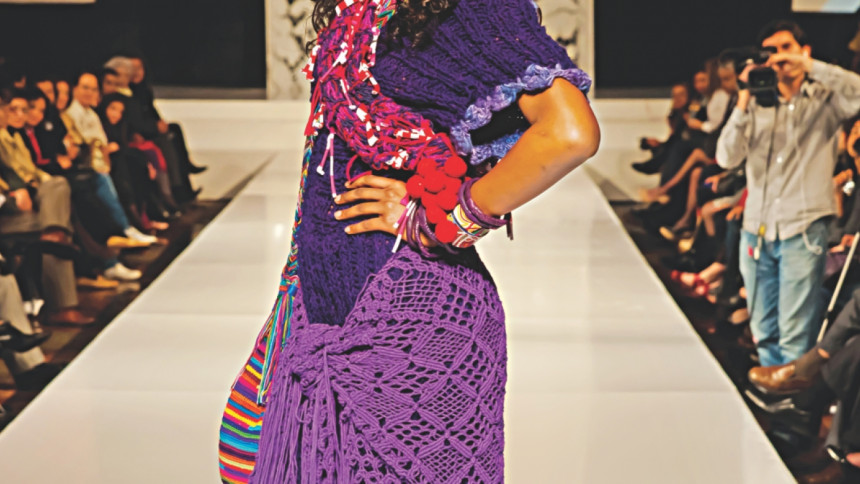 Fashion in Bangladesh has come forward in leaps and bounds or so it may seem. While it may appear that we are involved in a lot of progressive work, including the attainment of new heights in style and fashion, we might actually be still a way off when the perspective is of a global nature. To comprehend the depth of the actual condition, we talked to a few experts in the field.
Chondro Shekhar Shaha, the maestro, who has witnessed it all since the early days, wilfully narrated, "Internally, we have done quite well for ourselves; the fashion industry has finally picked up a steady pace towards the right direction. However, internationally, we have yet been able to carve a significant mark!" Delving a little more into the details, Chondro Shekhar Shaha narrated, "Our local designers do go abroad to attend various international fashion shows and fairs. But the initiative for many stops right there. It mustn't! International exposure is just the beginning. The designers must probe to find out further avenues to bank on their experience and talent – helping them to move forward commercially."
We have seen so many global celebrities donning designer wear on red carpets. We wanted a connoisseur like Chondro Shekhar Shaha to tell us how hopeful we could be of finally seeing a deshi designer dress an international artiste. Beaming steadfastly, Shaha answered. "The subject- matter may be a bit ambitious for the moment; there's definitely no doubt about it. Based on time context we have seen that celebrities usually prefer to wear other celebrity designers wear for the Red Carpet. In our case, Bangladeshi designers must attain a global celebrity designer status first before they venture out onto red carpets. The process has already begun; maybe in a few years time we'd see them reach that level." All this conversation regarding fashion designing aspirations made Shaha admit to the inevitable. "To reach the global level, Bangladeshi designers must prove their worth in internationally recognised platforms. Every second of every day, the designs are changing; one must keep themselves updated with the change, to ever make it BIG," he added.
Another eminent designer, Maheen Khan who is also the president of the FDCB was quite hopeful about the progress of the designs in the global context. "Bangladeshi Fashion Industry has had a very small stake in the international fashion market, as of now, but we are diligently working our way towards a positive future. Fashion Design Council of Bangladesh has taken a number of initiatives to explore ways to enrich the experience of the designers with international level fashion events. We are trying our best to encourage and embed the wilfulness to create authentic ideas, by the designers – To think out of the box and play with more international silhouettes," she said. "To become global, it is important to get exposure in the international fashion shows. There are events in major fashion capitals that promote niche or upcoming designers. To get invited to these prestigious shows, one must be ready to display creativity and authenticity," Maheen Khan added.  
While two eminent designers were positive about the look, a prominent craft researcher like Ruby Ghuznavi was slightly sceptical. "Regrettably, we have been able to make very little impact in the international arena. To the best of my knowledge, only Bibi Russell has been invited to participate in major international fashion events like the London Fashion Week etc. You need a very strong group of fashion designers to impact the international fashion market!" With her tremendous experience in the textile sector, we ventured out to realise the best approach to make it global. Ruby Ghuznavi gladly shared her ideas. "We should promote our excellent hand-woven textiles from unique high-end Jamdanis to the inexpensive Gamcha, popularised as scarves by Bibi Russell. Much needs to be done before we can do that. Grameen Checks made a very successful entry into high-street, international fashion wear some years ago. But due to the lack of standardisation, the quality of the fashion wear deteriorated. We need to standardise quality and diversify our hand-woven products from saris to fabrics, shawls, and etc for fashion wear and accessories for the international market. Recently, a young Bangladeshi designer in the States launched an outstanding collection of Jamdani jackets. They are perfect examples of designers and artisans working successfully with traditional designs and motifs, simply by changing the layout of the patterns. We can have an extra edge by adding natural dyes to high fashion, which most other countries do not have. But first we need well qualified fashion designers to work with such unique concepts."
No narrative regarding Bangladeshi fashion in the international arena will ever be complete without remarks from Bibi Russell, who practically ventured in to the field and successfully branded Bangladesh in the world fashion market.  "I have taken 'Gamcha' forward to an international level already! Distinguished, international figures like Antonio Banderas and the Queen of Spain have widely endorsed the product as a Bangladeshi production that has taken the high fashion streets by storm. Having said all that, there's so much more that can be done with our products as Bangladesh has an abundance of authenticity and remarkable materials and especially outstanding talent. The next generation must come forward in working with the uniqueness of Bangladesh, be it the Rickshaw Art, The Grameen Cheque, The Jamdani, The Khadi, The Muslin or any other thing. The authenticity must be there, the united effort must be there with a lot of networking and only then can we move forward towards a true global representation."
So much discussion on fashion and the way forward makes us realise the fact that there's never a short cut to authenticity. As the experts agree, a strong willpower, talent and uniqueness can and will push us forward towards a bright globally acclaimed future.
Mehrin Mubdi Chowdhury works as a Feature Writer at The Daily Star. She can be contacted at chowdhurymehrin1@gmail.com
Photo Courtesy: Bibi Productions