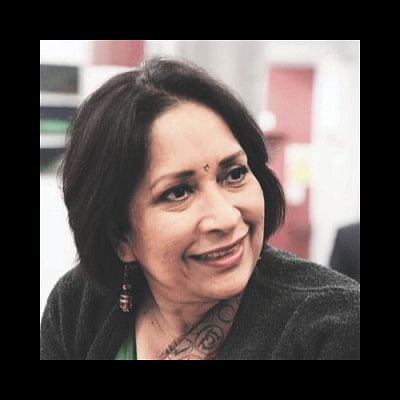 Undoubtedly celebrated bilingual poet, storyteller and writer Shamim Azad is one of the best known Bengali poets in England. Also her sincere interest to work for the Bengali community through the development of Bangla language and literature has been remarkable, which sets her apart among her peers.
Many of us have seen her  writing and working for the community as much a part of her life as she does breathing, eating or listening to music. People who have had the privilege to know her and had worked with her knows that how charming persona she has apart from being a reputed poet and author. She has been like a mango tree on which many have found support to bloom like orchids. She is one such person who believes in sharing knowledge and wisdom.
She did not dwell silently in her creative world only to win name and fame like many acclaimed poets and writers. Thus it was no big surprise for the Bangladeshi community living in England when Shamim Azad's name was announced for the 'Syed Waliullah Literature Award 2016'. For the Bengali community it was a long awaited honour which they felt their household poet rightly deserve. The 'Syed Waliullah Literary Award' is conferred by the Bangla Academy, Bangladesh in recognition of creative genius in progression and overall contribution in the realm of Bangla language and literature in distant land. It was very exemplary initiative of Bangladesh High Commission, London, that they have given an august reception to poet Shamim Azad on November 6, 2016 at a fine bistro in Brick lane, East London.  Nadeem Qadir, Minister Press, Bangladesh High Commission, London, who is an aesthete of literature, art and culture had organised the soirée for poet Shamim Azad in recognition of her outstanding contribution in Bangla language and literature in Great Britain and winning the 'Syed Waliullah Award 2016' by Bangla Academy. 
Azad has more than 30 publications of books comprised of novels, short stories, memoirs and collections of poetry in English and Bengali by well-known publication houses of Bangladesh and India. Her ongoing memoirs on 'Shahid Jononi Jahanara Imam' and 'Mone Pore' have able to depict different vibe of writing style of a biographical journal writer. She has also written two plays for Half Moon Theatre and worked with composers Richard Black ford, Kerry Andrew, choreographer Rosemary Lee, visual artist Robin Whitemore and playwright Mary Cooper. Her work ranges from Bangladeshi to European folktales. Her performance blends the lines between education and entertainment. Most of her workshops are rooted in Asian folk, oral traditions and heritage.
She aims at promoting language, literature and culture in true sense of Bengal in the very heart of cosmopolitan London being the chairperson of Bishwo Shahitto Kendro (World Literature Centre). Under her intriguing leadership since its inception in 2002, Bishow Shahitto Kendro, London (BSKL) has been organising Boishakhi Literature Festival (BOI-LIT Festival) along with many enlightening and heritage based programmes to nurture Bengali ethnicity and aesthetics in London. She also is an executive member of the Exiled Writer's Ink, that brings together writers from repressive regimes and war-torn situations and it equally embraces migrants and exiles.
Poet Shamim Azad has always gathered some of the most innovative and fascinating ways to share her thoughts and creative work with the community. The east-end based storytelling group, 'EAST', which is co-founded by Ms Azad, along with Dadaelus theatre invites local residents to join in sharing some of the stories brought together by the East-end's rich, diverse history of migration. Ms Azad is one of the core artists of the unit 'Bards without Border'. It's has been a year that twelve artists from different regions worked on this unique literature project of Shakespeare to commemorate his 400th anniversary of death. Being a part of the unit she has explored a scene from Shakespeare's Henry VI through drama and creative writing exercises. The unit created joint literary creative words in response to Shakespeare's and his vast work, an event which has brought an appreciation to all edges of cultural sphere.
Being a poet herself she genuinely felt the need to bring British Bangladeshi poets under one umbrella. British Bangladeshi poetry collective (BBPC) is such an exemplary initiative of poet herself. At present she is working with a group of British- Bangladeshi poets to bring out an anthology in the forthcoming Ekushe Book fair. What she dreams today, she makes sure to fulfil the dream into reality tomorrow.
Poet Shamim Azad has not confined her creative world of thoughts to herself only. She has disseminated her thoughts, time and knowledge in multiple forms for the enhancement of Bangla literature and culture in far-off land. We believe she will continue to rediscover herself through various forms of creativity and society would benefit from her genuine contribution as always. Surely winning the 'Syed Waliullah Award 2016' has been another glory to her crown which would act as further inspiration for her as she continues to reign in her world of words and wisdom.