Tagore's encounters with luminaries of the West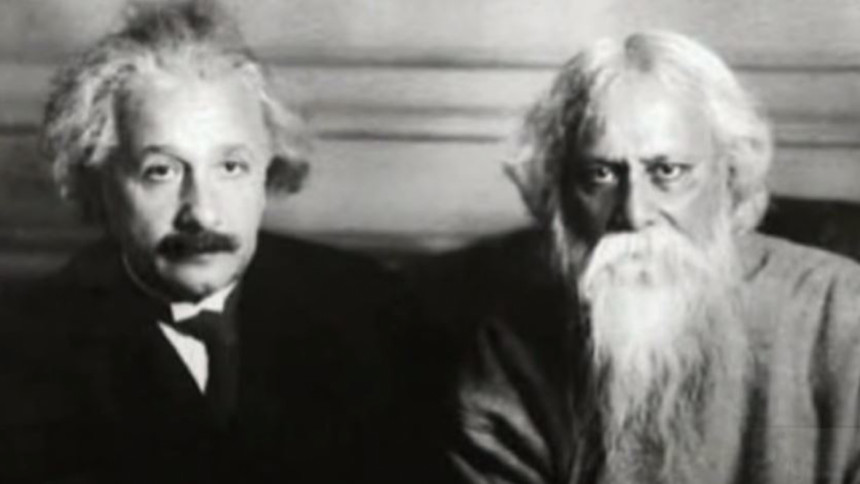 While many perceive Rabindranath Tagore as a landlord who wrote most of his masterpieces sitting in his palace-like abode, or on a luxurious boat cruising down a peaceful river, he actually ventured much deeper into the vastness beyond his regular life and social circles. During his visits abroad, he engaged in intriguing conversations with brilliant minds from across the world – starting from British sci-fi master HG Wells to French dramatist-art historian Romain Rolland to genius German physicist Albert Einstein – where he spoke about the correlation of art and science, international relations and religion, and multiculturalism.

His conversation with Einstein – at the latter's residence in suburban Berlin – brought out an interesting array of subjects.
Tagore opens the talk with the topic of "new mathematical discoveries which tell us that in the realm of infinitesimal atoms chance has its play; the drama of existence is not absolutely predestined in character." Causality, atomic disorder, elasticity of sub-atomic levels of freedom and the general stability concepts of quantum physics also get a human analogy. The differences in European and Eastern music also dominate the conversation. Einstein -- who was an avid music listener -- gets a glimpse into how music in the East is written and driven: the structure, the artistes' liberty to improvise on a set of guidelines to produce a new presentation of the same music, linguistic structures.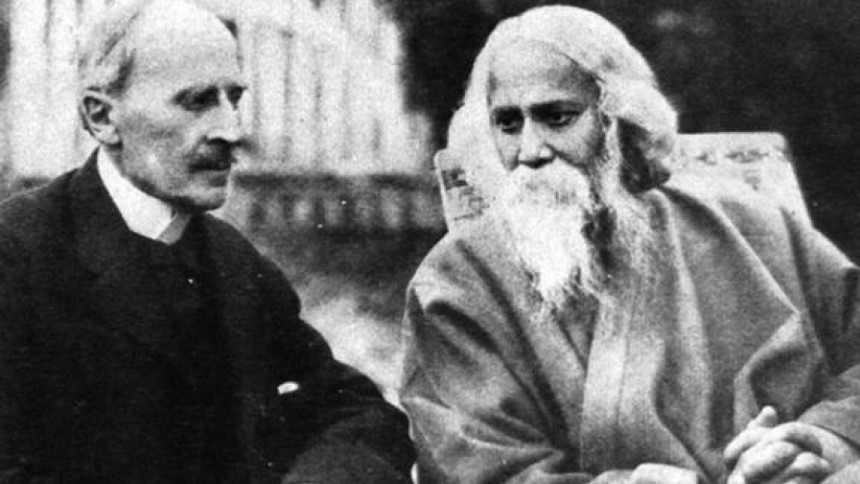 Tagore, at one point, compares harmony and melody to lines and colours; of how a line drawing can become vague and less expressional with the use of colours, while a proper combination of the two can create beautiful art. Einstein's scientific inquisitiveness is also found in the conversation, where he proposes of an experiment to study the effects of European music on an Indian who has not listened to it before, but adds that the problem with great music is that it cannot be analysed; Tagore adds that what deeply affects the listener is beyond oneself.

Tagore and Romain Rolland's connections were centred on "La Déclaration pour l' indépendence de l'esprit" – probably the first organised attempt to mobilise intellectual opinion all over the world against war, which Tagore signed on Rolland's request.

Tagore's conversation with the French litterateur in August of 1930 remains focused on the role of Geneva in keeping peaceful international relations. The religious history of India, and how it has driven a harmonious multi-religion coexistence is brought up by Rolland, while Tagore asserts that it can also be looked upon as a weakness; something that has hindered the understanding of people of true spiritual faith. Tagore's blooming fascination for art also comes up in conversation, where he says, "Words are too conscious; lines are not. Ideas have their form and colour, which wait for their incarnation in pictorial art. Just now painting has become a mania with me. My morning began with songs and poems; now, in the evening of my life, my mind is filled with forms and colours."

The June 1930 conversation between HG Wells and Rabindranath Tagore was centred on the evolution of civilisation. How the cities in the East of that time wore "big masks which represent no country in particular." Wells interpreted that as the "beginning of a new world order that refuses to be localised". A greater unison of all civilisations was also discussed upon. While Wells terms music as the most international of all things, Tagore rebuts that the 300+ compositions that he had made were "sealed from the West" because they couldn't be presented in Western notations. The supposed superiority of the West and the reasons behind the cultural diffusion of the West – seemingly more profound in places like Japan, compared to the Indian subcontinent – also added up to a lively debate.

Tagore concluded by saying, "My country, like every other, will evolve its own constitution; it will pass through its experimental phase and settle down into something quite different from what you or I expect."
This article was first published on May 09, 2013.