Romancing the Senses-Hearing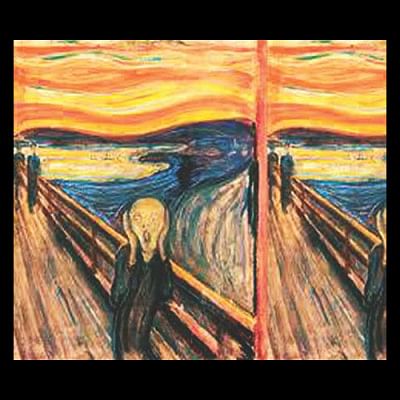 Wikipedia lists the 5 senses thus: taste, sight, touch, smell and hearing, and they are all important, but it's sight that dominates the imagination. The world looks beautiful as do young people, especially women—by the day—as one gets older. Taste surely is next and that must be why with all its eateries from here in ULAB Satmasjid Road looks to be the most important road of the world. Touch is of course highly rated. After all, who can overlook the sensation of being touched by the special one? Smell is what gets you in Dhaka too—good as well as bad ones!—I hasten to add. And who can ignore beautiful fragrances anywhere—in flowers or people? I for one love colognes, perfumes and aftershaves and would like everyone who can afford it to never go out without deodorants. But hearing always seems to be underrated—and the order in wiki's list thus no doubt reflects public opinion. But I must thank Shasmad for making it first here and letting me speak first as well!
No doubt in Dhaka streets, or even in Dhaka homes, at times, hearing will strike one as the most overpowering and bothersome sense. Starting with home sounds, let me focus on snoring—I'm told by the one who should really know—that yours truly snores on and on in sleep. My dad did so while watching TV and said he didn't and so once we recorded his snoring. I have his genes I guess and Baba must be laughing at me from up above now! But what is terrifying for me is the prospect of sharing a room with someone other than my spouse, who, after all, can always take off her hearing aid when with me to sleep soundly. On a couple of occasions I had to share a room with someone else; in one of them it was I who suffered because I went to sleep late and the other person started snoring as soon as he went to sleep! On another one, my room-mate for the night was an old and dear friend and colleague and so sharing and devising a strategy for the night to avoid disturbing each other was easy. We took the two beds to the two corners of the room and then went to sleep. Thankfully, none bothered the other and next morning we both concluded that our reputation for snoring was a wifely tale!
In Dhaka—as we all know—unwanted sounds will bother you a lot of the time.  The call to prayer, for example, sound so beautiful when you switch on the TV set and hear it wafting out of the grand central mosque of Mecca. But what if you are unlucky enough to live next door to places where they use multiple mikes all the time and the callers are all more or less out of tune? And what if you are unlucky enough to be living close to where would-be leaders give loud and obnoxious speeches? I live in the 9th floor of a building opposite British Council and sometimes get disturbed by student leaders trying to impress everyone miles away by praising their leaders and parties or shouting slogans in the middle of night. But on the other hand I will forever miss the crowded Dhaka University corridors and the excited chattering of students going inside classes or coming out of them now that I have retired.
I'll confess I can't stand any noise when I'm studying. My students will know I hate people talking in class. And I can't even start talking about the noise in Dhaka streets here —loud people and crazy honking drivers—enough to make one go mad when in our streets. So often you wish you had earplugs with you. And, yes, such sound can be so cacophonous sometimes you want to plug your ears permanently!
But think of the beautiful sounds that we hear without which we couldn't survive. Think of sounds like the one Neil Diamond sings about in his wonderful song "What a beautiful noise" which you'll read at the end of my presentation---everyday sounds coming in from the streets—of street vendors, children playing in the streets, vehicles accelerating smoothly. Such sounds can fill your ears reassuringly and if you don't hear them the world seems so empty!
And think of music—the sound of music!  The moment I heard Vivaldi's Four Seasons decades ago I fell in love with western classical music. And every time I hear Beethoven's Ninth Symphony and the ode to joy in its last movement I think—delusively no doubt—heaven is on earth. And I have to say I can't imagine my day going well without hearing Rabindra Sangeet at one point or the other. For sure hearing music is something I treasure and will never be able to do without. As the Bard once put it, music is the food of love and to me one of the best ways to love life itself.
Think now though of the beautiful sounds great writers create and celebrate. Recall the opening stanza of Lawrence's lovely poem about his mother playing the piano and singing: "Softly, in the dusk, a woman is singing to me;/ Taking me back down the vista of years, till I see/A child sitting under the piano, in the boom of the tingling strings/ And pressing the small, poised feet of a mother who smiles as she sings."  And think then of the tragic implications of not ever hearing your mother sing when you read Shamsur Rahman's brilliant poem: "Kokhone amar make gaan gaite shuni ni" which always reminds me of my mother every time I read it because I too never heard my mother singing though she and my dad made sure that all of us got musical training in one form or the other when we were growing up.
 Reflect too on Milton's divine harmonies. And think of the other blind giant of literature in English, Joyce and his brilliant chapter on Stephen Dedalus walking in the "Proteus" chapter of Ulysses: "Stephen closed his eyes to hear his boots crush crackling wrack and shells. You are walking through it howsomever. I am, a stride at a time. A very short space of time through very short times of space. Five, six: the nacheinander. Exactly: and that is the ineluctable modality of the audible. Open your eyes. No. Jesus! If I fell over a cliff that beetles o'er his base, fell through the nebeneinander ineluctably. I am getting on nicely in the dark. My ash sword hangs at my side. Tap with it: they do. My two feet in his boots are at the end of his legs, nebeneinander. Sounds solid: made by the mallet of Los Demiurgos. Am I walking into eternity along Sandymount strand? Crush, crack, crick, crick."  Recall Keats's autumnal music in plosive-filled lines such as: "While barred clouds bloom the soft-dying day," or Jibanananda Das's equally spell-binding sibilant-shushed line in "Bonolota Sen"—"shishirer shobder moto shandhya ashe!—"night descends with the soft sound of the dew"—or of Dylan Thomas's sonorous admonitions to us all in "Do Not Go Gentle into the Good Night."The sound of music and the sounds of great poetry—how can anyone exclude hearing from your list of important things to appreciate when you have been anywhere close to literature departments!
But when we think of sound we must also try to tune in to its binary—silence—for  the two are forever locked in Sausserian opposition.  One can't talk about sound without talking of silence. "The sound of silence"—as the Simon and Garfunkel song so beautifully phrases it—must therefore conclude my presentation.  There might be people like Shakespeare's Gratiano around who bark, "Silence is commendable in a neat tongue dried/And a maid not vendible"—but they have no place for those with sensitivity and preternatural apprehensions! Also, if you come across someone really talkative or a loud mouth like Gratiano, remember Bassanio's comments on his friend—"Gratiano speaks a great deal of nothing!' And remember too that silence is proverbially golden.  And know that we must all learn to hear silence as well as sounds. Think thus of Harold Pinter's use of silence in his plays—so menacing, so pregnant with meaning about human communication—or lack of it! I for one am forever amazed by postmodern composers like John Cage and Steve Reich and the way they punctuate their music with silence.
But my sixth sense tells me my allotted ten minutes are up and so I'll end with that classic quote from the Bard, "The rest is silence" and ask you all to read the lyrics of Neil Diamond's song while listening to the song on You Tube to remind you a final time that we must value and learn to admire hearing, appreciate heard melodies and even strain to hear unheard ones—in Dhaka or elsewhere!
Retired from the University of Dhaka, Fakrul Alam has just joined as the Pro-Vice Chancellor of East-West University. Currently he is the Consulting Editor of The Daily Star Literature and Review Pages.