A Villager's Guide to Feeding Foreigners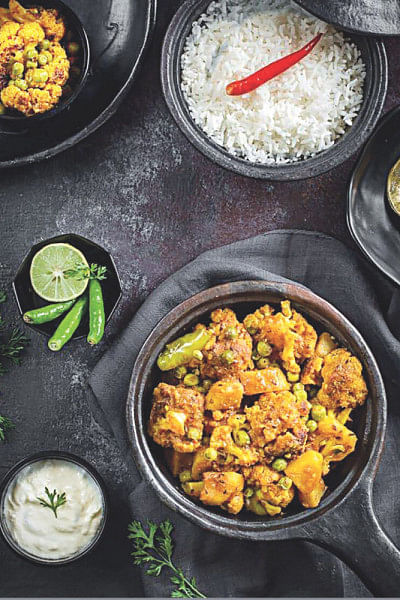 If you're a straightforward villager like me, you'll be curious to entertain the foreigner. Before you do there are things to consider. Foreigners have foreign ways; allowances are required. Yet, despite the inherent challenge it's good to feed one. Even foreigners need to eat.
I write from experience. I write because I chanced upon a foreigner in our Dhaka neighbourhood, a Tajik as it turned out. It seemed only natural to invite him for Friday lunch. I write to share what I learned in the hope it may help other villagers seeking to feed the foreigner.
If you've relocated to the capital, the first difficulty might be the address. If your foreigner is British, they'll count the building floors from "Ground." Americans start counting from one. For foreigners from other countries it's anybody's guess, though one thing likely to confuse any of them is to say, for example, that it's on the third floor, lift button two.
At the front door there may be the issue of shoes. Americans tend to leave them on. In the interest of courtesy if this occurs it may be overlooked, and of course if you live in a mud floor residence there'll be no issue here.
Indeed, if entertaining at a village home it may be worth considering the merit of rats running along the rafters after harvest time, or chickens parading through the home at any time of year. A monitor lizard hiding under the showcase is similarly likely to surprise your foreign guest.
Before considering the menu, think cutlery. Bizarrely, foreigners rarely know how to eat with their hands. If they're adventurous, they may wish to try it, but best to have a fork and spoon ready. Indeed, if they're westerners and you do give a fork and spoon, it'll still be exotic to them; they'll think they're in Thailand since westerners generally eat with a knife and fork, but then who keeps a table knife at home?
Conversation is likely to be the biggest challenge. Your foreigner might not speak Bangla or they may be restricted to a total lexicon of twenty Bangla words with which to express every notion, life philosophy and pleasantry. In such case you'll have to detect the nuances in meaning when they say everything is "bhalo."
Alternatively, you could try to converse in the language of the Britishers. If pursuing this option, you'll likely discover that your foreigner speaks English with some oddball accent. There can be garbled grammar to contend with, such as if the foreigner is trying to say something simple like they've had a lot of works to do, it can be that they omit the final "s" from "work." Even though you know that "a lot of" is clearly plural, in the interests of making your foreigner feel at ease, it's best not to correct them.
As for conversation topic, it's an area fraught with risk. Asking a foreigner their salary amount may not warm them to your hospitality. Similarly, it's best not to ask about their marital status, age or how many children they have. For reasons unknown, foreigners feel uncomfortable with such harmless chit-chat inquiries. Similarly, asking for a visa to their country might not be the best conversation starter.
Further, if seeing the foreigner on a subsequent occasion, it's advisable not to open with "You're looking fat," or "You've put on weight," though inexplicably the opposite observations are well received.
Carefully consider the menu. Foreigners like bland food. If you take a simple menu of say, chicken, an egg curry, vegetables and rice, it'd be wise to prepare it without a green chilli in sight. Sure, you won't enjoy it much but the foreigner may be thankful. Shutki might be one dish to avoid if it's the foreigner's first visit to your home and think twice before offering the foreigner a fish's head to demonstrate that they are an honoured guest.
With regard to servings, foreigners tend to really mean it when they decline offers of more food. If you forego the usual practice of piling more food on the plate despite repeated protestations from the guest, the foreigner will not perceive it as demonstrating a lack of generosity or welcome. Similarly, don't expect the foreigner to shield their plate with their hand to prevent additional servings from being added. They are unaware of this practice.
Be generous with water. Foreigners are thirsty people who have the unthinkable habit of sipping water throughout the meal, rather than drinking a glass or two at one go at the end. While this makes no sense at all digestion-wise, they do it. Thus, if they take their hand off the glass while there is still some water in it, this doesn't mean you can remove the said glass from the table because they are done. Equally strange, foreigners aren't in the habit of touching the glass base with the back of their right hand when they drink. Don't let this shock you.
At the end of the meal, when it comes to tea, don't be surprised if they ask for no sugar, and if they do, it's best not to ask in return if they have diabetes. For some reason, many foreigners prefer foul, bitter tea regardless of their health status. It can also be advisable to tell the foreigner to chew on rather than swallow the betel leaf.
Most importantly of all, don't stress. While these simple tips may help your foreigner to enjoy their invitation in your home, there's a reason why Bangladeshis are renowned for hospitality. As it was with my Tajik guest, your foreigner is likely to enjoy the occasion of their visit whether or not their peculiar social habits are taken into account.
Andrew Eagle is an Australian-born author and English teacher who has lived in Bangladesh for quite a long time.