In remembrance of Jibanananda Das
"Poetry and life are two different outpouring of the same thing; life as we usually conceive it contains what we normally accept as reality, but the spectacle of this incoherent and disorderly life can satisfy neither the poet's talent nor the reader's imagination… poetry does not contain a complete reconstruction of what we call reality; we have entered a new world."

                                                                                                                                                               - Jibanananda Das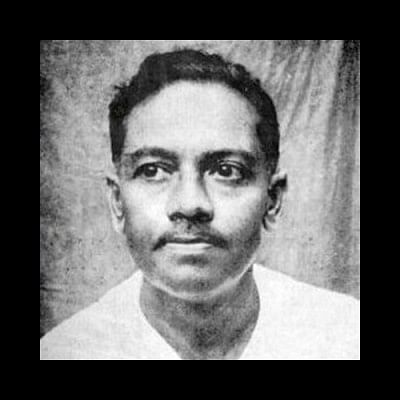 One often encounters the references to olden times and places, events and personalities, while reading Jibanananda Das. His poetic world has been shaped to a great extent by the unmistakable element of a sense of time and history, bringing in a new dimension in modernist poetry in Bengali.
However, nothing went out of his sight from the reality he dwelled in, and this enabled him to create a new poetic domain, which remained anchored to his own soil and time, while successfully emanating his experiences of real and virtual, producing hundreds of unforgettable lines.      
Jibanananda Das, a Bengali poet, writer, novelist and essayist, is often acknowledged as the premier poet of Bengali literature after Rabindranath Tagore, and considered as one of the greatest modern poets in Bengal.
He was dimly recognised during his lifetime. However, he became the Bengal's best loved poet over the time. His poems were regarded as part of the Bengali consciousness across the border between India and Bangladesh.
Jibanananda was one of the five masters of Bangla poetry, known as Pancha Pandab during the Kallol school of thoughts in Bengali poetry in the 1930's, along with Sudhindranath Dutta, Bishnu Dev, Amiya Chakravarty and Buddhadev Bose, who pioneered in bringing the essence of modernism in twentieth century Bengali poetry.  
He was born on February 17, 1899, in Barisal district in the then undivided Bengal. His father Satyananda Das was a school teacher, essayist, magazine publisher and founder-editor of Brahmobadi, a journal of the Brahmo Samaj. His mother was poet Kusumkumari Das who became famous for her poem 'Adorsho Chhele (The Ideal Boy)'. He was the eldest of three siblings. He got married to Labanya in May 1930. The couple had a daughter Manjusree and a son Samarananda.
Jibanananda passed his Matriculation and Intermediate exams with first division from Brajamohon College in Barisal and enrolled in Presidency College in Kolkata (the then Calcutta) from where he graduated in English Literature in 1919. His first poem, titled 'Borsho-abahon (Arrival of the New Year)', was published in the same year in the Baishakh issue of Brahmobadi journal. He completed his MA degree in English from University of Calcutta in 1921 with a second division and began a career in teaching the following year, joining the English department of City College in Kolkata. However, he did not stay there for long, and had since switched his position as a teacher of English from one college to another until he finally joined at Howrah Girl's College (now Bijoy Krishna Girl's College) as the head of the English department in 1951.
His literary career began in 1925 with his poems occasionally being published, mostly under pseudonym, in various magazines including Bangabani, Kallol, Kalikalam, Progoti, among others in Kolkata, Dhaka and elsewhere. Two years later, his first collection of poems, Jhara Palok (Fallen Feathers), was published.
Jibanananda then wrote one of his most controversial poems, titled 'Camp-e (At the Camp)', which was published in Parichay magazine and instigated a firestorm in the literary circle in Kolkata, where many criticized him for allegedly promoting indecency and incest through this poem.
Around this time, he secretly turned to fictions, writing a number of short stories and novels during this frustrating time of strife and unemployment. Later he wrote a series of poems in 1934 which were not discovered during his lifetime and were published in a collection Rupasi Bangla (Beautiful Bengal) in 1957, three years after his death.
In 1935, Jibanananda wrote 'Mrittu'r Aagey (Before Death)', which got appreciation from Rabindranath Tagore, followed by the famous 'Banalata Sen', which were published in the first and second issue of a brand new poetry magazine called Kobita. The 18-line poem became one of the most famous poems in Bangla today.
"For thousands of years I roamed the paths of this earth,

From waters round Ceylon in dead of night

           to Malayan seas.

Much have I wandered. I was there

in the grey world of Asoka

And Bimbisara, pressed on through darkness

         to the city of Vidarbha.

I am a weary heart surrounded by life's frothy ocean.

To me she gave me a moment's peace-

            Banalata Sen from Natore."

                                                                 - Banalata Sen (translated by Clinton B Seely)
In 1942, his third poetry collection Banalata Sen was published. The World War II had a profound impact on Jibanananda's vision in poetry, and in 1944 his poetry collection Maha Prithibi was published. The aftermath of the war saw heightened demands for Independence in the subcontinent, followed by the Partition in 1945. In 1947, he left Barisal for Kolkata and there, already established in the literary world, he was appointed as an editor in a new literary magazine Dwandwo (Conflict).
By then, he was acclaimed as one of the best poets of the post-Tagore era, being constantly in demand at literary conferences, poetry readings and radio recitals. A volume titled Shreshtho Kobita (Best Poems) was published in May 1954, which won the Indian Sahitya Akademi Award in 1955, after his death on October 22, 1954, following an accident on October 14 when he was hit by a tram while carelessly crossing a road near Deshpriya Park in Kolkata on his way back home from his routine evening walk.
"I walk along the tram line: night now deep

I hear the teasing of some life of the past:

'You are like a broken tram-

there is no depot, you don't need wage

Alas, when has this occurred!'

That old life sinks behind

The star in the sky, in darkness."

                                                          - Along the Tram Line (translated by Faizul Latif Chowdhury)
Today is the 118th birth anniversary of this legend in Bengali literature. We remember him in this day with the greatest reverence.