Learning to live right with Dr Richa Chopra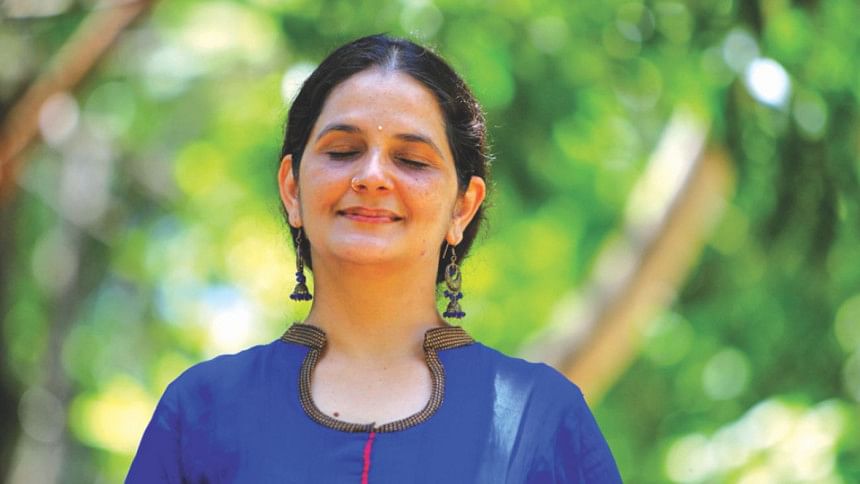 When a person with a PhD in psychology who understands human minds and tendencies turns her attention towards more spiritual endeavours, it is time to sit up and take attention. Dr. Richa Chopra has such credentials along with a compelling back story of her journey so far. Married before she had completed her Masters to a well-educated and financially well off individual, Dr Richa says everything seemed to be falling right into their place at that time. "Everything was fine as far as my professional and personal life at that time. My husband was well-educated and financially stable but I began noticing that the culturing of his mind was inadequate," she recalls now. Mentally and physically abused, her husband pushed Dr Richa to the grasp of depression, until a separation set her free. Extremely depressed and weak, she returned to her parents, who welcomed her come back but with a tinge hued by the taboo of divorce. Her educational level helped Dr Richa to maintain herself economically but she always felt that there was something missing. 
"My mother actually forced me to do the Art of Living, a 6 day course. Initially, I ran out because my child would cry but my mother was adamant and she took care of the child and after 6 days of training I mastered a powerful breathing technique." It was called Sudarshan Kriya, a technique which incorporated individual natural rhythms of the breath which harmonised the body, mind and emotions. This unique breathing technique was said to eliminate stress, fatigue and negative emotions such as anger, frustration and depression, leaving one calm yet energised, focused yet relaxed. "Controlling one's breathing is one of the most important steps. Think of how your breathing becomes heavier when you are angry, shallow when you are relaxed and incessant when you are scared," she said. "Thus, this shows that breathing isn't based on our emotion but is a reflection or rather physical depiction of our emotion," she continued, elucidating that thus once the breathing could be controlled, the emotions could be controlled too. "If you feel upset, you think everyone is upset. If you think you are happy, the world seems happy. Our impressions of the world are influenced by exactly how we feel," she concluded. Breathing helped flush out the bad energy and bring in the new and this was just the first step.
Of course, breathing wasn't the only thing. Three months into the course, Dr. Richa changed her diet to a vegetarian one and gradually to a diet devoid of oil and sugar and soon conditioned her mind to be more focused on the positive and the present. "The mind is extremely difficult to still. No matter what we are doing, our mind either strays to the past or the future but that is pointless because one has already happened and the other cannot be determined. We must enjoy what we are doing now and attune our minds to focus on the present only," she said. Dr. Richa enjoyed her courses so much that she eventually did an advance course and eventually became an Art of Living Teacher teacher. "I eventually decided to join an ashram (The Art of Living International Centre, Bengaluru, India) and though my parents, especially my father, were adamantly opposed to my decision I knew it was what I had to do," Dr Richa explained. She elaborated that she had reached that point where she was tired of materialistic pursuits and began to wonder how she could truly become an agent of change. It was the ashram, where she found herself, raising her daughter along with her and defying all odds. Committing herself to her new work, she further lead numerous projects and enabled many historic partnerships and initiatives on a plethora of Social Developmental Issues, such as ones on female foeticide, HIV AIDS, child protection issues, among many others, working hand in hand particularly with the United Nations and the Government.
"Alternate healing is holistic. If your mind isn't happy your body will feel depressed. And if your mind is happy and your body isn't, you can do anything and this illustrates that the mind is more powerful than the body," she says. Facing her divorce and custody battles while in the Ashram, Dr Richa hasn't only set an example but rather led by leadership. During her time away, engrossed in the lessons, she managed to dwell into music and released three albums titled "Mehar", "Mahi" and "Sanchi Preet". She also ensured her daughter's upbringing in the ashram did not stymie her development in any way, resulting in the young Miss Chopra being admitted to one of the best colleges in her country whilst also being an expert Sitar player. 
To Dr Richa Chopra, religion isn't an impediment to her practice. She points out the numerous Iraqis, Indonesians and Pakistanis who follow the Art of Living practice as an example of the harmony between Islam and the philosophy of the Art of Living, founded by Sri Sri Ravi Shankar, a spiritual, humanitarian world leader. for example. "People from every religion have breath. They all want to be happy calm and composed," she answered when asked why there is so much coexistence between her practice and individual faith. Speaking to Dr Richa Chopra, it is easy for the worst cynics in her practice to have a change of heart. Eloquent and logical, Dr Richa Chopra isn't just propagating ideas she has heard or followed but rather preaching gospels she has learned by her very own experience. This is what makes her a must see. 
Recently, Dhaka had the opportunity to do just that. Those that signed up for the "Art of Meditation-Sahaj Samadhi Meditation course" got just the taste of what Dr Richa had to offer. She also had the pre training teachers for who wanted to share in her wisdom. Those that attended were rewarded. For those who are more interested in the Art of Meditation and the Art of Living, check out their website on: www.artofliving.org
By Osama Rahman
Photo courtesy: Dr Richa Chopra