Trick for the treats with makeup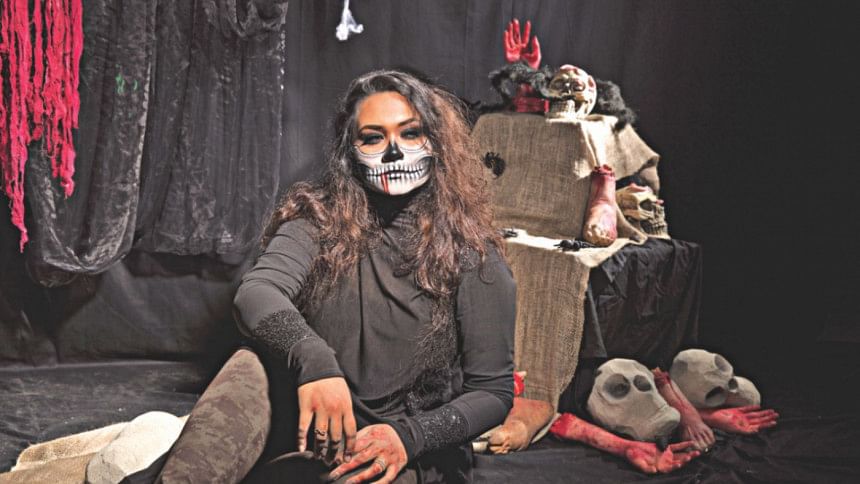 Halloween is here. A lot of you have been anticipating this for a year now. And some of you just happen to go for the tricks and stay for the treats. On this day of make belief, if you have RSVP'd yourself last minute to a Halloween event and do not have the costume of the year ensemble, here are a few less than 10-minute Halloween costumes you can put by only using makeup. 
The day of the smoky eye

This idea should be the first and last in your costume options. It is the easiest to do, and you can intentionally pay your tribute to the 2000's bold smoky eye. Apply black kohl all over your lower lid and smudge for a smooth finish. Popular palettes today feature cream based shimmery and glittery eye shadows alike the Huda Beauty Pressed glitter; dab one of those on the centre of the lid for the ombre´ effect. Pair them with circle lenses, you could be a vampire, a cat, or even Morticia Addams. 
Pennywise; pound wise too

IT could not have launched at a better time. Powder, red lipstick and eyeliner is all you need for this look. All items you already own, and even maybe a powder and liner that have been getting less attention. For this look, precision is nothing and mad-brows is everything. So, knock yourself out. 
Whiskers

To show your love for the feline family, you only need an eyeliner. Draw a cute heart on your nose, and draw a line from your nose bridge to your cupid's bow. The upper lip should be coloured black with a lipstick or 'kajal'. 
Remember to use Vaseline as base coat for the black lipstick or kohl for easy removal. Dot in some freckles on your upper lip for the extra touch. 
And lastly with a liquid liner, draw some whiskers from your smile lines to your cheek bones. You could be a small cat or a big cat of your choice. If you are going for a Garfield look, carry your own lasagne to the party! 
Contour queens

This one is a tribute to all the contour lovers. Contouring comes in a variety of crazy techniques, especially the trends in 2016. This Halloween, your costume can be the unblended contouring and highlighting. Girls can do this as a tribute, and guys can do this as a mockery. You could do the Kim K contour, the clown contour with colour correctors and the non-tour (strobing). This should be a prize winner for the most courageous costume
Your day of make believe can simply be done by adding a beauty spot or mole to your face, or even drawing a uni-brow. 
You can even initiate Movember by drawing out the perfect moustache. 

See how easy life can be?
By Sanumkia Siddiqui

Photo: Sazzad Ibne Sayed

Model and make-up: Raisa Naushin

Set design: Eskay by Saimul Karim