When to throw your makeup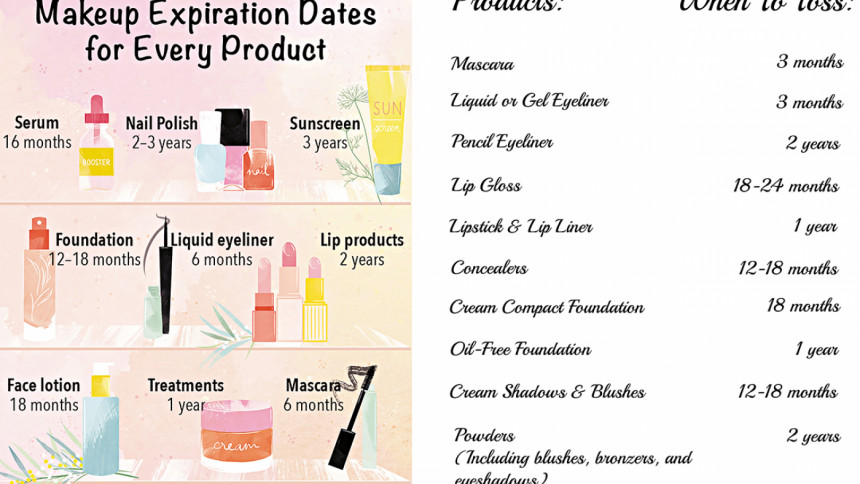 Everything has an expiration date, even makeup. Although we do not always realise this, but use of expired makeup can have harmful effects on our skin. When I was younger, I was under the impression that I could keep my makeup forever. After all, I spent so much money on them!
The result? I fought with breakouts; I wore foundation that I should have thrown away two years earlier. 
Lipstick
Makeup is expensive, which makes it difficult for us to discard them as long as there is still some product left. You probably invested Tk 1,700 on that fuchsia lip colour, but do you know that you could be harming your lips by using it for too long?
Unless otherwise mentioned on the tube, a lipstick is typically good for one to one-and-a-half years after you open it.
Foundation
It's not easy to find a foundation that perfectly matches your skin tone. And then, when we find that perfect foundation, we do not want to throw it out until we have reached the end of the bottle. But don't wait that long, because wearing the same foundation for years poses acne, burn and skin irritation risks.
Why?
The properties of cosmetic products change after a certain period of time, because cosmetics are perishable. So, unless otherwise mentioned on the packaging, throw out your foundation a year after it is opened.
Blush
Those rosy cheeks give a youthful appearance and healthy glow to the face. But an old blush can cause breakouts. A blush is typically good for up to two years. Always read the label for an expiration date and do not share your blush brush with anyone.
EYELINER, EYESHADOW, MASCARA
Liquid eyeliners last shorter than pencil eyeliners. While pencil eyeliners are typically good for one year, liquid eyeliners, as well as mascaras should be replaced every three months.
Just three months? I know, it even hurts to read this. But using old eye makeup can be extremely harmful to your eyes. I have heard about people who landed in the emergency room for allergic reactions to old eye makeup.
According to the U.S. FDA (Food & Drug Administration), misuse of eye makeup can cause dangerous bacteria and fungi to grow in them. These microorganisms can cause serious eye infections. Always apply eye makeup after washing your hands and do not share your eye makeup with anyone. Among all the eye makeup, it is the eyeshadow which lasts the longest; it is usually good for up to two years.
U.S. FDA also warns against use of kohl or kajal. A Bengali woman's makeup is incomplete without kajal, but it contains salts of heavy metals, such as lead and antimony. In the U.S., it is illegal to import or sell kohl, kajal or surma because of their high lead content. Although common in our culture, kohl or kajal should never be applied on infants and small children because of the health risks associated with high levels of lead present in it.
False eyelashes and tinted contacts are in fashion. They are worn for cosmetic purposes and like any cosmetic product, should be used with care and caution. Always read the expiration date. Discard any expired lash adhesive, contact lenses and their saline solution to prevent eye infections.
You know your makeup has expired when it becomes clumpy, and there are visible changes to its colour and texture and when it does not hold up well. Because makeup is made of chemicals, any expired makeup can cause major damage to your skin and eyes.
As mentioned before, makeup is expensive and it breaks our hearts when we have to toss a makeup product before we have used it up all. The solution? Spend conservatively when it comes to cosmetics, and do not open all your makeup products at once.
Photo: Collected