by the way
Children and household chores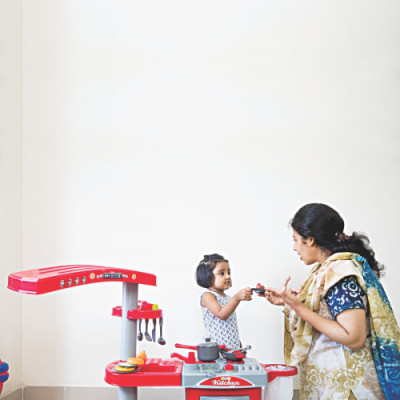 Parenthood is undoubtedly one of the toughest jobs on the planet. Parents these days insist on perfecting every little detail of their kids' lives in order to help them grow up to be successful and joyous. While helping them stand on their feet with the best education and resources available, the smallest things are often overlooked, which could hamper their long run success in the future.
One of the hardest tasks nowadays is getting children involved in household chores, or worse, voluntarily not letting them get involved. Every member of the family should be involved in chores that can balance work and play, and that includes children as well. 
Start simple

Anyone can be handed chores at any time, but it should be simple for children to begin with. Even toddlers can be taught to put back their toys in a basket instead of asking the help to clean up after them. This teaches them responsibility from a very early age, and is likely to last long after. However, it is important to not expect too much, as they are children after all, and they will make tonnes of mistakes. Show them how to tidy up instead of performing the chore yourself. Otherwise, kids will be more likely to mess up every time, thinking someone will take over the job. 
Timing is crucial in making children to their work. Do not assign anything before bedtime or after school when they are most likely to be tired. 
All family members should participate in the household work; it will encourage children and teach them that they have to do their share of work.
Include children in the decision making process; it will make them feel like they are an important part of the family. 
Age Appropriateness

Of course the chores you hand your children need to be age-appropriate. When dealing with toddlers, give them small jobs like putting away toys after playtime, throwing wrappers in bins and teaching them how to feed the pet. As these children grow up a bit more, let them handle tougher tasks. Children who are a bit older should be expected to do chores properly, and should be given tasks that require more effort. Start by asking them to make their own beds, which is the main trigger to starting an efficient day. Teach them the importance of a clean study table. These kids should be handed jobs that not only help to clean, but exercise their skills as well, like colour coordinating books on a shelf, organising drawers accordingly, or counting as they fold clothes. Ask them to clean up after meals and spills, turn off the lights when leaving a room, take out the garbage, and water the plants. 
Set up a routine

Children can get both tired and bored performing the same chores every single day, even more if they are not doing it willingly. Setting up a weekly planner will help them get out of the zone. Set a different task for everyday of the week. For the very small ones, try keeping an off day at first which will encourage them to quickly be done with their tasks. The bonus with these charts is that they help develop mathematical and organisation skills within children while they try to read maps or charts from a very young age. 
Give recognition 

No child will ever feel happy doing chores without encouragement. They need to hear words like 'Good Job' even though no parent will be satisfied with their work at first either. The main point here is not to do the job perfectly, but to do it to learn, and a praise or tap on the back can encourage children more than one might think. 
Provide incentives

Treats for the young ones and maybe an allowance for the older ones can help encourage them to work, and maybe even look forward to it. This will also teach children that earnings come from hard work. 
The key is to understand what discourages them from participating in the first place. A lot of factors are taken into account here. Sometimes, they do not understand the task at hand and sometimes they fail miserably, but with a little knowledge and help, they can surely overcome those barriers. The key is to teach children that we should not depend on the house help for every little chore, and always clean up after ourselves, be it at home, school, or outside. 
It is always the small tasks that help children grow and learn, and eventually gives them a purpose to fulfil. It might not have a direct link to their future career or job, but it certainly teaches them the importance of accomplishing tasks by themselves, instead of having it done for them. It teaches them resourcefulness and excites them for more, all together helping them improve every step of the way. 
By Anisha Hassan

Photo: Sazzad Ibne Sayed

Model: Tavishi and Bidhu