Those wonderful Ballerinas!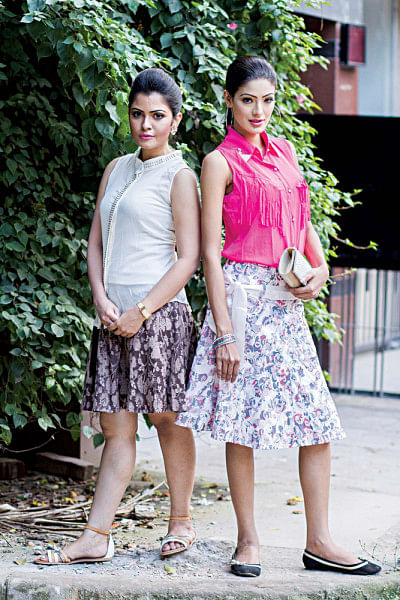 Sophistication, ease and simplicity – are these the qualities you desire in your ideal footwear? You will discover them all in abundance, packaged into what exist as ballerina flats.
They are the perfect type of footwear that helps to exude the right magnitude of elegance and comfort at the same time; something that gets you moving seamlessly without experiencing the fear of a broken ankle and pang of blisters and also something that helps to hold your style game in the Instagram parade. 
Designed somewhat like coated shoes with no heels, they never seem to fall out of vogue, practically always in favour with style divas of all ages. They complement almost every ensemble look, be it a casual in jeans and t-shirts, or those more formal appearances. They even look great when sported with traditional outfits like fatuas, or shalwar kameezs. 
Ballerina flats work perfectly well if you are hesitant to expose your toenails and the surrounding area because of the dust and dirt, or let's just assume you have missed a pedicure or two. They play remarkable substitutes if shoes built with any heightened platforms pose a threat of throwing you over the edge.
While ballerina flats in monotones with a simple crafted bow over the toenail area should ideally be a part of your wardrobe staples, to be in sync with raging local trends, you could opt for the ones popularly known as 'khussas' or ' juttis' which resemble more of the Indian traditional shoe called 'nagra' than those originating from the western world.
They serve as convenient slip-ons if shoes involving chains, strings and buckles seem too problematic and time-consuming for you to put on. Moreover, if you want to avoid going overboard and simplicity is all you wish to achieve in your overall outlook, then embracing this type of shoes as your must have should be the way to go.
While Apex and Bata are obvious on your list for great quality ballerina flats for mostly reasonable prices, there are quite a few niche retailers in the local market from which to add to your cart.
Monroes is an upscale Bangladeshi footwear brand whose specialisation lies in offering khussas in a variety of colour schemes and embellishments.
From floral patterns to animal prints, Needlebees is another name in the game which has a wide collection of khussas in their repertoire.
If you are looking for international names from which to purchase your coveted pair of ballerina flats, look no further than Forever 21 and Michael Kors, which have ballerinas in leather and moccasins that are to absolutely die for.
Plain black, pink and navy blue ballerina flats serve as neutrals for outfits in every colour; don't hesitate to stock up on these in shocking orange, neon greens, bling surfacing, and stone detailing to add that extra oomph factor to your appearance.
Photo: LS Archive/Sazzad Ibne Sayed