Grecian gowns and gorgeousness
Femininity, Charm and Grace — these three terms (or 'the trio') gel wonderfully well. Perhaps, to describe a woman at her best or to complement the Grecian way of styling! Having said that, every fashion enthusiast knows how ornate pleats and Greek-inspired draping helps bring out the power of said trio.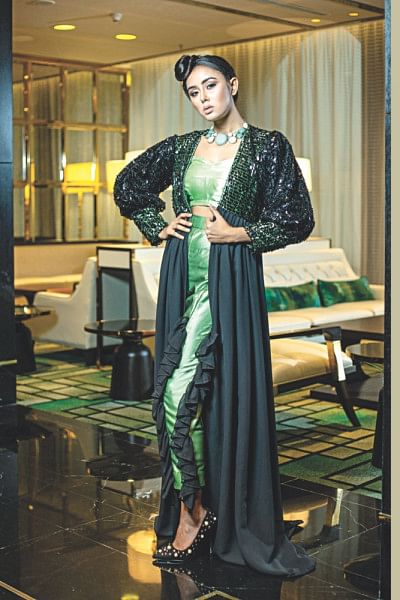 What's special about Greek styling
All apparels are artfully arranged, every piece of clothing is carefully pinned and belted in position. The flow of the long robes and gowns are theatrical, with every pattern embellishing the garment in a perfect composition — almost like poetry. This very styling has trickled down from the land of the demi-gods and seeped into the fashion culture of the mortals.
An inspiration to contemporary designers
From the history of styling, we got to learn one fact — that fashion repeats itself. And ancient Greek fashion has influenced contemporary fashion repeatedly over the years. The most appealing aspect of a Greek style is that it can be experimented on extensively to create different looks. Plus, materials such as linen, chiffon, and chinon apparels used in the styling efforts are comfortable, relaxed and help show off feminine features in the best possible way.
Revival of the drapes
The Grecian drapes have been revived by modern day designers and incorporated into evening gowns with elaborate pleats, transparent nets and special embroidery, especially at the waistline and below the neckline. Such drapes add drama to the outfit, giving a soft touch that has currently become a staple for the celebrities frequenting red carpet events.
One shoulder outfits, long jackets and capes
Capes and long jackets are truly a timeless Grecian trend. And the best thing about it is that it is certainly here to stay. These special gowns and styling can easily be worn at any soiree or formal get-together, where the lady wants to feel special and different. Because a single strap attire with asymmetrical neckline definitely makes an appealing outfit and can even be incorporated into the deshi wardrobe — for instance, a one-shoulder kameez or kurta.
Accessories
Considering summer, gladiator sandals and jewelled headbands are a perfect match to the long gowns, making one look no less than a fairy-tale princess. But if someone wants added drama to the exquisite looking gowns, they should definitely opt for stilettos or wedges.
-----
The Greek way of styling for both men and women were ahead of their time. Today, designers acquire huge amounts of inspiration from the revered civilisation and brought their fashion into the mainstream styling of the 21st century. All because it helps the wearer warp back into the dreamy days of yore, without much effort.
Photo: Shahrear Kabir Heemel
Model: Antora
Styling: Sonia Yeasmin Isha
Wardrobe: Butterfly By Shagufta
Makeup: Farzana Shakil's Makeover Salon
Location: InterContinental Dhaka