The ultimate wedding check list
Get your guest list ready for the holud, mehendi, and wedding. Decide on the venues based on the guest list. Draw up a list of preferred venues. Collect the names of contact persons and numbers for finalising the venues.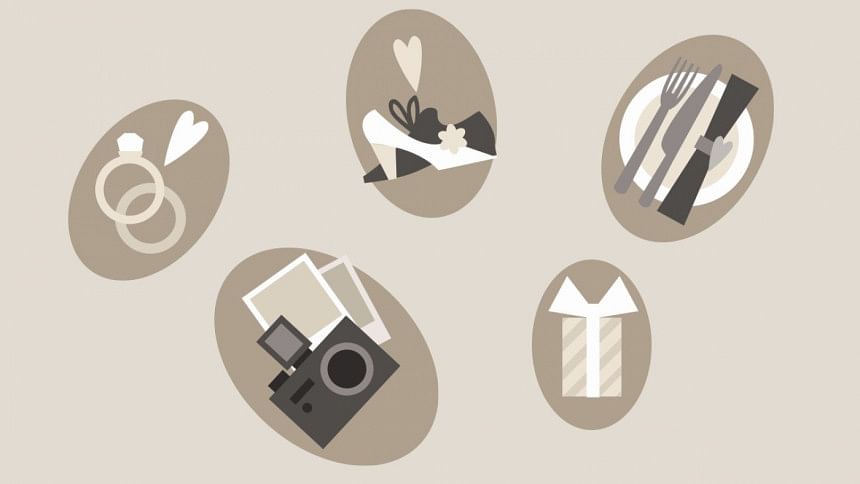 Day 1
Get your guest list ready for the holud, mehendi, and wedding. Decide on the venues based on the guest list. Draw up a list of preferred venues. Collect the names of contact persons and numbers for finalising the venues.
Suggestion – look up on the Internet, most venues have an online presence and contact numbers are offered on the web, if not, wait for day two and walk-in!
Day 2
Visit the final list of selected venues. Bargain on the charges asked and talk to associated caterers. Acquire the menu list.
Day 3
Pay the booking fee for the venue. Visit couturiers for that special outfit. If you are spontaneous and lucky, you'd be able to select within a day.
Day 4
Decide on the photographer, videographer/cinematographer. Listings are available online. If you want your photographer friend to help out instead of hiring a professional, please inform your friend and confirm the date. They might otherwise be booked elsewhere on your big day.
Day 5
This is especially for the ladies, please book the preferred makeup artist. If your wedding is at an odd time of the year you are in for some luck. If not, and it is the peak season, then there's high chance you will not get her appointment for your special day.
On the high odds that you did not get the opportunity to book your favourite MUA, you can always opt for the second person at the parlour. The right-hand wing-lady of the artist, experience says, are often as good as their mentors.
Day 6
Decide on the decorator, event planner, event organiser – whatever fancy name you want to call the post. It must be done by now. Invite at least five of them to meet with you with their portfolios. Share your ideas with all of them and get budgets from each. Explain the scope of the work to these vendors — whether you want them to decorate the dalas, your car, or just the venue.
Day 7
Make final decision on the planner. Remember that while affordability is the most important criteria; cheap is not always good. The common rule of thumb is that you select the median.
Day 8
Make a checklist that all of the appointed  vendors have been paid a certain amount in advance. Make a separate note of the amount left to be paid and when the due date is for the payment.
Day 9
Make appointments with the parlour to begin your skin care routine. Make a visit to the invitation card-stores and order your customised invitation card for the wedding, reception, holud and mehendi.
Day 10
Did your parents already buy the jewellery long before and store it with the hope that you would be getting married soon but you disappointed them? Well, you are in for luck now if they were foresighted and planned much ahead.
If not, please go out and check the jewellers and finalise on the wedding jewellery. Do take your bride-to-be while you visit the stores. You do not want her to be disappointed with the jewellery, at least!
Day 11
There's definitely no time for making new furniture. All you can do is order ready-made pieces and pray that it fits perfectly inside your room. This is definitely optional, if you already have furniture for your room and do not need to impress anyone  with new sets, consider yourself lucky!
Day 12
From today, the beauty regimen must start. Even if it's as minimal as applying 'uptan' at home, eating healthy and staying hydrated; it must begin by now. Those who are already following a healthy lifestyle with regular yoga sessions in the morning; good for you! For that extra bit of glow, you can visit your favourite beauty parlour or salon.
Day 13
Get a haircut, do your roots or get brand new highlights. Just make sure you do not opt for irregulars like galaxy highlights or punk style. This is definitely not the right time to experiment.
Day 14
Start making calls to those in the guest list. Inform them of your good news and tell them that they would be expecting a card via courier soon. Considering the infamous traffic of Dhaka or any other major city within Bangladesh, it is almost impossible to personally deliver the invitation cards.
Day 15
Only a fortnight left before the main day! It's about time you got ready with the wedding trousseau. Consider this as day one for the wedding shopping. Be selfish; buy yours and your spouse's wedding outfits first considering you had already failed in your first attempt. After you are done with both of yours, concentrate on others.
Day 16
Shopping again, if day one was completely futile. Don't worry, there's plenty of shopping options in the capital. Take your time; we are sure you will come across something extraordinary. For men's suits there's Dapper Bespoke, Fit Elegance, Zurhem and lots more. For the ladies there's Aarong, Sarah Karim, Libaas, Sahar Rahman, Rina Latif, Mayasir and lots more.
For the ladies, its good news. Most hosues have ready-made pieces that can be altered and made to fit your stature on a short notice. For men, you have to make everything from scratch and today is probably the last day! Unless you personally know the owner and he is ready to work overnight for you.
Day 17
Shopping again, and it is accessories day today! Match your bags, shoes and sandals.
Day 18
Shopping for the extended family.
Day 19
Shopping for the immediate family.
Day 20
Don't forget to include cosmetics in the wedding dala!
Day 21
Try to pan-out the shopping phase
Day 22
Enough with the shopping already, time to be ready with the dala. Design them with the help of family and friends or else you can subcontract to a vendor who specialises in dala making.
Day 23
Your cards have arrived, start pasting names and addresses. It's an extremely tiring job though. Take the help of friends and family; provide them with the list. Make sure that no name is repeated. Mark the names carefully to separate. Mail the invitation cards.
While your friends are helping you with everything please take care of yourself and visit the parlour/salon again.
Day 24
Your furniture has arrived. Please do the setting inside your room. If there's no hassle with furnishings, make yourself busy with other things like looking up for an entertainer/singer for your holud. Make appointments, book and finalise.
Day 25
Call up the guests again to re-check whether they have received the cards or not. Visit the dentist, if you want to whiten your teeth for that dazzling smile.
Day 26
You are too close to the big day so get away from any kind of hassle. Please inform all your good friends and close ones within the family about all the proceedings and assign each one with a duty.
This is the perfect moment to exercise the term, 'What are friends and family for?'
Day 27
Parlour/salon – Relax, watch movies. Stag night with friends; DO NOT DO anything stupid that you might regret for the rest of your life!
Day 28
Practice smiling a lot; you'd definitely need it. The dalas are prepared by now. Your clothes have been made to fit you. The jewellery is ready and all the vendors have been booked with advance payments. Breathe! Visit the parlour or the
salon for a hot oil massage and whole-body massage.
Day 29
Send the special dalas to your in-laws like your lady love's wedding sari or your hubby dearest's sherwani.
Day 30
Switch off your phone, take a nap as long as you can. Cut yourself off from the rest of the world because tomorrow you need to look your best and impress thousands of guests, all with a ready smile!