Qurbani Eid during COVID-19: Your questions answered
Due to the pandemic, the upcoming Eid-ul-Azha has thrown a gamut of new challenges to us all, pushing families and households into a sea of concerns, choices, and dilemmas, with a plethora of questions in mind. This week, Star Lifestyle addresses the issues and questions, to aid you in arriving at an informed resolution. Its decision time now!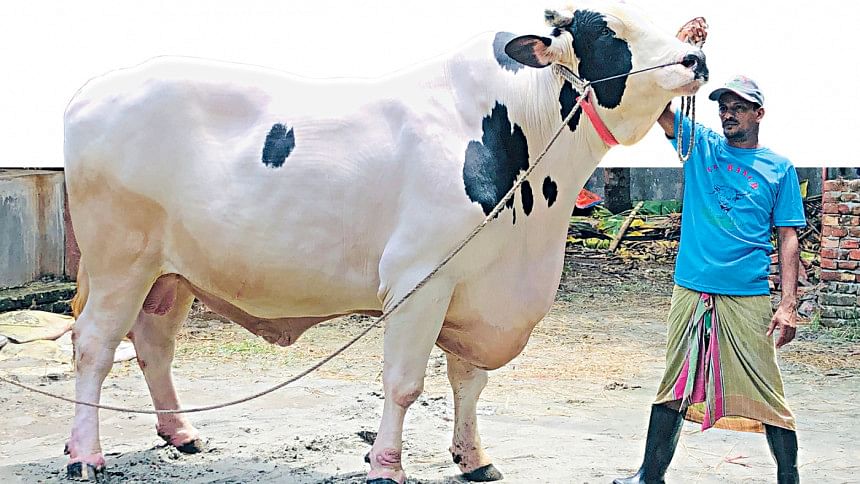 Off to the haat?
For most of us, in the previous years, going to a cattle market to buy sacrificial animals was the obvious choice, one which a lot of people generally look forward to.
But this year, for obvious reasons, things are different, and many customers are looking for ways to avoid cattle markets.
Meanwhile, the two Dhaka city corporations are working with concerned authorities to ensure that health safety standards are maintained in the haats.
To illustrate, Dhaka North City Corporation (DNCC) mayor Atiqul Islam has informed that the leaseholders of the cattle markets have been given terms, conditions, and guidelines relating to health safety, further stating that he has cancelled a number of haats this year considering the public health situation.
In an interview over the phone last week, the mayor told Star Lifestyle that there will be magistrates in the cattle markets for strict monitoring.  
The DNCC mayor has also recommended that the elderly, the sick, and children not visit cattle markets. 
A concern for some people may be that while it is good that the number of haats has been reduced, what if the density of people in those haats increases, given that there are relatively fewer haats, making the reduction counterproductive?
Addressing this issue, the mayor replied, "We have recently launched a digital cattle market. So, there is that alternative, and buyers need not necessarily come to the traditional markets. But for those who want to physically visit a haat, we expect them to have in mind the basic health measures such as wearing a mask and maintaining social distancing and so on."   
Meanwhile, the Joint Commissioner (Operation) of Dhaka Metropolitan Police (DMP), Md Monir Hossain, said, "We will be monitoring the cattle markets and make buyers and sellers aware through various means — so that people don't end up eventually harming themselves in celebration of the festival."
On the other hand, the very idea of setting up any haat at all has also been challenged.
"As a virologist, I cannot support this, given the current stage of the pandemic in Bangladesh. The risk of infection and spreading of the virus from the cattle markets is there," said Dr Jahidur Rahman, Assistant Professor, Shaheed Suhrawardy Medical College.
He added that the risk can extend to the whole country because haats draw in traders and various stakeholders from all over Bangladesh.
The closest alternative to traditional haats
So, now you know about the health measures taken and also the possible risks of physically going to a haat.  It is up to you to balance out and decide whether you want to visit a cattle market or opt to buy online.
But if you are torn between the two, there is actually a middle ground you may consider.
How about visiting a farm in Dhaka?
Mohammed Imran Hossain, owner of the renowned Sadeeq Agro said, "This year, many customers are preferring going to a farm and buying directly from there. Our farm also has a seating arrangement for the comfort of the visitors."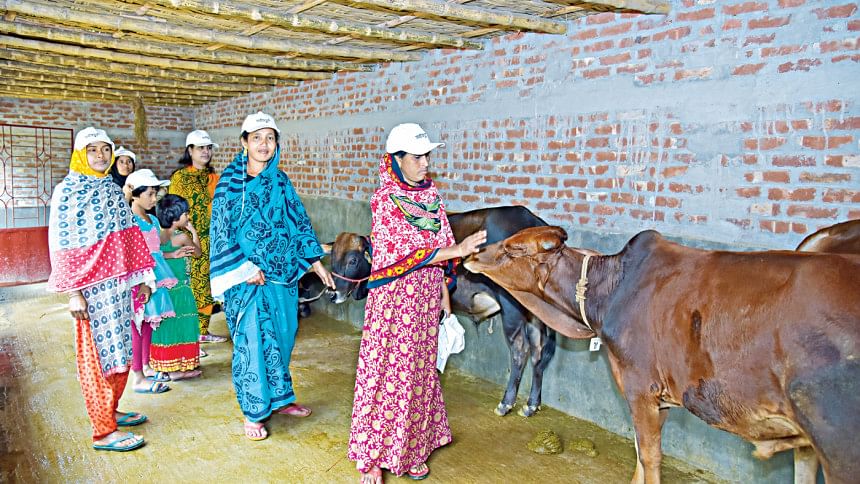 Meanwhile, another reputed organisation, GME Ranch — which has its farm outside the capital — has set up a 'display centre' in Mohammadpur.
"The display centre has been arranged keeping the COVID-19 crisis in mind. Chances of any gathering are minimal and we have taken measures to ensure the safety of our visitors," informed Kazi Moshiur Rahman, the head of GME Ranch. "You can see the cows, choose, and we will deliver it to your home."  
The point is, with it a farm or display centre, you may likely avoid the typical hassles of a haat, and may even feel relatively safer, especially if you trust the particular brand, since it is the individual company which is monitoring the arrangement. 
Just go online!
But why even go outdoors if you can order a cow or goat online, from the comfort and safety of your home? It's just a few clicks away! And this year, you have not just one or two, but several online platforms to choose from.
Services offered are varied and customisable. So, if you just seek to make the purchase online and have the living animal delivered to your home, it is possible.
Or, if you wish not only to purchase, but also to have the sacrificial animal slaughtered in an abattoir and its meat professionally cut and packed and sent to your doorstep, that's possible too!
Information of each animal is provided in the websites, from breed to approximate live weight. Photos and even videos are there so that a potential customer can make an informed decision.
Sounds attractive and convenient, right? Let's then discuss and explore this virtual cattle market option with three websites.
Check out DNCC's brand new online cattle market (www.digitalhaat.net), an initiative where e-Commerce Association of Bangladesh, Bangladesh Dairy Farmers' Association, ICT Division, and many others have joined hands.
To put it simply, at first impression, it is essentially a very large amalgamation of online businesses and sellers offering Qurbani cattle; and the FAQ section will satisfy you of the basic queries you may have.
DNCC mayor informed that the online platform takes a comprehensive approach, bringing together various types of stakeholders; slaughtering services, delivery services, meat donation initiatives, payment systems, etc.
Also visit www.amarfoods.com; there is a very user-friendly section of the website that particularly focuses on Qurbani cattle. The cattle are sourced from Sorbojoya — a project under the same parent company, Watermark Group. Sorbojoya works in the rural level and has social goals such as women empowerment and rural development, and hence, purchasing from them has a noble social cause attached. 
Their 'slaughter house offer' clearly states details such as delivery of meat in 3kg-packs, separate packs for various organs, etc.
"Even though there is the option of delivering a living animal, majority of our customers are opting for the slaughtering service," Jakaria Mohammad Palash, CEO and MD of Watermark Group, informed. "We also have an additional option where you can come and be present when the slaughtering takes place; you will be given a fixed time slot based on the schedule."
Sadeeq Agro too, has a website (www.sadeeqagro.com) which will cater to your Qurbani needs. "Our organisation over the years has built a trust amongst customers, and this reliability and credibility is very important when someone is looking to buy online," the company's proprietor said.
Given the concerns of social distancing and hassles of slaughtering and processing, online haats overall provide a brilliant solution.
Also, everyone always speaks of the notion of 'Digital Bangladesh;' well, why not contribute to it by becoming an online customer if you are planning to purchase a sacrificial animal this year?
"The pandemic can give rise to a large number of new online buyers," Palash commented.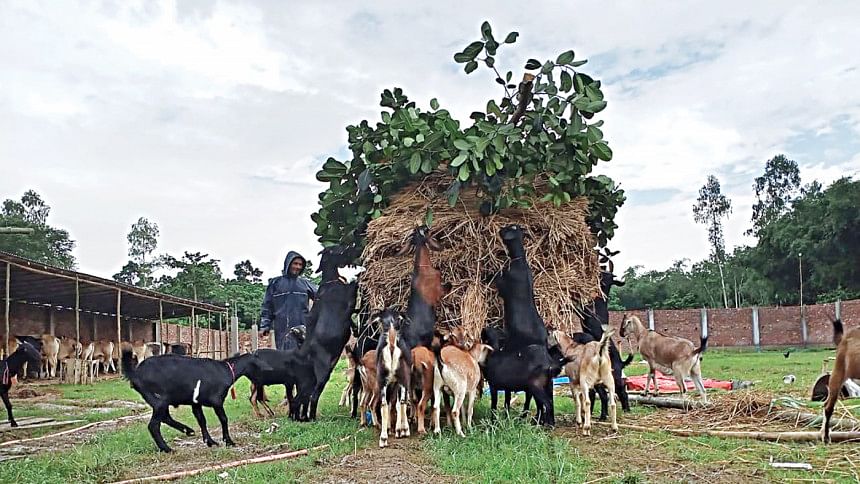 What's your budget?
If you have indeed decided to buy a Qurbani animal this year, you will of course need to think of a price range — one which is affordable for you, keeping in mind any uncertainties or future financial hiccups that might come your way.
"Generally speaking, a lot of customers who are buying cows this Qurbani Eid have lowered the amount they are willing to pay. They have reduced their budgets. And many are opting for goats instead of cows," Palash expressed his observations regarding the overall market scenario.
Keep in mind that slaughtering services come with additional charges. But at the same time, it does relieve you of many tasks whilst minimising the risks associated with health. On the other hand, if you go to a haat and make the Qurbani arrangements like you have always done before, there are costs such as 'haasil,' payment of butchers, etc. 
The donation quandary
All said and done, don't forget to plan ahead on how to distribute meat amidst the needy.
If you do not want to undertake the activity yourself — which has logistics of its own and can present challenges in terms maintaining social distancing — you may opt for charity organisations to take this responsibility on your behalf.
For example, the endeavour of DNCC Digital Haat mentioned earlier, allows you this option. "For those who want a portion of the meat to be donated, we have partnered with relevant organisations which shall do that," the mayor explained in the interview.  
On the other hand, if you wish to do it yourself, have a solid plan!
First of all, check with your apartment's committee (if applicable), whether it has taken any policies — not just regarding donation activities, but overall guidelines surrounding Qurbani Eid.
It is likely that there will be crowds and a rush whilst distributing meat — a potential hazard for COVID-19. 
Dr Jahidur Rahman sternly warns of the risk. Nevertheless, the virologist commented that if an individual still decides to undertake this activity, it should be done wearing masks and gloves, but at the same time, the other end — those receiving the meat — should also have the same measures.
Indeed, for those looking to donate meat themselves, controlling the crowd — or rather, not allowing it to form in the first place — will be of paramount importance.
"Why do people actually get impatient or push over each other? One of the reasons is that they always feel there isn't enough for everyone. Therefore, we request those who are donating meat to give assurance to the people that everyone will eventually receive their share, and that they should wait while maintaining social distancing," DMP Joint Commissioner (Operation) Md Monir Hossain suggested.
He added that the police generally in any case always increase the level of patrolling in the streets during Eid, and this time around, it shall keep an eye out for crowds and gatherings and help people maintain social distancing.
So, what is your verdict?
At the end of the day, we all have to take responsibility of our actions during such trying times; negligence will not just harm you and your family, but a whole community.
Now, regarding Eid-ul-Azha, with all the information, expert opinions, and options in hand, it's your decision to make! You may even decide not to buy any sacrificial animal this year. It is about your financial condition, your individual level of comfort and reliability on the initiatives or the promises made by various entities, and most importantly, the health risks involved.
Here's to a happy and safe Eid-ul-Azha. Eid Mubarak!
Photo courtesy: GME Ranch; Sorbojoya