Plight of the transgender community amidst lockdown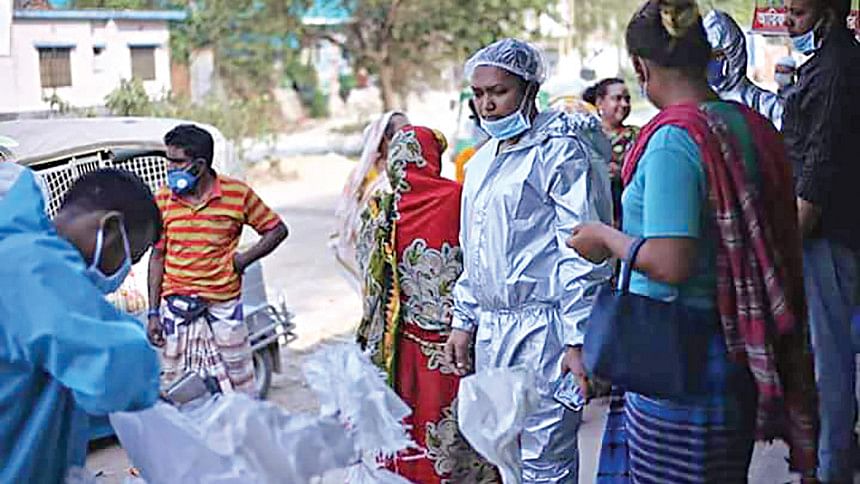 When the world unites on a common ground to help the poor and the needy, minorities and vulnerable groups of the society are somehow left out of the discussion. And this is what hit Tashnuva Anan Shishir, actor at BotTala, and a trans-woman, very hard.
And so, members of the cultural society she belongs to arranged for community-based welfare programmes for the poor and the needy during Covid-19, and Anan had been actively involved with the social work.
This is when she started getting calls from other fellow transgender friends, including sex workers; a stringent plea to survival.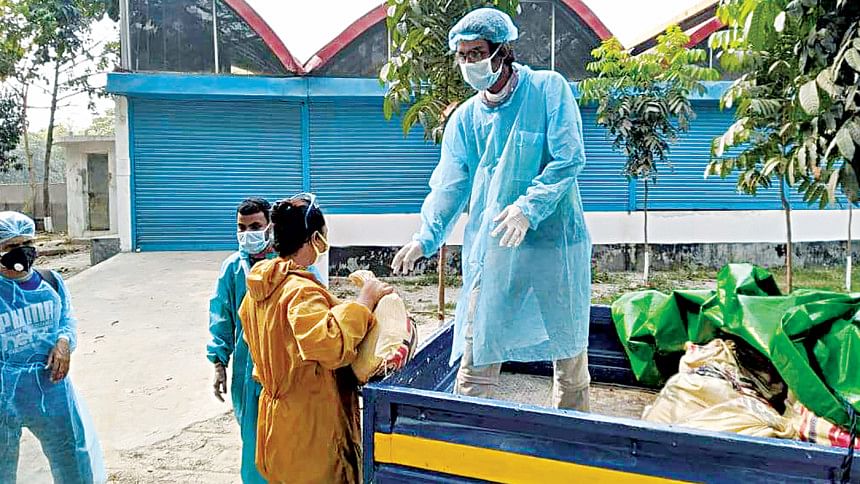 "And I was baffled to find out that no one was helping them because of prejudiced and pre-conceived notions masked by patriarchy. The sad realities pointed out to me the austere truth, faced by the marginalised and vulnerable community, namely transgenders, hijra, kothi, and sex workers, on a daily basis.
"I have fought a lot in my life, to be able to stand where I am today. And yet, even after all these years, I see no change!  My people still face societal ostracisation, pangs of poverty, and the sharp claws of patriarchy every moment of their lives. So, it was definitely time for me to do something about it — 'relief distribution' seemed to be my calling of the moment," Anan said.
Having found out her purpose, she looked out for friends to help her with the initiative and Hochemin Islam, a renowned, gender and sexual rights activist of Bangladesh, seemed to be the perfect person to work alongside her as a team.
On 27 March, the team began to work in a united effort, and the first post was put up on Facebook seeking monetary help from friends and family.
"Our first plan of action was to track the vulnerable people, including sex workers, from all over Bangladesh. Since there was no formal documentation or data available, we relied on personal information. Word of mouth spread like wildfire and people started calling in and giving us information regarding the needy, especially after our first successful delivery of relief packages in the Jurain slum of Dhaka.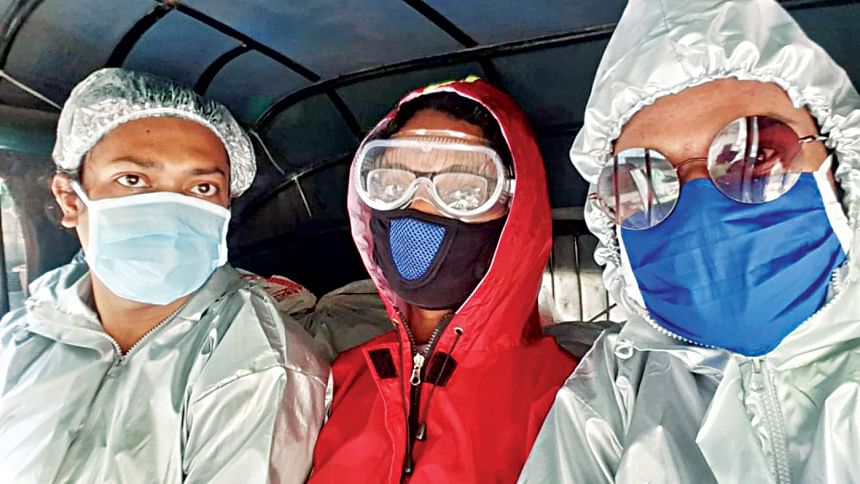 "We have distributed food and hygiene kits to trans people and sex workers in Rajbari, Kushtia, Khulna, Bogra, Sylhet, Chattogram and numerous other places.
From the communities of Maya Hijra and Shaheen Guru to Anori Hijra and Alo Hijra; we have also tried to help the trans men, who are probably the most vulnerable amongst the lot."
Our continued findings let us know that trans men did not get community support from leaders and were all on their own in the tough journey of adaptation.
We wanted to know from Anan whether there were others who came forward to help on their commendable initiative.
"Yes! Many people joined hands, including eminent names of the society, BotTala colleagues, cultural activists, and non-profit organisations, including Alokito Shishu, Alokito Projonmo, Footsteps, etc.
The core team grew from two to four to include S M Mominul Islam, a fellow teacher at Teach for Bangladesh and cultural activist Soyeb Hasan to help with the efficient management of the distribution system.
When asked as to why the trans people were suffering the most during the lockdown, Anan elaborated, "Most of the trans and hijra people depend on donations all year round, from weddings to births and many other festivities. But during the lockdown, all these have stopped. Many also work as sex workers alongside regular girls, and during the lockdown, brothels have been completely blocked off by the police, creating a chaos amongst the community."
The social welfare support of the vulnerable community may have had an arduous journey, and till now, Anan and her teammates could only manage the distribution of relief packages, when much more was necessary. But at least it was a start, especially for the community, which tends to get nothing from us. A community that we brush off and forget quite so often and so comfortably.
In a world where we are continuously trying to bridge-in the gender gap between men and women, somehow, we tend to overlook the third gender. It's about time we embrace equality, because no one in this world deserves to suffer so intensely – no one!
By Mehrin Mubdi Chowdhury
Photo Courtesy: Tashnuva Anan Shishir
Disclaimer: Please send in your donations to the following Bkash Number: 01951695612 or call at: 01715628271 to speak directly to the core team members.