Finding The Perfect Makeup Artist
For every girl, there comes a time when she is the centre of attention, and not in a negative way! She is the most beautiful woman in the room, and one of the reasons for forming the sweetest bond between two families. It is her time to be a princess, pampered with love and everything that is her favourite. It's the day she's been dreaming of since she first saw a wedding in her family. Now, it's her turn.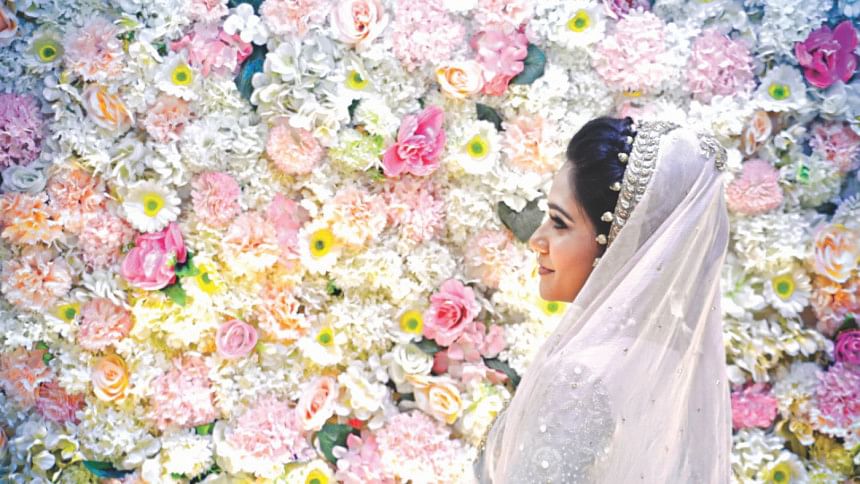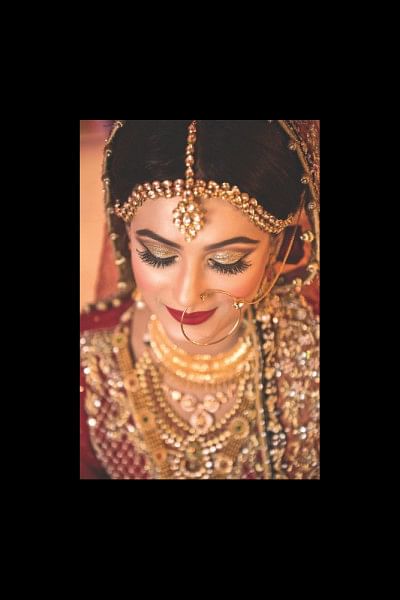 A lot of research and planning goes into your wedding events. While everyone else in Team Bride scouts for the perfect venues, photographers, caterers and decorators; the bride searches for her makeup artist.
Looking for a bridal makeup artist can be nerve-wracking. It can also be overwhelming because the options are abundant. Finding the right bridal MUA (makeup artist) can take some time. It is perfectly okay to extensively stalk and seek referrals for the MUA you see on Instagram and Facebook for months in advance. So, let your research brew slowly, and then move on to meeting the MUAs on your shortlist so you can have a consultation session with them.
Star Lifestyle spoke to two acclaimed pro makeup artists, Proma Wazed Mostafa of Sonali's HD Make-Up Studio and Salon, and Nahila Hedayet of Privé Salon and Spa Ltd to get all the details on what a bride should know and ask before hiring a MUA.
Communication is key
Before anything, communicate. It is very important for clients to have a conversation flow with her bridal makeup artist. On this day, your face will be captured in pictures to be stored forever, so you want to let your artist know exactly what will make you look and feel your best.
Nahila says that the clients that book her in advance show her pictures of clothing and jewellery even before brainstorming the makeup look.
Proma says, "I actually remind my clients to put Vaseline on their lips before they go to sleep, and also to religiously moisturise their faces at home." The best formula for achieving your bridal makeup goals is to put a little faith in your MUA and to be confident in yourself.
It's all about the base
You should know the kinds of procedures your selected MUA's offer for the booking. Some artists only offer makeup application, and you may find artists that will go the extra mile with you, to make you look and feel amazing for your big day.
Proma goes more than just skin deep when it comes to caring for her clients. She says, "When I meet a client, I ask her how her skin feels when she wakes up in the morning, depending on that, I carry out a skin care regime that I will customise for her to make sure her skin is well prepped and protected under the makeup." She adds, "One thing I love giving my clients is the icotherapy, the ice cubes tighten the pores and allow the makeup to look great and last really long."
"Given that the busiest season for weddings is winter, I apply strobe cream on my clients to give them a healthy glow," Nahila says. She adds that she also treats her clients to eye masks and soothing face masks before the makeup application, saying, "Brides are usually stressed out, and skin care is actually relaxing."
About the time and place of the event
Outdoor and day time events are the trend now, especially for the holud. If your holud is mela-themed, make sure to get your beauty sleep prior to the day because that's the day you'll have the most fun.
Nahila says, "For daytime outdoor events, you want to make sure your MUA does your makeup under the sunlight. For daytime makeup, we have to go the extra mile with blending so that there are no harsh lines in your contour and highlight. More than that, it is fun to do makeup for brides that book for daytime events because I can then really curate looks that highlight the brides' natural beautiful features. Daytime looks for brides are better with the toned down, no-makeup styles."
For indoor or evening functions, Proma says, "Our gorgeous jewellery and clothes for the grand events call for traditional looks. So, for the evening events, brides look best in makeup that has more shimmer and the red lipstick is an absolute must." She adds that for indoors, because of all the photographers' glaring lights, the bride's makeup has to be more prominent or else everything could look flushed out.
Nahila's tips for the bridal eye
Nahila says, "The eyes play a big part on the look, for me, that is the favourite part of my craft. I like to enhance the natural features of the face with subtle highlight and contour, and go bold for the eye makeup. The eyes are the jewels of the face." On that note, she gives us insight on how to decide the colour for your contact lenses. She says, "You should choose your contact lenses according to your jewellery, the colour palette on your eyes and also colour of your attire. If your overall outlook is of the cool tones or pastels, you should opt for grey lenses, preferably the darker greys, so it still looks natural. And for warm toned makeup and sari or lehenga, if you're wearing something red, you should go for hazel contacts. It will really make your eyes pop." For contact don'ts, Nahila says to avoid circle lenses.
Having mentioned the facts a bride should know and consider, our pro makeup artists help us decipher the questions you must ask your MUA before cashing in on your big day.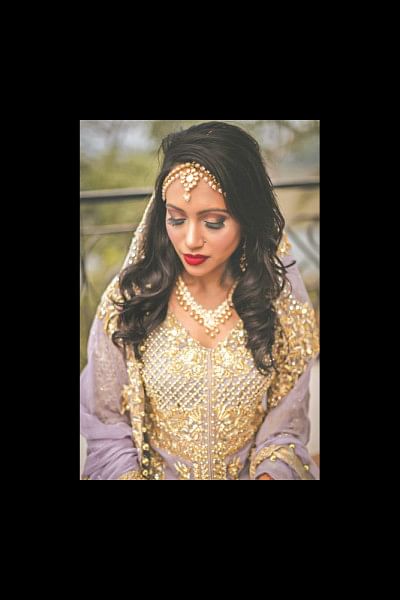 Proma on embracing Bengali beauty
Proma is a serious advocate of keeping the original skin tone when it comes to choosing foundation shades for brides. She says, "Some clientele, who don't understand how beautiful their own skin is, always want to become a few shades fairer. My job as a professional is also to show clients that their skin is beautiful and that they don't have to mask their identity on their big day. We must break out of the 'fair is beautiful' trope because darker skin actually photographs better. For people who are naturally fair, heavy contouring is used to enhance features." But for brides who want to change their skin tones no matter what, Proma says that there is still a discrete way to do it, "I would just go under the eyes really well with a concealer and highlight only the high points of the face. I would keep the hairline the natural colour. Highlighting the nose, the jaw and the under eyes will give the illusion of a brighter face without masking the original beautiful skin." 
What's in the tool box
For your bridal look, you should have an idea of what type of makeup you want. A good MUA will have a wide range of foundation shades and types in her makeup-kit, but a great one will educate you on what is right for your skin. You must ask your artist the range of shades she has in her apparatus. If she has more variety in her shade range, there is a good chance she has the right pigment for you.
Proma says, "Ask your MUA whether she has regular, HD or airbrush foundation. My style of bridal makeup is usually on the lighter side; I use airbrush for skin that does not need much coverage and I will use professional makeup companies like Kryolan for clients that want or need extreme full coverage." Proma also says that you must ask your MUA about how her tools are cleaned, and whether she has options for waterproof mascara, or even different options for lashes. She adds, "I'm certified to do lash extensions, so if my clients want a little extra long wear lashes to not have to constantly put lash glue for all the events, and also for their honeymoon, they know where to go."
A little tip for future brides, when you shortlist your MUAs, ask them to give you a list of products they have in their toolboxes. Nahila gives us details, "If the MUA has Makeup Forever HD, Estee Lauder, Bobbi Brown, or professional makeup brands you haven't heard of before, you can trust that you're in the right hands, because these makeup companies design their products to make your skin look flawless in both pictures and real life."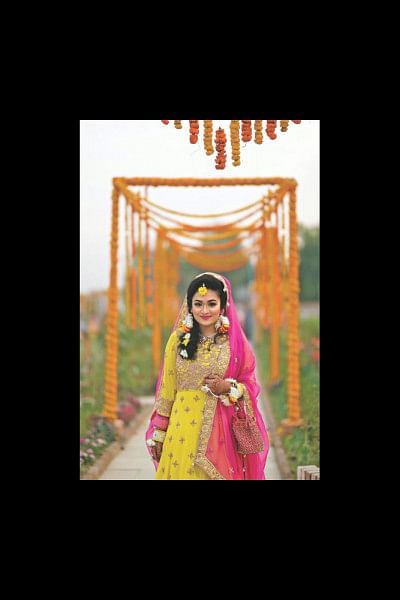 Ask for a trial session
Most commercial artists do not offer trials as a part of the package. Mostly because for the in-season, it may not even be possible because of the pre-booked tight schedules. So, when you plan out your event itinerary, discuss with your MUA about trials and figure out how to put that in the budget. Trials are very important to see how your desired look turns out in real life, before the actual day. And if necessary, it gives you the chance to change your mind.
Proma says, "For me, trials are a part of the package, I believe that trial sessions are extremely important to show the brides what they have signed up for. If, by any chance, they don't like the look they chose, we can work something out together. In the trials, I also take the chance to match their perfect shade of pigments for the foundation, concealer and contour. If a bride happens to think she will look better if she is made a few shades brighter, I will apply makeup on her face in a variety of styles so she has the option to choose what makes her feel most comfortable."
Budget
On the day you sit down for a consultation with your MUA, you should ask her if she can provide services for the sisters and mother of the bride. If you MUA is a freelancer, you should ask if she has hair dressers in her team. If travelling is a part of the gig, you should ask your MUA the rates for that. And last but not least, always ask for trials, and discuss a way to make a reasonable budget for that.
To conclude, let's get a forecast for bridal makeup trend for the next season.
Proma: "I want to see brides embracing Bengali Beauty. I want to see our badami (wheatish) skin." For eye-looks, she foresees a comeback of the Kim K black smoky eye, and even a halo version of the smoky eye.
Nahila: "We've seen glitter cut creases for the last two years, I would love to see metallic eyeshadows. Matte eyeshadows for the day time brides would also look amazing."
Photo courtesy: Nahila Hedayet of Privé Salon and Spa Ltd
Proma Wazed Mostafa of Sonali's HD Make-Up Studio and Salon