special feature
Jatra's future by Anusheh Anadil-- A new road to commerce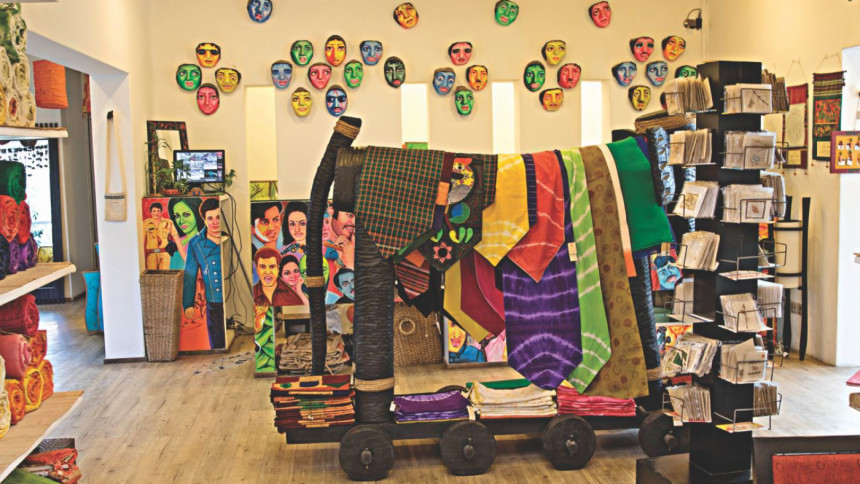 In conversation with a modern and innovative powerhouse of talent, a lady who continuously strives to promote traditions, crafts, talents and the uniqueness of Bangladesh; all through a dream-project famously known as Jatra.
Dressed in her usual attire of cotton dhuti and kurti, Anusheh Anadil gave out an aura of purity and simplicity. From our conversation, we also learned that she was an exceptional multitasker excelling in many fields. A loving mother to two children, vocalist to a famous musical band - Bangla, dedicated cultural activist and last but not the least the creative director and owner to one of Dhaka's most popular 'deshi' stores – Jatra.
"I have always tried to pursue my passion; my simple belief is that if you love something you must work towards it, in order to see it materialise before your eyes." said a gleaming Anadil.
Her venture with Jatra began on a straightforward note; Anadil wanted to work with the craftsmen of Bangladesh and promote the local products to the urban population of the country and the foreigners, who were mostly unaware of the hidden flair of the nation.  "Bangladesh is full of talented individuals creating unique products. When I go abroad, I get to witness other countries showcasing their own produce in various ways but we, on the other hand, fall short in this area tremendously, even though we have so much talent and artistry in our country. With Jatra, my intention was to promote Bangladesh, its artisans, and its uniqueness to everyone including the foreigners".
A popular store like Jatra fared well for many years, earning accolades and popularity over the years. Many of its clients had become die-hard fans, refusing to wear anything else other than a 'Made by Jatra' item. To meet the unique taste and demand of its patrons, Jatra introduced many items in its store besides clothing materials such as household décor, arts, crafts and even books. However, the loyalist Jatra clients endured severe shock earlier this year, when the store informed via social media that two of its popular outlets would close down permanently. This unexpected news created a sort of panic amongst the clients, wanting to know more about its future and the sudden reason towards the abridgement.
When asked on this topic, Anadil said, "Well, allow me to clarify. Jatra Banani is not closing, only its Dhanmondi and Uttara outlet will be discontinuing their services. I think it's about time I explained why. When we began with Jatra it was an initiative to promote the local artisans, making a way for their living and also promoting their products widely in the process. Things worked really well at the beginning and everyone appreciated our efforts. We didn't concentrate much on the business aspect as Jatra was a product of our passion and dreams. But over the years the hefty rise in costs, inflation and mismanagement made us short on cash, making it a struggle for Jatra to sustain in the long term. On the other hand we were unable to charge higher prices for our products because the customers didn't agree to it. However, the rent expense rose in leaps and bounds in the same time," she explained.  "As most people know, we are also a Fair Trade Organisation, paying our suppliers their due shares precisely as they deserve. Therefore, forcefully reducing supplier and vendor costs could not be considered. Many issues such as these contributed to the sudden fallout and our decision to change our route to business."
Inquired whether it was time to convert to being business-minded, Anadail answered, "Yes, it is. I blame myself primarily for Jatra's current situation.  I had trouble dividing time between my work, family, music, and interests when Jatra clearly needed more time from me. Additionally, up until now, we have not done any sort of marketing for the business. I just didn't like the concept of begging for attention. To be quite frank, certain types of advertisement still do not appeal to me. I think billboards create serious clutter in the natural beauty of our city."
When asked regarding the future of Jatra, Anadil looked quite hopeful while she spoke.  "We have worked on many ideas. Since the conventional form of marketing and advertisement does not attract me, we have decided on many different ways to promote Jatra. First of which includes an online e-commerce site for the store. The future belongs to e-commerce, with people becoming too busy for casual shopping these days, they can certainly visit the site and purchase Jatra products online. The e-commerce site will open very soon and all our patrons will be duly informed. Secondly, we have opened an eat-out area at Jatra called 'Jatra Biroti', where we offer 85% organic food to our clients in the most relaxed and cozy environment that is something most can only wish for nowadays. Our belief is that a healthy outside begins with a healthy inside so we invite everyone to come to the eatery and have a sip of our organic tea if not anything else and wind down for a bit, escaping  the  chaos of the city. We have many plans such as these up our sleeves for the future of Jatra".
We had to ask Anadil about the fate of the clients who loved visiting Jatra stores just to enjoy the physical store itself and the environment it provided.  With a big grin on her face Anadil replied, "Well, I can definitely console our clients on that, as they should not worry about missing the feel of the real store, as Jatra store in Banani will remain as it is in the near future and I can only thank my building owner for this. He is a lovely person at heart and has supported us and our efforts all throughout."
When asked what she hoped for the future, Anadil replied "I want everyone to come forward to promote 'deshi' stores like Jatra. The government can encourage the local masses to buy, wear and promote our local clothes and products. The general people can support the local industries, designers, artisans and craftsmen by purchasing their products at home rather than going abroad and buying similar type of products from a foreign country. We should all try to do our bit in promoting our national goods. If we don't support our own products, who will?"
Colourful murals, scent of jasmine tea, fusion attire, sound of bitter-sweet conversations in the background and a striking business lady, dressed in all-white, ended the rendezvous on a beautiful note--"I am hopeful for the future, let's all work towards it together."
By Mehrin Mubdi Chowdhury