Reviving a spirit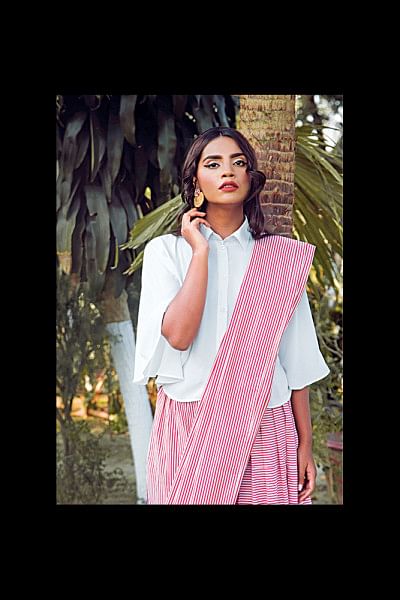 It's undeniable that as a nation, we are very expressive with our style choices, and with Klubhaus, the Dhaka fashion scene rides new waves. As a company renowned for stitching the perfect fusion between global trends and our core Bengali designs, their collection for Pahela Baishakh is a true representation of Dhaka's fashion evolution.
To Klubhaus, Pahela Baishakh means more than a new year celebration; it means finding yourself as a Bengali; it means reinventing yourself as a modern Bangladeshi.
This Noboborsho, Klubhaus presents a galore of saris, kurtis, panjabis and dresses that will excite fashionistas, irrespective of their personal preferences. The collection features designs that are both vibrant, and subdued earthy tones. While red on white is a staple for the occasion, Klubhaus offers a twist to the tradition with new variations in myriad shades.
In fact, the theme for this collection is heavily inspired by the glory of university life. You can simply raise the fashion quotient with their lightweight soft saris in bold red, in contrast with large green geometric patterns.
The 'shada shari laal paar' gets a new look with the thin, red-and-white vertically striped piece that you can actually pair with a white bat wing shirt. Not only is the look trendy, but very airy and comfortable for the season. The thin striped design comes in long dresses, kurtis and kameez suits as well. You can also pair your red and white striped pants with their solid red kameez tops. The idea behind the stripes was to take a basic pattern, but elevate it for Baishakh using the traditional colours.
For men, there are shirts and panjabis that come in solid colours of red and white and also colourful embroidery and block prints. If you want a more toned-down look, you can choose the plain white or beige shirts that have colourful surprises in their lining and collar bands.
And if you want to revive the '70s spirit, you should definitely wear their block striped shirts. It will bring a splash of life to the scene that will be forever stored in your #1426 photos.
Photo courtesy: Klubhaus