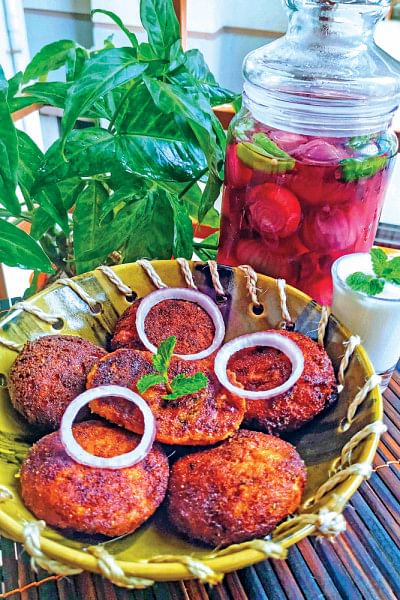 DOI KEBAB
This is a restaurant style snack, which is made of hung curd, the main ingredient, complemented by cheese and gram flour for volume and shape.
This trio is perked up with herbs, mild spices, fried onions, and cashew nuts, which give an irresistible crunch and intense flavour to the kebabs.
These are a delightful surprise with their soft melt-in-your-mouth interior, with a crisp exterior, and rich taste! 
Ingredients
1 kg fresh curd 
½ cup Dhaka cheese, or mozzarella cheese (or both)
2 tbsp chopped onions
1 tbsp chopped green chillies
½ tbsp chopped ginger
2 tbsp chopped coriander stem
3 tbsp fried onion
2 tbsp icing sugar
2 tbsp roasted cumin powder
2 tbsp roasted gram flour
1 cup bread crumbs
1 tbsp roasted fenugreek powder
1½ tbsp chopped cashew nut
1 tbsp garam masala powder
Oil, as required
Salt, to taste
A pinch of black salt
Method
Place the curd in a thin cotton cloth and hang it for 4-5 hours to drain all the water. Take grated cheese and gram flour in a mixing bowl along with the hang curd.
Add all the other ingredients one at a time and mix well just to make a non-sticky dough. Make sure you do not knead it at all. Otherwise, moisture from onions will begin to release.
Now, divide the dough into equal sized balls and give them the shape of a kebab. Coat the kebabs evenly with bread crumbs and shake them off to remove excess the bread crumbs. Set aside for 10 minutes and deep fry until golden brown and crisp. These kebabs are best as appetisers, served with mint chutney or white garlic sauce.
PALONG KABAB
Palong kebab is a delicious, savoury snack that will be a big hit at any party!
It is famous for its smooth texture and distinctive taste. This vegetable kebab is made with fresh spinach, coriander and mint leaves, along with fresh green vegetables of choice like green peas, capsicum, etc.
It takes little time to prepare and can also be stuffed inside burger buns!
Ingredients
½ cup coriander leaves
½ cup mint leaves
2 tbsp capsicum (optional)
½ cup green peas (optional)
1 large potato (or sweet potato/raw banana)
¼ cup grated Dhaka Paneer, or mozzarella cheese
2 tbsp roasted gram flour
1 tbsp cashew nut, chopped
1 tbsp garlic, chopped
1 tsp cumin seeds
1 tsp green chilli, chopped
½ tbsp coriander powder
1 tsp fenugreek powder
1 cup bread crumbs
Salt to taste
Oil/ghee as required
Handful of spinach leaves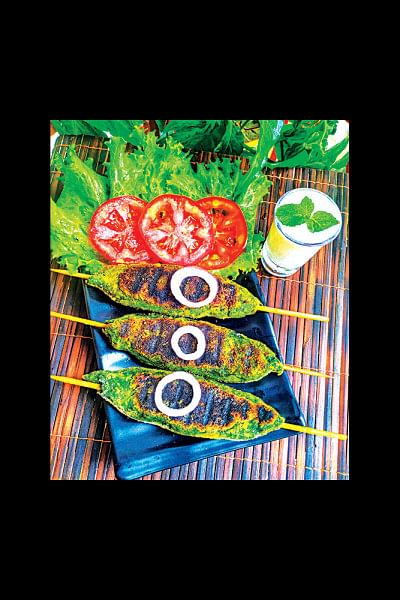 Method
Pour enough water into a pan for the potato and boil it for 15-20 minutes. Now peel off the skin, mash it nicely till there are no lumps left and set aside. Mashed potato acts as blinding agent in this kebab and so does gram flour.
In the meantime, wash the spinach leaves and boil them for 2 minutes. You can use the other green vegetables to be boiled, and in this case, you have to increase the amount of spices while making the kebabs. Now remove the spinach from the pan and wash under cold water, which helps the spinach to retain its colour.
Squeeze blanched spinach leaves to remove excess water and transfer it to a blender with fresh coriander, mint leaves. Grind the mixture to a paste.
In a pan, add ghee/oil on medium heat and add cumin seeds and chopped garlic, green chilli; sauté for 30 seconds. Now add the spinach mixture to the pan, cook for 2-3 minutes till there is very little moisture left.
Let the mixture cool down and add mashed potato, cheese, cashew nuts, and all the spices. Mix everything together till it forms a nice dough. Divide the dough to equal sized balls, give them the shape of kebab, coat evenly with bread crumbs and shallow fry.
PANEER KEBAB
Paneer kebab is an easy-to-cook and delicious melt-in-your-mouth, shallow fried cheese kebab seasoned with spices and nuts. Both children, as well as adults, are bound to love this veg kebab!
Ingredients
1 cup Dhaka Paneer, grated
¼ cup mashed potato
3 tbsp finely chopped vegetable of preference (capsicum, carrot, etc.)
1 tbsp cashew nut, chopped
2 tbsp raisin paste 
2 tbsp ginger, chopped 
2 tbsp green chilli, chopped 
1 tbsp coriander, chopped 
1 tbsp cumin seeds powder
1 tbsp corn flour
¾ cup bread crumbs
Salt to taste
Oil/ghee as required
Tomato sauce and cheese cubes for stuffing, according to your choice (optional)
1 tbsp chat masala (optional) 
Method
Firstly, in a bowl, add mashed potatoes and grated cheese. Then add all the spices except tomato sauce, cheese cubes, oil and give it a nice mix. Combine everything until all the ingredients are mixed well to form paneer-kebab dough.
Now add tomato sauce and cheese cubes in the centre of each kebab and roll it to give desired shape. Coat all the kebabs with bread crumbs, set aside for 10 minutes and shallow fry all the kebabs, each side for 2-3 minutes till they are golden brown and crisp.
Now serve Paneer kebab with mayonnaise or mint sauce and enjoy!
FISH KEBAB
Fish kebab is a delicious variation of non-veg kebab which is made of boneless fish, mashed potato, bread and other spices. Potatoes acts as a binding agent in this kebab and so does the bread slices. Crispy on the outside, spicy and juicy inside, these fish kebabs are a snap to make!
Ingredients
500g rui fish (or other big fish)
½ cup potato 
2 cups water for boiling
¼ cup chopped onions
2 tbsp chopped garlic
2 tbsp chopped green chilli
1½ tbsp oyster sauce
1 tbsp tomato sauce
2-3 pieces sliced bread 
Salt to taste
½ garam masala powder 
½ tsp red chilli powder
½ coriander, chopped 
¼ cup grated carrot
1 egg
1 cup bread crumbs 
Oil as required
Method
First, boil the fish and potato and let cool. Remove the skin and bones and mash the fish nicely. Now in a pan, add some oil and sauté the chopped onion, garlic, green chilli until light golden brown and remove from the oil.
Add the sautéed onion and all the ingredients in the bowl and combine everything until mixed well to form a fish kebab dough. Divide the dough to make kebabs, shape them and then coat them with beaten egg and bread crumbs.
Now refrigerate these kebabs for at least 30 minutes to set.  Deep fry all the kebabs until it is crisp and golden brown from the both side and serve!
Photo: Afsana Afrin