Poush Sankranti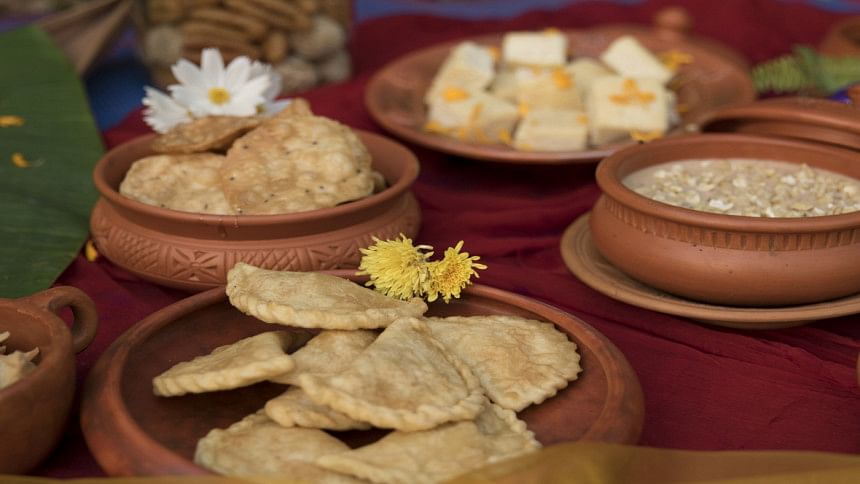 Poush Sankranti, also known as Makar Sankranti, is an annual celebration in the subcontinent. In Bangladesh, end of the Bengali month of Poush ('sankranti' means 'end') is commonly known as shakrain. Also known as ghuri utshob, the festival observed in the ninth month in the Bengali calendar is one of the oldest and most important festivals in Bangladesh.

In and around Old Dhaka, Shakrain is widely celebrated; colourful kites are flown high from rooftops and as the night falls fireworks light up the sky. In recent times, fire-spinners and flame-eaters also gather on rooftops to entertain people with their skills.

Makar Sankranti is the first Bengali event in the Gregorian calendar that culminates on 15 January. Although the delightful celebration is called by various names, as far as food is concerned, the ingredients and preparations have innumerable similarities. Womenfolk in Bengal prepare delectable pithas; the tradition also includes exchange of dishes and greetings.
Gulkand payesh (rose flavoured payesh)
The heart of Bengali cuisine is the variety of sweets or mishtis. Most of them are milk based and prepared from chhana (cottage cheese). A meal for a Bengali is a ritual in itself. We not only spend a great deal of time thinking about food but also preparing, and eating it.

Payesh is a Bengali style rice pudding made by boiling rice, broken wheat or vermicelli, with milk and sugar. It is flavoured with cardamom, raisins, cashews and saffron.
Ingredients
1liter milk
¼ cup aromatic rice
½ cup condensed milk
1 tbsp rose syrup
½ cup of rose petals
3 tbsp nuts
1 tsp ghee (optional)
Sugar to taste
Method
Wash and soak rice in water for half an hour. Drain, mix ghee and keep aside. Boil milk in a pot on low flame. Add rice and cook for 5-7 minutes. Cook on medium flame. Stir often. The rice should be cooked well but should not become mushy and should hold its shape. Once the rice is cooked add condensed milk and sugar, mix well. Cook for few minutes. Reduce flame to low and add rose syrup, rose petals and nuts. Cook for 1 minute more. Mix well. Garnish with rose petals and serve chilled or hot.
Coconut and semolina laddu
Ingredients
2 cup fresh grated coconut
1 cup roasted semolina
2 cups powdered jaggery
¼ water
4 tbsp ghee
3 tbsp cashew nuts
1tbsp raisins
2 cardamoms, powdered
Method
Pour 2 tablespoons of ghee on a hot pan and roast semolina on medium flame until it turns golden and transfer to a plate. In the same pan, roast grated coconut for a couple of minutes and keep aside. Mix jaggery with water in a pan and cook on a low flame until dissolved. Add remaining ghee. When the solution starts to thicken, add semolina, coconut, cardamom powder, nuts and raisins. Stir continuously. When all the ingredients are combined, remove the pan from flame. Quickly stir and make small balls of the mixture. Laddu is ready to serve.
Chandrakala
Chandrakala is a North Indian dessert. The outer covering is made from flour and stuffing is traditionally made using a combination of dry fruits, coconut, mawa, semolina, sugar, and pistachio. During any festival or celebration, people have great enthusiasm in making different varieties of sweets as sweets depict happiness and prosperity.
Ingredients
1 cup refined flour
2 tbsp ghee
3/4 cup grated mawa
½ cup castor sugar, for filling
10 almond, coarsely powdered
10 cashew nuts, coarsely powdered
½ tsp green cardamom powder
1¼ cup sugar for syrup
2 tbsp milk
Oil or ghee for deep fry
A few threads saffron
A pinch of salt
Method

For the syrup -

Cook sugar with one and one-fourth cups of water in a pan, stirring till the sugar dissolves. Add the milk and collect the foam, which rises to the surface with a ladle and discard. Cook till the syrup attains a one-thread consistency. Add the saffron and stir. Keep the syrup hot.
For pastry -
Sift together flour and salt into a bowl. Rub in two tablespoons of ghee and knead into a firm dough using water as required. Cover with a damp cloth and set aside. For the filling, cook mawa in a non-stick pan on low heat, stirring continuously, for three to four minutes. Add caster sugar, almonds, cashew nuts and cardamom powder, and remove from heat. Set aside to cool.
Divide the dough into twenty equal portions. Roll out each portion into 3 inch puri. Take two puri at a time. Place one tablespoon of mawa filling in the centre of one puri and cover with the other puri. Moisten the edges and pinch or twist the edges in a pattern to seal firmly. Heat oil or ghee in a korai and deep fry the chandrakala, on medium heat, till golden brown. Drain and soak immediately in the hot syrup. When the chandrakalas are coated on all sides with the sugar syrup, gently remove and serve.
Mohanthal
Mohanthal is a traditional Indian dessert, served on festivals, made with chickpea flour and sugar syrup. This recipe originates from Gujarat and Rajasthan, western states of India. Mohanthal recipe is the most popular dessert prepared during festivals like Poush Sankranti, Diwali and Janmastami.
Ingredients
1 cup chickpeas flour
½ cup mawa, crumbled
1 cup sugar
½ cup ghee
2-3 tbsp milk
¼ tsp cardamom powder
Almond and pistachios for garnish
½ cup water
Method
Take chickpea flour in a mixing bowl. Add 2 tablespoons of ghee to it and mix until well combined. Then add the milk to the flour mixture and knead it well to make dough. Cover and set aside for 15-20 minutes.

In a pan, add sugar and water and let the sugar dissolve completely. Let the syrup boil for 2 minutes. To roast the flour dough, heat the remaining ghee in a heavy bottomed pan. Add the flour dough to the ghee and roast.

Stir continuously on medium flame for 7-8 minutes or till the raw smell goes away. Now add the crumbled mawa and continue roasting for another 3-4 minutes. Add the prepared sugar syrup and cardamom powder and mix well. Keep stirring until it becomes very thick and leaves the sides of the pan. Pour the mixture on a greased plate. Sprinkle the roasted nuts on top and press gently. Let it cool completely to set and cut into pieces.

Store in airtight container.
Murki
This is a simple sweet dish made with khoi and jaggery. The dish is very popular in both Bangladesh and West Bengal. In West Bengal it is called 'upra' and prepared during festivals like Poush Sankranti and Puja.
Ingredients

200g khoi (popped rice)
200g grated jaggery
1 cup water
1 tbsp ginger juice
Method
Pour one cup of water in a pan and add jaggery into it. Keep the pan under medium flame. Keep on stirring until the jaggery becomes sticky. Now switch off the gas and after three minutes add khoi and ginger juice into it. Mix continuously with spatula for the proper coating of jaggery. Allow it to cool down. After cooling store the murki in air tight container.
Nolen gurer mishti doi  (Yoghurt with jaggery)
Ingredients
2 cups heavy cream
1 cup whole milk
1 cup grated jaggery
¼ cup plain yoghurt
Method
In a heavy bottom pan, pour the cream and whole milk. Bring it to boil, stirring it constantly and then let it simmer in medium heat until reduced and milk gets thicker. Add grated jaggery and keep stirring until it is all mixed together.

Switch off the heat and let it cool down to room temperature. Now add yoghurt to it. Whisk it till everything is mixed properly. Pour it in an earthen pot. Cover sit with aluminium foil. Keep it in a warm area for about 9 to 10 hours. Make sure not to move it or shake it in between. Once set, you can keep it in the refrigerator for about a week. Serve cold.
Gathiya
Gathiya is a popular Gujarati snack that is ideal for Poush Sankranti. It is made from chickpea flour moulded into strips and deep fried. It is very easy to prepare and can be stored for a long period of time.
Ingredients
4 cup chickpea flour
2 cup water
1 tsp ajwain (carom seeds)
½ tsp cloves powder
¼ tsp asafoetida
½ oil for dough
Salt to taste
1 tbsp red chilli powder
1 tsp soda bicarbonate
Oil, for deep frying
Method
To make gathiya, mix 2 cups of water with ½ cup of oil and slightly warm it. Beat this mixture till it becomes white in colour. Mix salt, red chilli powder, clove powder, carom seeds, soda bicarbonate and asafoetida in the mixture of water and oil. Add the mixture to the chickpea flour gradually to knead into soft dough. Keep aside for half an hour.

Heat oil in a wok. While oil is heating up divide the dough into two parts and place one part in the gathiya maker/a mould with big holes in it. Press the gathiya maker and let the strings fall in the oil. Fry till golden crisp. Drain excess oil on the paper towel and let the gathia cool. Store it in an airtight container.