What's 'Dalgona coffee' and why is it taking social media by storm?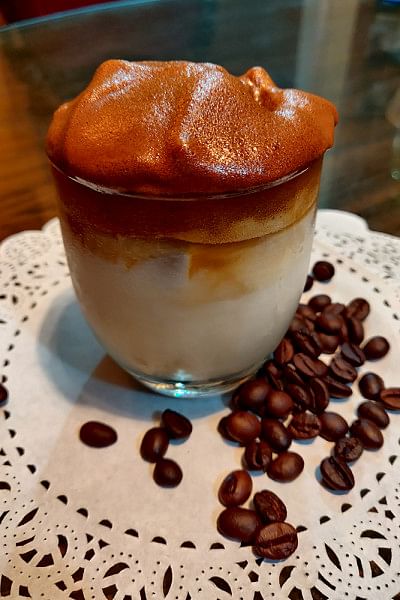 A new kind of coffee drink has taken over social media feeds since the worldwide coronavirus outbreak forced people into home quarantine.
Dalgona coffee -- the beverage in question -- involves milk topped with a foamy mixture of equal parts whipped coffee and sugar. It gained popularity on TikTok first, where users from all over the world started posting their own attempts at making it.
Geographically, the drink has origins in India, Pakistan, and Macau, where it is also known as whipped coffee or beaten coffee.
But its surge in popularity happened when it appeared on a Korean TV show called Pyunstorang in January 2020. In an episode of the show, actor Jung Il-Woo traveled to Macau, tried the drink, and gave it the nickname dalgona for its resemblance to the traditional Korean sponge candy of the same name.
It's since caught the eye of TikTok, YouTube, Instagram and now Facebook users all over the world, and with a large portion of people under lockdown, it's become a staple of quarantine activity.
The best part is, it's relatively easy to whip up in your own kitchen.
HOW TO MAKE IT
Simply mix together equal parts hot water, sugar, and instant coffee powder in a bowl -- about two tablespoons each should do for one serving. Using a stand mixer, hand mixer, or a whisk (what better way to get some physical activity in your day, really), whip it until it turns thick and frothy. It may take some time, but just keep at it.
Once you're satisfied with the texture, pour some milk into a glass, add ice cubes if desired, and top it off with the whipped coffee mix. Snap a photo for Instagram, mix the layers together, and drink up -- the result is a creamy drink with a slight thickness and frothiness, not unlike a milkshake.
Many of those participating in the trend improvised the recipe as well, by adding chocolate syrup and flavoured milk.