Tilottoma presents a one-stop solution for your home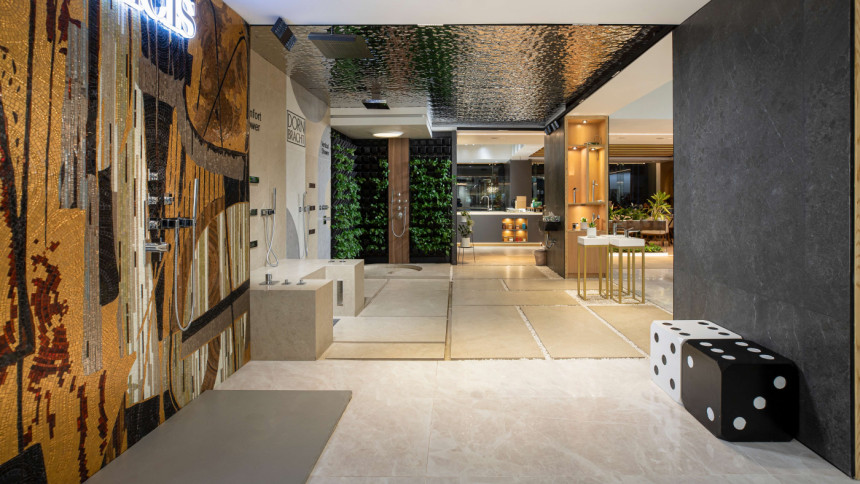 The year is 2022 and we find ourselves constantly on the lookout for something functional and unique for our homes. The biggest challenge, however, is to run around the city looking for the perfect products that fit our choice and budget. Tilottoma brings an end to our worries once and for all.
While their outlet in Gulshan 1 is exclusively dedicated to My Kitchen with its modern kitchen appliances, Tilottoma has brought the best of all of its products under one roof at Gulshan 2. Starting from tiles, sanitary and kitchenware, and interior devices, this brand never fails to amaze with its innovative methods and forward-thinking.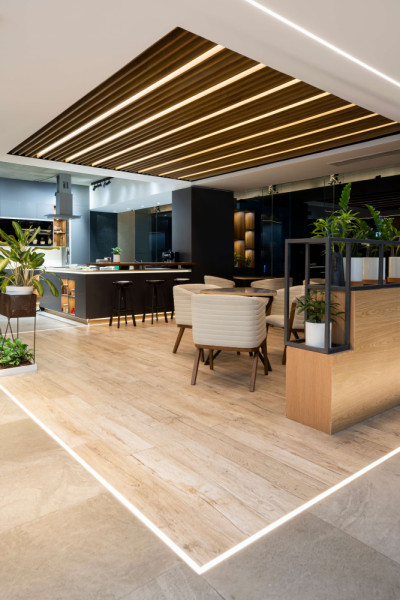 For many of us, the best way to start a day or unwind at the end of it is by taking a good shower. With Tilottoma, you can choose to make your showers a soothing escape from all the unpleasantries of the day. Their hydrotherapy shower sets are built to focus on different parts of the body, complete with multiple sprays and speed.
The Aqua Moon by Dornbracht for instance is a dome-shaped shower replicating the moon, with water jets built inside. With different modes, you can experience a massage, rain, or a curtain effect, while the water pattern pleases your eyes. The temperature of the water can be adjusted and locked with the push of a button.
The Comfort Shower by Dornbracht is another step ahead as it completely eliminates the need to be on foot while showering. While a two-in-one overhead shower can be used to wash your hair and body alternatively or together, three panels pour water on your back in a waterfall effect.
The most attractive part of this is the leg shower that can wash away any dirt and debris with intense yet very soothing water sprays.
Tilottoma is the official distributor of Toto, a Japanese brand famous for its innovation, health and hygiene standards all over the world.
The outlet also dedicates a portion to My Kitchen, complete with a built-in stove, oven, refrigerator, and more. The cabinets with pull-down features allow everything to be stored within the hand's reach while spacious and smooth drawers help save a tremendous amount of time in your cooking.
These cabinets are 72-hour acid and salt tested. So, once this is set up at home, you can basically forget about rust as long as it is maintained regularly. Tilottoma also provides free maintenance service every 6 months, for 2 years.
Tilottoma has earned an esteemed position in the market for tiles in Bangladesh. It is the distributor for more than a hundred brands of tiles originating from Spain, Indonesia, Malaysia, Italy, etc. holding perhaps the most extensive variety of tiles under one roof. If you are a fan of aesthetics in your house interior, tiles with a wooden finish are bound to catch your eye.
In conversation with us, Mahmud Riyad Hassan, DGM of Marketing, shared how their aim here is to be an overall experience for customers and not just another selling unit. "The reason we have a fully functioning live fitting, kitchen, and mock washrooms is to show you what it would feel to have something like this at home," he stated.
Adding further to this, Hassan said, "We want Tilottoma Gulshan Showroom to become a meeting place for design professionals, architects and consumers alike, where they can spend quality time, turn their imagination into reality and get all the necessary brand solutions under one roof."
Essentials:
Address: Genetic Baro Bhuiyan, Road#49, Gulshan 2, Dhaka 1212
Website: https://tilottoma.com/
Facebook: TilottomaOfficial