Images through a theodolite
That's television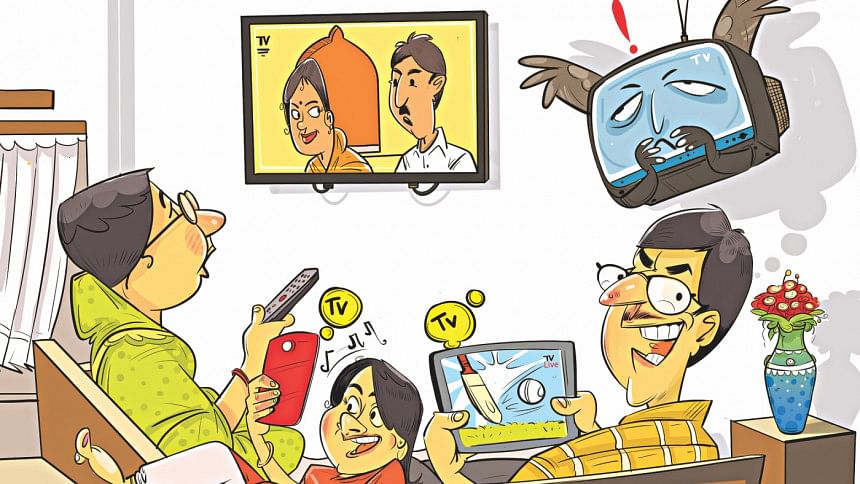 My TV time is somewhat restricted to snippets I get to see while getting out of the bedroom, only to reach the dinner table, and back. Of course, family meeting in the living room calls for a muted screen— a certain show on sisterly bonding, a.k.a bhabi talk, and at other times, soaps from West Bengal. In her defence of switching to Indian channels, my mother's stance is quite clear, "All this politics and talk shows give me nausea." One can hardly argue with that.
Most people my age, or older — the above 40 bracket — have fond memories of the BTV days. They still laugh while recollecting jokes on Ittadi, and become nostalgic whenever the song 'Hawa Mein Urta Jae' of 'Kothao Keo Nei' fame is played.
I am not the nostalgic type. But BTV had a fair amount of shows. Screen time was short, and till the end of the nineties, there were no reruns. Which, in effect, only meant that whatever was aired was enjoyable. The content of the programmes was varied, from popular western series, to local social dramas. And I can distinctly remember the special dramas that were aired on occasions like Eid, Puja, and days of national remembrance.
However, there is a flip side to the story. Can you not recall, Raag Rong, the classical music programme that children traumatised by music lessons had to endure week after week? Every time they sang 'Piya Ki Nazarian,' my eyes would soak in tears, knowing fully well that mum would expect to hear it the next day ustadji came to give me lessons. And then, there were shows on art...the 'isms'.
People older than I, whenever they speak in comparison of 'now vs. then,' speak of BTV with greater fondness. Perhaps, in retrospect everything seems better; or, maybe I was too young to reap the best out of these shows.
THE THIRD DIMENSION
Reality TV was big in the early 2000s, but their hay day has now been hijacked by politics. Almost at the end of the second decade of the twenty-first century, we as a nation have seen an electronic boom. From private terrestrial channels to satellites, there are now countless options to choose from, all airing the same old content. No matter how much we try to shrug it off, politics surrounds our lives to such a degree that it is written all over our screen time, from dusk to night, until the teleshops take over. The mornings and afternoons are for re-runs, lest you missed all the action the previous evening, punctuated by hourly updates of stale news. This is Local TV 2019 for you. Truthfully, there was never a third dimension. Everything was, and still is, as flat as ever before. Plain one dimension.
BUBBLES AND SOME STAND-UP COMEDY
There is no purpose in this being a lecture on cultural imperialism, but when one finds the driver from the ride sharing service listen to YouTube Hindi channels for cricket updates, one does have reasons to raise concern. YouTube, however, is a story for another day.
Coming back to bubbles.
Indian soaps, irrespective of language, start off from the same platform; the one where David Copperfield left off...marriage! Curiously, Indian men take 'knight in shining armour' rather too seriously. Prince charming feels more obligated to rescue the village belle, rather than being faithful to his high school sweetheart, to whom, if I may add, he is engaged. Seasons change, but the narrative does not.
Still commenting on soaps, there is another curious point. The actors never sit.
In my entire life, no matter how small a time I have dedicated to watching an Indian soap, I have never seen them sit. They are all immaculately dressed, doesn't matter if it's the puja special, or the act in the local bazaar; the female actresses all have shimmers, and layer upon layers of makeup, and the male protagonists are always in the best ' festive' panjabis.
Whether it is the family crises they are discussing, or arranging the 'travel plan for grandparents which never materialise because the jealous girl who was supposed to become the bride has poisoned someone' — the characters are always standing. Its like a documentary on equines. A horse never sits, but only drops dead.
THE DINNER TABLE
So, where does this leave me? Nowhere really. Every evening, while having dinner together, my wife and mum talk about the soaps. A name or two slips in from local politics, or from Gulshan Avenue, our answer to Hindi soaps. The characters from the shows ceaselessly come out of the box into the realm of reality, leaving me perpetually confused, as to whether the characters are fictitious or real. I would be equally surprised if either is true, because life is too bizarre to be 'this simple,' and soaps are too fantastic to be true.