Songs of the stitches by Label lmam Hassan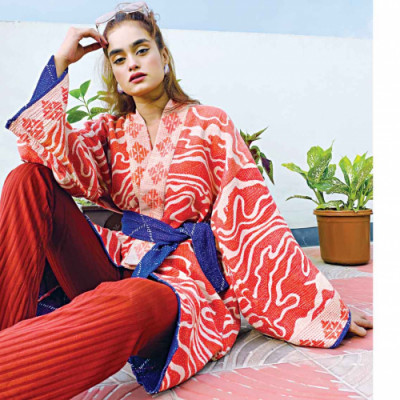 The current pandemic reminds us again how important it has become to shift focus from a purely materialistic lifestyle to a more holistic approach. With the climate crises deepening over the years, it has become inevitable to prioritise sustainability in all forms of existence, including the world of fashion. So what does this term – sustainability — actually mean? 
Sustainability, particularly in the fashion industry is an ideology, a movement, where the fashion industry incorporates ecological integrity and social justice into its core principles.
It is, in fact a matter of pride for the Bangladeshi designers, to be familiar with the subject matter for a long time now and designer Imam Hassan elaborates, on this note.
"Fashion in Bangladesh, since its origin has been largely sustainable, to clarify we can use the example of the nakshi kantha; these amazing hand-woven summer quilts were made from old and discarded saris of our mothers and grandmothers. Even the thread for the 'straightforward kantha stitch' would be taken from the paars of old saris and everything would be upcycled to make a new form of textured cloth that could be used as a decorative furnishing or a summer quilt," informed the designer.
Inquired on how the designer was using similar ideologies for his own designs, he gladly remarked, "Based on a similar philosophy, I have tried to modernise the kantha culture and bring it forward to the world market via haute couture. Through my brand Label Hassan Imam, I have created kimono style, light-weight kantha jackets or summer coats, which can be fashionably paired with khadi pants and organic cotton skirts. I have particularly made sure that each jacket is upcycled from old leftover saris and adequately processed into brand new, export quality 'kantha-kimono' jackets," revealed the designer.
Label Imam Hassan has been working with sustainable fashion since day one, and regularly makes haute couture wear with local fabrics and designs, for the fashionistas of today.
Photo Courtesy: Label Hassan Imam