Slow is better for the world: Broqué founder talks slow fashion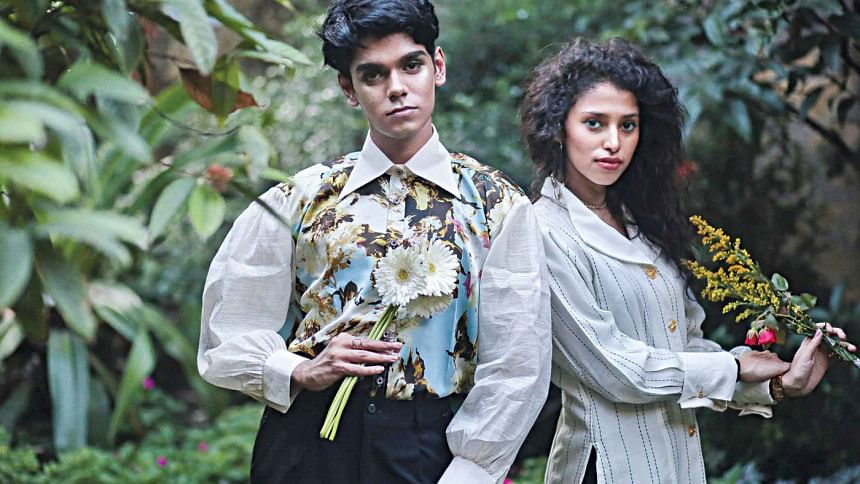 In a world of "buy more, buy new, get it FAST, throw it faster," what is slow fashion and should you care?
Today's consumerist culture beckons us to consume at a faster rate than ever before. Thanks to mass production, we can afford to simply discard products we no longer want, and replace them instantly with minimal impact on our wallets. While around 80 billion new garments are produced globally each year, currently 80 percent of all clothing produced eventually ends up in incinerators or landfill sites.
In Bangladesh, we not only manufacture the cheap textile, we consume it as well as discard it at a similar pace. Don't believe me? Plan a trip to Kamrangirchar and you'll see vast mounds of discarded textile, tannery leftovers, and plastics, fomenting hell in the environment.
Slow fashion is a sustainability movement which challenges social cultures surrounding the fashion industry and encourages both retailers and consumers to take a more ethical approach to fashion. As the industry continues to accelerate, and with it, its carbon footprint, there's never been a more important time to reconsider your purchase choices.
Slow fashion is a lifestyle movement. It's something that requires its believers to slowly, but consciously, make eventual lifestyle shifts which accumulate to betterment of the world around us. The world is slowly moving towards sustainable lifestyle practices too. The value of the ethical clothing market increased by 19.9 percent in 2018, according to Ethical Consumer magazine.
Today, Star Lifestyle talks to visionary and founder of slow fashion retailer, "Broqué," Mahenaz Chowdhury. Broqué is the first and only upcycling fashion innovation lab in Bangladesh. The Broqué circular business model functions on curating quality vintage clothing, garments surplus and wastes, and is one of the first public advocates of second-hand clothes in Bangladesh. Mahenaz is also a fashion-designer, artist and an environmentalist. Her design philosophy is ensuring zero wastage in the value chain.
What is upcycling?
Upcycling is taking old, discarded, or unused clothing and transforming them into something which is better than the original, by design and value additions.
Tell us a little bit more about the unique approach of Broque.
Broqué is the first and only high-end upcycled, bespoke specialist that designs one-of-a-kind wearable art in Bangladesh. As an artist, I enjoy creating through deconstructing and I love translating my art into apparel designs. This is how each piece I make is unique. It's rather a statement piece to symbolise freedom of expression, of a rebel rising unafraid of taking a stand for what is right. This is my slow fashion movement.
Broqué has been building a community of fashion and environmental advocates. Over the last two years, it has hosted clothes swaps, plastic recycling workshops and collected over 800 kgs of garments waste and second-hand clothes. It held Bangladesh's first online clothing auction during the early months of the pandemic lockdown to support the tea garden workers of Sylhet, and it was a big success!
Tell us more about the sustainability process at Broque.
Broqué is a conscious design innovation lab that repurposes, reuses and recycles from the collection point to delivery to disposal and back to collection of used/garments surplus. While I maintain a 70-90 percent recycling rate, there is still a need for new materials, but I strictly thrive on the supply chain made in Bangladesh.
Most sustainable street-wear labels are regarded as Western. Is heritage and cultural linking important to Broque?
When I consider creating a piece, I want to keep my culture and heritage on the forefront of everything I do and I want to uplift the communities I am a part of. Broqué is an exploration and a reflection of an urban '90s tech glazed deshi girl, connecting back to her rich roots as a 21st century Bangladeshi independent woman. In this 'glocalised' culture, the linkage lies in not just the look of the clothes, but also through the stories of the garment creation process, people involved, craftsmanship inspiration and so much more.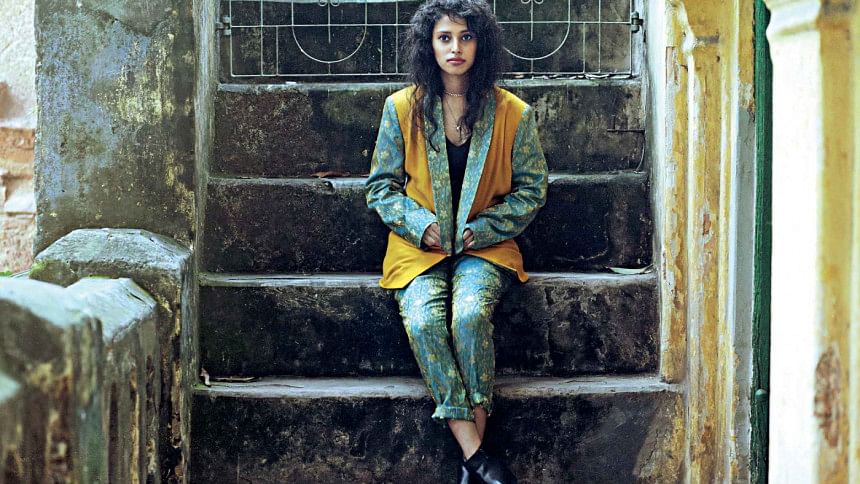 Tell us a bit about the international and national collaborations you are doing with Broque. How do they raise the platform of Bangladesh or promote our people and heritage?
Recently, I was part of a sustainable fashion design exchange program for Bangladeshi and German designers, hosted by "Local International," a joint collaboration between Art academy of Berlin, BGMEA, National Crafts Council of Bangladesh. This platform connected me to fascinating artists and renowned photographers and videographers and musicians to create my exhibition materials.
Locally, I have partnered with Basha Boutique and Garbageman BD where I am designing a unique line of recycled accessories by using their waste. Their accesses to foreign markets and international forums are great platforms to promote Bangladesh as a sustainable champ. Another engagement is with Pet Rock Vintage, an authentic vintage store in Bangladesh run independently by Juneyna Kabir.
We have hosted our first online cloth swap event on 26 September, the first of its kind anywhere. Our aim is to build a community of active fashion-conscious members that loves sharing their stories of second-hand clothes and swap amongst the group across borders.
You're doing a project on upcycled masks — How are Broque masks different and how do you ensure safety?
Broqué is an activist, a rebel with a cause! The purpose of Broqué producing masks was to support marginalised communities of Bangladesh during the pandemic. So, I started my #mask4mask campaign and I've donated over 100 masks and a percentage of sales went to various other marginal communities.
I strictly maintain the CDC guidelines. Safety, comfort and fit of the masks has been the priority. I have been able to replace over 32,000 single-use masks over a period of three months by producing long-lasting reusable masks. Triple layered with a non-absorbent layer and adjustable cloth straps and optional elastic; it reduces use of polyester. The masks cater to clients' needs, preferences and sizes. Because I love painting, I do custom masks as well. Each piece becomes a wearable art!
Photo: Broque