Meet Bangladesh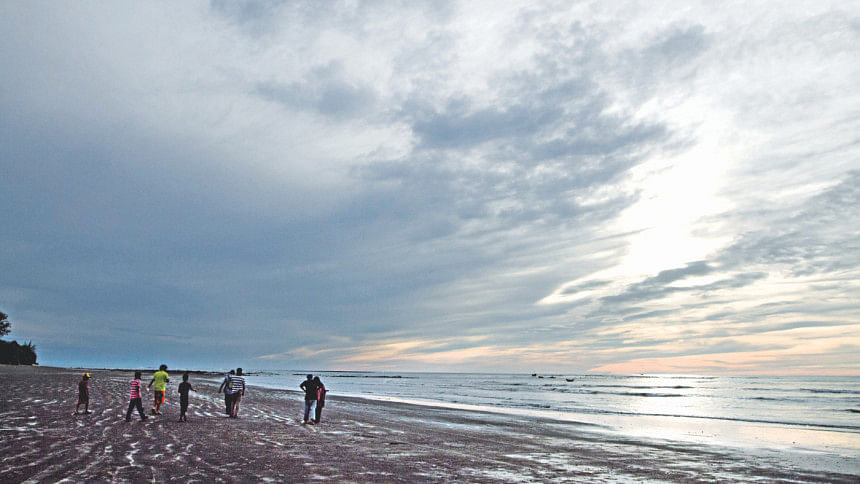 It was not that long ago when travelling just meant going to one's ancestral homes. Then again, there were not many options available for families or friends during the long stretch of Eid and Puja holidays. The denizens of the upper echelon had the opportunity to go overseas, but even they were a handful in number.
Over the last 30-35 years, this scenario has transformed altogether. People are travelling more than ever from one edge of the country to the other. From Teknaf to Tetulia, no place is too far for the traveller.
The travelling entourage is no longer limited to family members or close friends; it has extended into including long lost classmates and colleagues, who are also looking for a break from the daily grind.
All this roaming about has its benefits; for one, it develops good relationships amongst fellow travellers. With so many people now delving into travelling, it would be reasonable to assume that Bangladesh has become the ultimate travel destination. Unfortunately, that isn't so. The lack of facilities that plague the travelling scenario in the country still have not been mitigated.
Travellers of course are aware of these, and despite the inconveniences, have not backed down. Forget holiday season, even a single day off is an excuse to hit the road.
The long and short of it is these days, people cannot get enough of travelling. If you cannot travel abroad for whatever reason, no reason to fret as this country has much to offer. There are numerous places within the country that can fulfil anyone's travelling desires, with memories that will last a lifetime.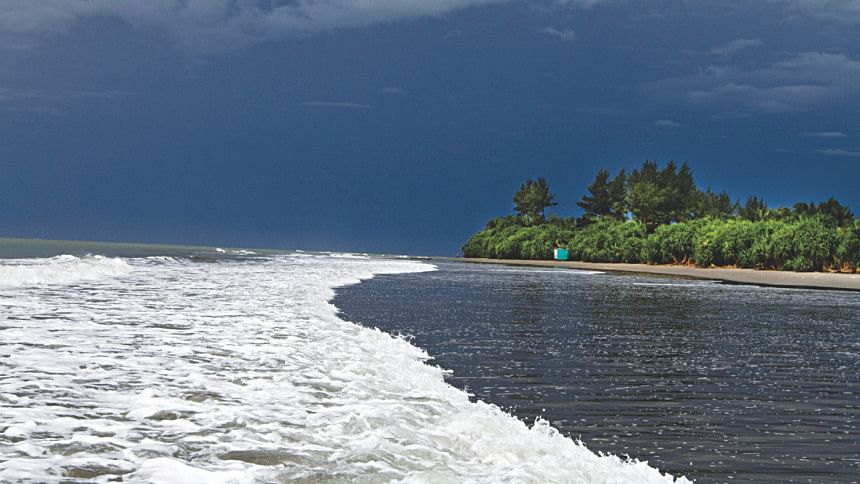 Serene Bandarban
The first place on the list is Bandarban, one of the most beautiful destinations within Bangladesh. Surrounded by hills, with the Sangu River running through the middle, numerous waterfalls, dense forests, and delicious dishes from the region — Bandarban is all that, and so much more.
A trip to Bandarban must include visiting Nilachal (Nilgiri), Chimbuk Hills, Nafakhum Falls, Boga Lake, Keokaradong, Rijuk Falls, Amiakhum Falls, Budhha Dhatu Jadi (commonly known as Shorno Mondir), and the local bazars of the indigenous people.
October is the best time to see the Nafakhum Falls, but be prepared for a long walk. As for Nilachal, you can use a car to visit it. The road to Nilachal from the Bandarban is quite scenic, and in between, you can have a stopover at the Chimbuk Hills. Sunrise or sunset, both make for an ethereal experience at Nilachal.
Local auto rickshaws provide a convenient option to visit the Shorno Mondir. Describing this Buddhist pagoda is difficult in words, as it is an experience that must be felt. However, for the shutterbugs out there, ask for permission before clicking away.
Bangladesh is a riverine nation, meaning nearly all of the rivers are a sight to behold, and that also holds true for the picturesque river Sangu that snakes around Bandarban. This river takes on a whole new aura throughout the day, making it perfect for a day-long trip by boat.
Bangladesh's highest peak, Keokaradong, can be reached by foot from the Boga Lake. And if you are fan of rafting and trekking, then Rijuk and Amiakhum Falls is the place for you. Bandarban has more than enough good accommodation facilities, even atop the Keokaradong!
Another popular destination for travellers in Rangamati and Khagrachari is Sajek Valley. Resting 2000 feet above sea level, it is on just about every local traveller's bucket list. Surrounded by hills, and forests, you can rest your eyes on hilly waterfalls and miniscule water enclosures in the hills. The entire place has great transport facilities and good accommodation, with amenities.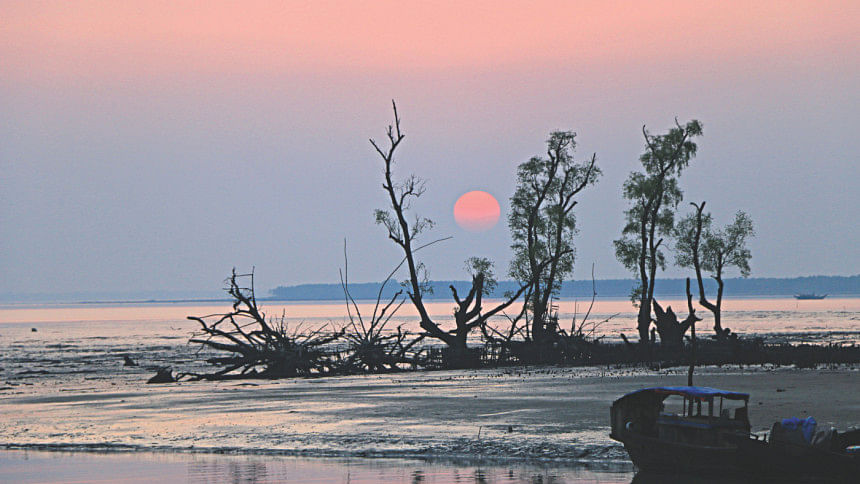 Narikel Jinjira
Some say that St. Martin's Island is our little jewel in the Bay of Bengal, and I agree. The locals call it Narikel Jinjira, while visitors lovingly call it Daruchini Dwip. Legend has it that 250 years ago, an Arabian sailor first set foot on this island. The island got its current name during the British reign, when it was officially titled as St. Martin's Island. You will be hard-pressed to find any other place that has such blue-green waves crash on the beach. Travellers can stay at a wide range of resorts, all catered to their budget. The truly adventurous can take things one step further, and just set up tents right on the shores. You also can opt for barbecues and scuba diving as part of the visit.
Teknaf Beach is a quiet and picturesque stretch of land. You can drop by the Shah Parir Dwip (Shinmabyu Island), Mathiner Kup (Mathin's Well) and the Burmese Market. Just taking a boat and roaming the Naf river itself is a merry activity. Staying at a forest Dak bungalow in Teknaf, or at a Parjatan motel, and admiring the sublime beauty of the Naf river has its own pleasure.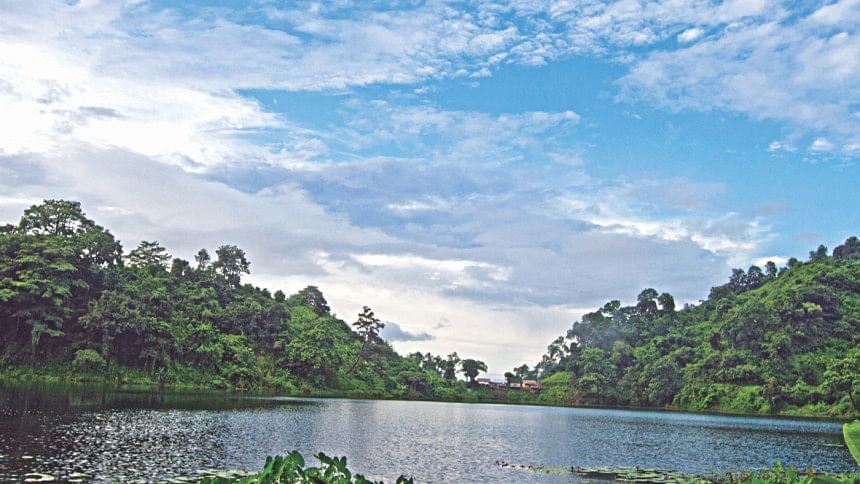 Splendours of Khulna
Words defy in describing the ethereal beauty of the Sundarbans. There are tonnes of tour companies that can arrange anything from a simple tour to an adventure-filled expedition. Even if you are not fortunate enough to catch a glimpse of the Royal Bengal tiger; deer, snakes and monkeys are aplenty and hard to miss!
On your way to the Sundarbans, you can always drop by the Shat Gombuj Masjid in Bagerhat, and the Majar of Khan Jahan Ali as a two-in-one deal. While in Satkhira, drop by the SM Sultan Museum. Jashore houses the Sagardari Michael Madhusudan Institution, Collectorate Building, and Godkhali — the flower capital of the country, 11 Shiv Temple, and the unforgettable Jashore Road, which inspired Ginsberg's poem.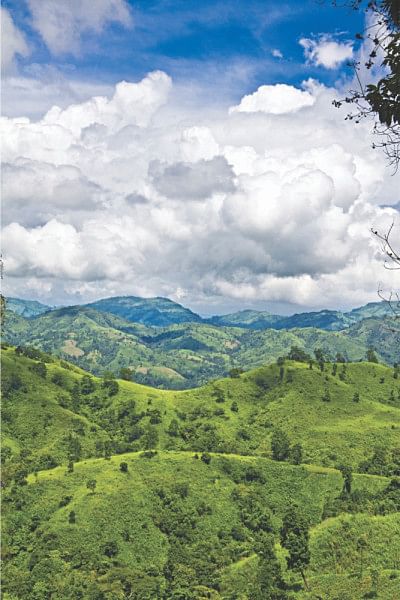 Dawn to dusk: Kuakata
When it comes to describing the Kuakata sea beach, there is simply nothing I can say that has not been said already.
Sunset and sunrise — both are a sight to behold from the shores. The east end of the beach is the Gangamati Reserved Forest, which is a mangrove forest. A long time ago, this forest was part of the Sundarbans, and now, it is mainly home to the indigenous Rakhain people. For Buddhist and Hindu believers, Kuakata is sacred ground. During Rash Purnima and Maghi Purnima, tonnes of people come around for the celebrations. This place also hosts a hundred-year old Buddha statue. Accommodations and conveyance in and around Kuakata are plenty.
Amazing Sylhet
If you want a change of scenery and the sea isn't for you, drop by the many places in Sylhet, Sreemangal, Moulvibazar, and Sunamganj. The rainy season and winter are the best times to drop by these places. You can see the Monipuri Heritage Site in a trip to Sylhet. You can take a first-hand look at the daily lives, and heritage of the Monipuri people. During the time of Maharaj Gharib Nawaz (1709-1748), a group of missionaries had introduced the name Monipur.
For Muslims of Bangladesh, Sylhet is a sacred land. The Hazrat Shahjalal Majar is visited by people hailing from various religions.
The Ratargul Swamp forest is also a must-visit in Sylhet. During monsoon, the plants in the area remain submerged. A trip through the land on a local boat is an exhilarating experience for the whole day. Lalakhal is a huge waterbody that is 44-45 kilometres away from Sylhet, right near the Tamabil border. Right beside this water body are hills, forest areas, open blue skies, with the Sari river flowing by the base of the Jainta Hills.
Tanguar Haor is another attraction in Sunamganj. The water reaches as far into the horizon as the eye can see, and also hosts 46 villages. You can stay in a boat in this Haor. This Haor is one of Bangladesh's most important fish producing areas.
The seasonal beauty of the two seasons — monsoon and winter — is unique in their own manner. Hills and water surround Sunamganj. During spring, a large area is set aflame with the blooming shimul and palash flowers. The red hues bring to mind a searing flame. If you live for fish, this is the place to be!
Aside from these, there are also tea gardens, the Lawachara Forest, Jaflong, Madhabpur Lake, Hum Hum Waterfalls, Khashiapunji and so many more places to pay a visit. Travelling to Sylhet is quite easy, with planes, trains, buses, and private cars available.
The Satchari National Park is a part of Habiganj. Satchari literally translates to "seven streams." The park has a host of wild animals, like the Hollok Gibbon, wild cats, foxes, hanumans, along with birds like woodpeckers and hornbills, to name a few. To reach there, you may take a car from Sreemangal. For those with adventurous spirits, tents can be set up in the jungle for a full-on outdoor experience. About 600 acres of land was used to setup this park back in 2005.
There is also the Rema-Kalenga forest, the second largest after the Sundarbans, and declared as a reserve forest. Though these are two separate forests, their close proximity to one another has everyone simply referring to them as Rema-Kalenga. For the die-hard campers and hikers, the Rema Trail is an absolute must-visit, as this is probably Bangladesh's most beautiful trail. The forest is home to squirrels, eagles, wild pigs, monkeys, deer, elephants, gibbons, wild dogs, endangered vultures, and other birds.
Regal north
Let us now set our sights to the Northern regions of the country. Right after crossing the Jamuna river, visit Mahasthangarh in Bogura, where you will find the Behula Lakhindar Basor Ghor. And while you are it, also give Parshuram Palace, and Mazar Sharif of Shah Sultan Balkhi Mahisawar a visit. The Tajhat Maharaj Palace, the abode of Begum Rokeya, the Itakumari Palace are all in Rangpur, while Kantaji Temple, Ramsagar National Park, Nayabad Mosque, Shopnopuri Artificial amusement park are in Dinajpur's must-visit list. The Barendra region in Rajshahi, the Rani Bhabani Palace in Natore, are all meant for sight-seeing. In a nutshell, the entire northern region is filled with historical wonders of the bygone era. And the best time to take this trip down history would be between September to April.
Tetutlia, the northern most zila, however deserves a separate segment of its own. Tea gardens are an intrinsic part of the scenery in this part of the country. And the best thing? You can see the Kangchenjunga Mountain peak during the clear days of October or November.
Netrokona zila boasts of extraordinary natural beauty. Surrounded by the Garo Hill tracts, Durgapur in Netrokona has a China Clay hill. Going to Birishiri, you will be greeted with the crystal-clear waters of the Someshwari River, ancient trees, making for a magnificent natural scene. Kamala Rani Dighi, the Tomb of Hazrat Shah Sultan Kamar Uddin Rumi are all noteworthy places to put to your list. The indigenous Garo people inhabit this region. For accommodations, check out the YWCA guest house.
Adjacent to Meghalay is the Sherpur zila, another place of natural beauty. Modhutila Eco Park, Gajni Obokash Kendro, Ghagra Laskar Bari, Tin Ani Zamindar Palace are all notable places that deserve your time. During holidays, all these places remain packed to the brim, particularly in winter for picnics.
Honourable mentions
Nijhum Dwip is an island straight out of a story book. It is mainly a mangrove forest, also well known as a sanctuary for deer. If all you want is a tranquil environment, and nothing to do except look at the salty blue-green waters, this is the place to be. The surrounding coconut trees has increased the charm tenfold. This island is in Hatiya upazila, in Noakhali district.
If you are getting tired of hearing about the seas and hills, don't worry, we have more places to visit than just those two. A huge chunk of our picturesque landscape rests on the rivers and flat lands of Bangladesh. During monsoon or winter, take a trip to Barishal — sometimes called daughter of the rivers. Steamers, armed with the latest facilities, run from Dhaka to Barishal, and back. Just the steamer ride itself is a trip all on its own. The floating guava market in Swarupkathi, and the lily covered waterbodies in Wazirpur are all a must-see in the region. The Satla village is well-known for cultivating water lilies from March till October or November. The entire village gets covered in water lilies, making it live up to its title of the Water lily capital of Bangladesh.
You can also check out Mymensingh, cradled by the Brahmaputra River. One of the country's oldest zilas, Mymensingh is surrounded by the Meghalaya. Fields reaching as far as the horizon, hills in the far distance, rivers, canals — just about everything can be found in this region.
Mymensingh used to be known as Nasirabad, and being an old zila, there still exists a number of Zamindar bari's in the region. On one side, you have fascinating archaeological aspects of the region, and on the other, unforgettable views you should take pictures of. List of places you can visit include the Muktagacha Palace, Shoshi Lodge, Zainul Abedin Museum, Bipin Park, and Durga Bari Palace, to name a few. The Mymensingh Agricultural University's campus ground is also a nice place if you are in the mood for a quick stroll.
Day trips
For a day out, the Madhupur National Park is an excellent place. It is situated right beside the Dhaka-Mymensingh highway. The Bongshai river flows right through it. Canals, fish hatcheries, and pineapple orchards are all part of this, alongside a vibrant wildlife. 
If you are into zamindar baris, there are loads just around Dhaka's outer perimeter, in Manikganj, Dhamrai and Tangail. For a day trip, these places are a no-brainer. Even if it is for a whiff of fresh air, everyone should take a trip to these places every once in a while.
The entire country hosts so many places, besides just the ones listed, just waiting to be visited or discovered. All you need is a bit of spare time, and proper knowledge, and you are set. Most of the zilas have excellent places for lodging. If not, you can always be sure to find loads of government or private guest houses and resorts. The first thing to keep in mind before any outing should be the season and the subsequent weather situation. Winter, spring and monsoon are great times for a trip anywhere. All the mentioned regions in this list are well-known, and because of that, good lodging and transport facilities. Younger travellers are already on the lookout for that next big destination, not known to the general masses. So, there is really is no better time than the present to set out and plan your trips throughout Bangladesh the whole year around!