Marinated with history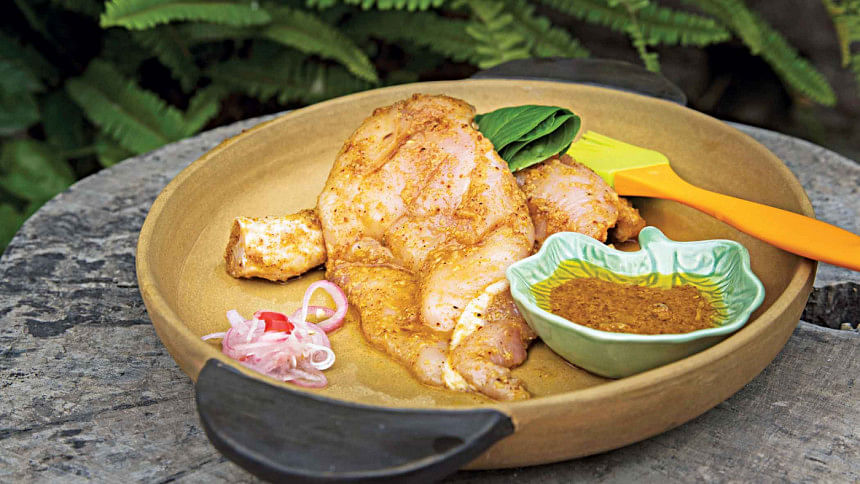 There is one secret to the delicious T-bone steaks, the barbecued juicy lamb chops, or seared vegetables — marination!
It is not just the cut or the crusty texture that makes the dish compelling, it is the taste that is amplified with the use of marinades.
The roots of the word are extracted from the Latin word for sea (mare). A marinade is a seasoned liquid in which any dish – chicken, meat, vegetables — can be soaked to enhance its flavour and texture before cooking.
For food such as steaks and barbecued meat, which are often feasted upon with friends and family in jovial settings, careful marinating is required to tenderise a steak and add flavours to it.
The process of immersing them in liquids can vary from minutes to days, and in some very unique situations, even months. In many ways, marination is the security blanket to having a jolly and wholesome whole meal.
Marinades have a treasured back-story that harkens back to the deserts of Ancient Egypt where one of the grandest and unique ancient civilizations once sprang up.
In the Western hemisphere, the first tracking of the use of marinades traces back to the Renaissance where people marinated meats and seafood in vinegar and spices, to both preserve and flavour the food setting up the standard of dining for European cuisine today.
This was also a time of constant jostling of cultures allowing a more widespread practice of marinating foods.
When grilling, marination to flavour the food is done beforehand. In other dishes, it is the other way around — with marination done later to the food.
In the Asian peninsula, marination has a rich history with reports stretching to the Korean peninsula where their beef was marinated with rich and robust mix of spices, garlic, soy sauce, and sesame oil since the 1500s.
From the Iberian Peninsula, the Spanish and the Portuguese migrated en masse to Latin America in the quest for colonisation and resettlement bringing 'escabeche,' a vinegar-based sauce to their tables that were used to saturate and tenderise meats.
There are three types of marinades that should be considered when it comes to preparing a dish bursting with a vibrant and mouthful of flavours.
One type, which is very common in Mediterranean dishes or heart kebabs/steaks alike, is acidic marinades. Vinegar, tomato, and citrus juice are considered acidic marinades, which are used  to loosen the protein bonds in meat helping to become more tender ensuring the liquid is absorbed packing it for a wonderful party of a tasty treat.
Enzymatic marination takes place when fruits are used. Enzymes found in certain fruits make the meat more palatable, especially when making it tender allowing tough cuts to be made. The enzymes found in fruits such as in papaya juice, which is known as a common meat tenderiser, help to make the meat to be soft and tender.
Oil-based marinades such as olive, sesame, hazelnut, coconut, or oil blends are often used when marinating vegetables.
Marination is one of the key aspects of ensuring an easy and tasty meal for everyone to indulge in.
In the long history of cuisine, marination has always been a key aspect of ensuring the best of food is on the table.
Photo: LS Archive/Sazzad Ibne Sayed