Hairstyles to get the groove on
In a year that has generally been nothing short of surprises in every way, it has been quite an eventful journey for the hair follicles of men as many of us have decided to let our hair grow, all the way through the sides to beyond shoulder length.
In a year that has generally been nothing short of surprises in every way, it has been quite an eventful journey for the hair follicles of men as many of us have decided to let our hair grow, all the way through the sides to beyond shoulder length. As visits to the barbershops have been largely minimised and most of us still cooped up inside our homes, many men have decided to forgo maintaining their mane, allowing nature to dictate its course.
Growing long hair gives us a new perspective of self-awareness and reinvention as we gear towards navigating a sense of style that personifies us in the flesh, body, and yes, hair!
Style is after all contingent on who you are, what you are, and how you carry yourself. Most men have a natural inclination towards long hair, especially when it's healthy and grown out (in proper length) with care and planning.
The hair knows what the hair wants
The head of waves will grow overtime and there is nothing you can do about it, except ignore it. That newfound hair length, however, needs to be cut and trimmed in accordance to one's sense of panache and confidence.
Realistically, long hair suits those who have medium to thick hair for the hair to grow long and wavy. Curly hair is great as well, especially when the locks drop out while the hair still grows.
To sport a smart and breezy look for all seasons, without the hassle of tying or setting up a bun, Naped Tidiness is the hairstyle for you. Trendy due to being adopted by the likes of Star War's Kylo Ren, Adam Driver, this hairstyle seems masterly and purposeful when the hair starts falling down instead of haphazardly growing out in all directions.
It is an open secret: everyone digs Timothée Chalamet and surely, his curls play a role in his appeal to whoever sees him. The Chalamet hairstyle is one in fashion and the ideal starter for those who wish to keep their curls by growing the top hair first, keeping the back, and sides at two-and-half inches in stylish layer cut.
Full Flow is the hairstyle that can be perfectly coordinated with anyone's wishes of style as we let the thick and wavy hair take its course to grow at its own pace, exactly as it fits on the person wearing it. Common amongst surfers, and skateboarders, this is a generally considered to be a carefree hairstyle worn by men, but does require some maintenance, with proper conditioning to ensure the thickness of the hair itself. Not just pleasing to look at, it will not be an uncommon occurrence to have your fingers or someone else's running through the wavy thickness of your hair once in a while.
Mid-length longer hair, which measures to the length of four to five inches, is a low-maintenance look that is worth looking at. Having the chill surfer-like vibes, this look is personified by the Internet's favourite celebrity, Keanu Reeves. The sides have to be cut shorter than the back to give the cool adventurer-type look. When Keanu does it, who can truly resist?
The Afro is easily the best hairstyle for men anywhere with its iconic imagery, associated with history's great entertainers like Prince and Michael Jackson. Products can be used to enhance the curls if one does not have naturally curly hair measuring up to two to three inches.
Now, not everyone wants hair hanging over the shoulder. For some people, long hair can be spiked, letting it stand up on its roots with short cuts to the sides. This hairstyle, named The Morrissey, nicknamed after the famed musician-vocalist himself, allows anyone to sport it in a formal or informal setting as the hair is kept at mid-length allowing one to be simply at ease in all settings.
Nourishment is the key
As with health of the body and mind, hair does need to be nourished properly to ensure its vitality in the longer run. It is important to invest in a quality shampoo and conditioner to keep the growing hair strong and glossy, allowing it to steal the show anywhere, be it at home, university, workplace, or the occasional visits to the gym or beach. Shampoo is not a daily necessity, while proper condition is in line with what suits your hair best.
Shearing off dead ends and trimming the parts you deem unsuitable must be done frequently. If you are planning to sport a beard, do make sure it is trimmed well to go well with your hairstyle. Strategize your timings well in sync with the look of preference.
Different combs must be used for combing hair to get that perfect hairdo. For example, wide-toothed comb is needed for Afro hair styling. In terms of gelling the hair to give it a particular shape, proper gels must be bought to texturize the hair hold in order to look good. Scalp has always been a thorn in the side of having a good hair day, hence hair needs to be kept soft, healthy, and shiny with the proper oils for the overall nourishment of your hairstyles.
Let the mare grow with proper nourishment and care. Sport the look.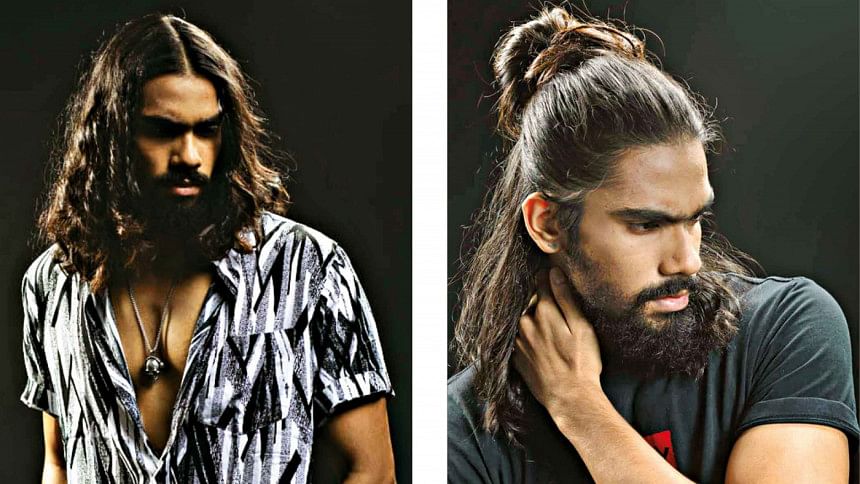 Photo: Sazzad Ibne Sayed
Model: Amit
Styling: Sonia Yeasmin Isha