Bangladesh cruising on the Digital Highway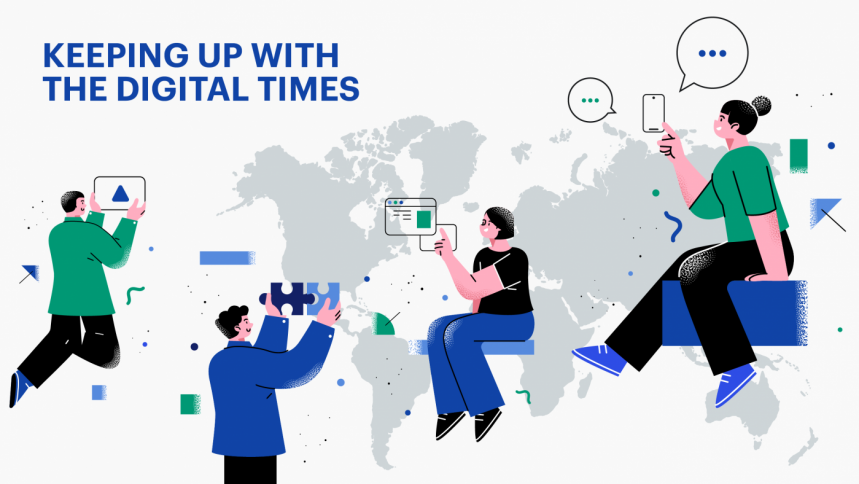 A regular sunny morning and I wake up to my phone alarm ringing after the 3rd snooze. I turn off the alarm and see tonnes of pending notifications on my phone from Facebook, emails, messengers and delivery apps. It was time for me to freshen up, call an Uber and leave for work, but not before making a stop at my favourite coffee shop. As I sipped my coffee and still left with an hour to go, I opened my laptop thinking how high-speed internet connectivity has made it possible to log onto work from anywhere.
My Facebook page popped up and the newsfeed flooded with comments and videos celebrating the inauguration of the Padma Bridge. It was amazing, how modern technologies made it possible for me to view such a remarkable feat for Bangladesh in real-time. I realised that just as Padma Bridge symbolises the era of growth for Bangladesh, the rise of social media platforms and the use of smartphones also mirrors the impact of digitalisation on our everyday lives.
Even a few years ago, the idea of ordering cattle online for sacrifice on Eid-ul-Azha would have been laughable. But the concept of 'Digital Haat' became an instant hit and opened up opportunities for cattle farmers to use the online platform and showcase their cattle through their websites and social media pages.
The COVID-19 pandemic lockdowns forced a dynamic change in the way institutions, households, and individuals had to operate.  Within a remarkably short time, Bangladesh moved on to the digital platform to run its daily lives and continue all possible economic activities online. Schools and Universities used their own apps/Zoom and Google Classrooms for lectures and webinars. Offices shifted to teleconferencing and remote work became popular.
The government designed a national web portal to provide emergency support and real-time information to the people. Hospitals offered 'Telemedicine' services to replace physical doctor visits. The use of delivery apps like Pathao/Foodpanda and ride apps like Uber became a widespread necessity.
Businesses quickly responded to the changing market dynamics to reach out to customers. E-commerce business prospects were undeniable. Traditional businesses and small-scale ventures offered e-commerce facilities to customers by providing cash on delivery services and digital payment options through Nagad, bKash, bank debit/credit cards etc.
Modern technologies, hectic lifestyles, smartphones and devices together, have opened the gates to a new virtual world, with endless options and possibilities for customers and businesses respectively. With information just a click away and customers at liberty to choose and compare between so many products and services online, businesses are in tight competition to grab the attention of the target audience. Traditional marketing techniques are no longer sufficient, and it is crucial for businesses to invest in a strong digital presence to communicate with customers connected to online platforms 24/7.
The winning formula for businesses in the e-commerce era is, 'to be there at the right place, at the right time, with the right digital strategy. Ensuring that the target audience can easily find your business online is as important as using powerful content to communicate with customers.
Despite social distancing being the key phrase of the present times, the world has never been more connected. Bangladesh is currently racing down the digital highway of growth and opportunities and it is the skilled experts who will be taking e-commerce platforms to the next level, revolutionising businesses in the digital world.
Essentials
Parveen Abedin is Head of Business Development at Digitomark (a sister concern of Dcastalia)
Website: https://digitomark.com
Contact: +880 1400 999666