Edith: the patisserie of wonderland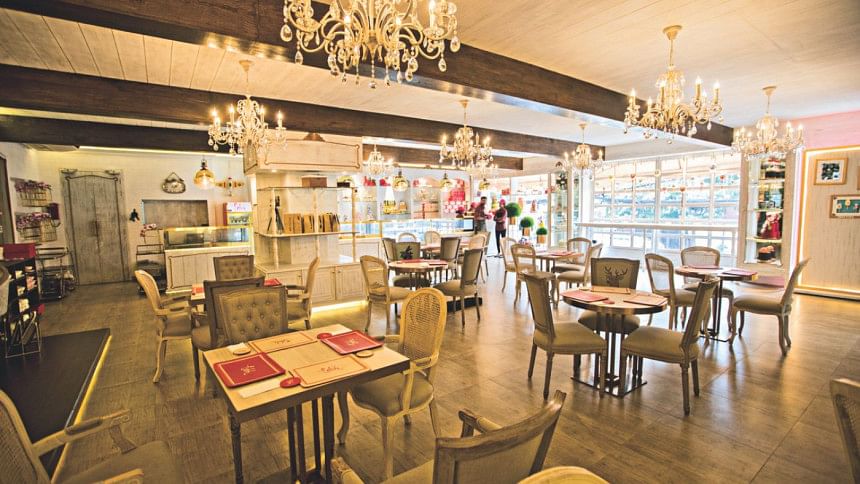 Arbab Musa fell in love with food when he was only in second grade. He started spending more time with his mother in the kitchen than anywhere else. When in college in Canada, he started working in restaurants, and even found his way to the renowned Momofuku Noodle Bar, where he came to experience the teamwork behind the kitchen. While working alongside people who were equally passionate about the art of food, he fell even more in love with the culinary arts. After graduating in Chemistry, he took some classes in a culinary school, only to learn that his years of experience in the kitchen had already taught him what he needed to know. So he set out to Dhaka with a head full of dreams, and a vision to bring a new culinary experience.
When creating Edith, Musa took primary inspirations from his mother who is a baker herself, responsible for running the boutique bakery called Le Macaron. Hence, a majority of the decor is heavily inspired from the cakes that his mother would bake. "I wanted Edith to give people a very retro or vintage feel instead of the usual contemporary decor that most cafes seem to prefer, which is why we focused on a lot of pop art. The music that we play is also from the 40s and 50s," Musa says. The walls are painted in pastel colours while gold chandeliers adorn the ceilings, completing that ultimate retro vibe with a touch of luxury.
"Edith is not just a café; it is a patisserie," adds Musa. Edith not only serves some of the best desserts in Dhaka, but also features main dishes such as soup, pasta and steak. No monosodium glutamate (tasting salt) is used in preparing the dishes, and most of the ingredients used are freshly shipped every day. Start your three course meal with a soup. The French onion soup is becoming a favourite among the customers with its mozzarella, caramelised onions in the perfectly carved bread bowl. Next comes the main course, from which you may choose pasta or a steak. Enjoy succulent, bite sized gnocchi, which are pasta dumplings with a variety of ingredients that complement each other perfectly or a plate of pappardelle, which are flat pasta noodles cooked and garnished with basil and mozzarella with a side of chicken. If your heart desires meat, the chicken parmigianna is a must try. It is a chunk of chicken breast, not too thin and not too thick, crispy on the outside, yet soft and juicy on the inside, topped with a layer of marinara sauce and loads of mozzarella that will surely taste like an explosion of spicy goodness in your mouth with every bite, leaving you craving for more.
To complete the meal, choose from a vast selection of pastries displayed in glass cases, beckoning you to forget about the diet you started last week. The macarons, in delicious colours, are organised in rows, with each colour representing a different flavour. Bite into these soft, chewy pastries with cream fillings with a sip of your tea for that ideal, French experience. Find comfort in one of their special, fluffy, soft and creamy cakes, named according to the cities they originated from. Musa says, "Meticulous research has been done to find the history of each cake to ensure that customers can connect to the origins of the flavours." The Zurich and Paris cakes are already garnering a lot of attention for the balance of flavours and details in each layer of the carrot and coffee soaked chocolate cakes, respectively. It does not matter which pastry you choose after a meal or for an evening tea with friends, Edith's desserts will leave your sweet tooth truly content.
Edith is certainly the new talk of the town; however, Musa's dreams don't stop there. He plans on starting an international chain across Canada, North America and India, and maybe even in Cambodia and Thailand. He hopes Edith can become the next big patisserie in the world. With such a great start, we can already imagine the potential that Edith has with the food and service that it provides.
Photo: Sazzad Ibne Sayed
Address: House 71, Road 11, Block D,
Banani, Dhaka 1213