On the edge of anxiety's seat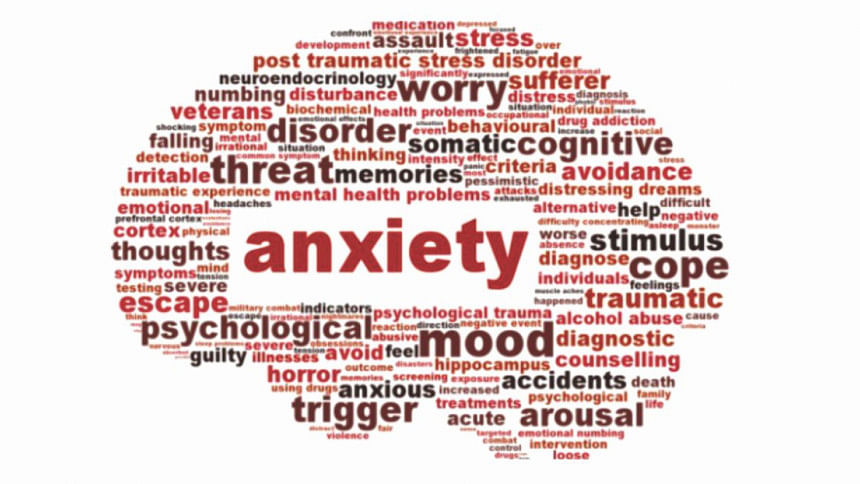 Do you ever feel like your mind is enveloping you in a hug, and not the nice, warm one, but a tight, suffocating hug that constricts your breathing, makes your skin sweat or your heart race in fear? Do you ever get the strange feeling of your limbs getting heavier until you feel like there is a massive boulder sitting on your shoulders, and anytime now, you might just crash and get crushed? Is it the fear of failing, or an approaching deadline or just an "Oh Maliha you look different" remark that has you doubling over whether "different" is good or bad? If it is the latter, then you might be suffering from the one and only, the crippling, and the agonising- anxiety. Anxiety may be more prevalent in women than in men, according to a research done by the National Comorbidity Survey, due to anatomical differences in the brain, but the severity of the symptoms or the cause for anxiety show no gender differences.
Anxiety is good for you. Yes, you read that right. A healthy amount of anxiety is good to prepare you for important events or danger and to help you be more alert. But the unhealthy kind may show up even when there are no signs of danger around you. Anxiety can not only wreak havoc on your daily life, but can also affect your physical and mental health if not treated on time. Anxiety is a parasite that gets bigger the more you feed it.
The good news is it can be tackled, but the bad news is that anxiety can take different forms for everyone; hence, what may work for one individual may not work for you. Most people are administered anti-anxiety pills by the doctor, and while they may work, you must co-operate with yourself. In order to tackle anxiety, you need to first understand what triggers it. Once you have that pinpointed, you can start working on it yourself.
If you have social anxiety, maybe start with baby steps. Instead of forcing yourself to go out more, only go to a few events, and that too, with your friends, so you don't feel like all the burden of socialising is on you. Anxiety can be draining and sometimes taking a breather while a friend handles the situation is the best you can do. If you have the habit of over-thinking and analysing an otherwise harmless comment, maybe indulge yourself in a hobby right away to help get your mind off of the matter. As exhausting a busy schedule may be, it is immensely beneficial for people suffering from anxiety. Distraction may be your biggest weapon.
If you are a victim of panic attacks, try 'belly breathing' exercises where instead of breathing with your chest, you breathe with your abdomen. Close your eyes and focus on trying to slow down your breathing. The simple act of focusing helps steer your mind away from the source of trigger. Lastly, if nothing else works, find something around or near you. It can be a bag or a shoe or even a sock. Then, start describing it in your head with as much detail as you can since this technique works even better when you write down the details. Giving your mind an exact object to focus on helps it to calm down.
The most important factor in handling anxiety is to understand that you are in charge of your body and mind. Telling yourself that you are the driver of the engine that is your mind may help your mind actually believe it. Make 'fake it till you make it' your mantra and tell yourself that everything is possible if you believe in it. Have faith in yourself and it will get easier with practice. Your anxiety does not control you, you control it.
Photo: Collected