A decade's worth of friends
Every new year post on social media I read is about having endured love and pain but no one bothers explaining them. So here I stand doing the exact same thing, choosing to bid farewell to the decade and wish nothing but the best to all my enemies, frenemies, friends I love and have lost over the last decade.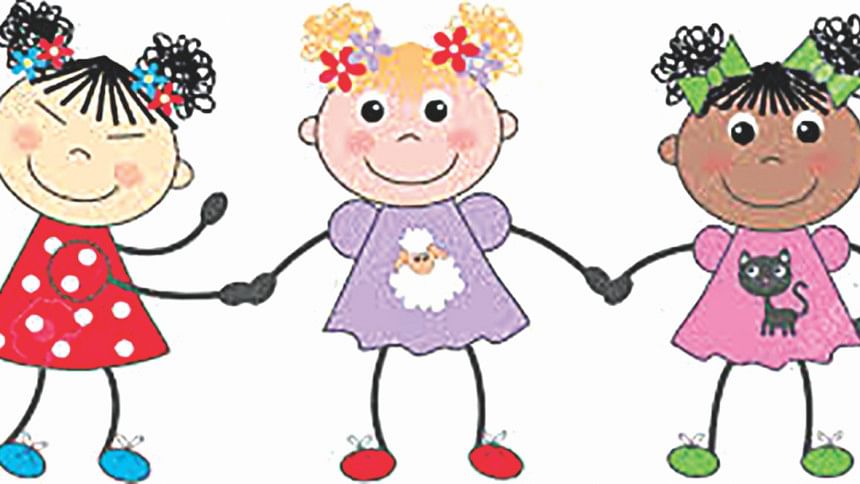 My dearest Suku, I don't have words to explain how much I miss you. I still have monthly solo crying sessions over not being able to see you. Thank you for showing me your home through your eyes. Thank you for being my constant throughout 2018; a daughter and sister to my own family members and my favourite all time #momoprem.
To TT, I'm so proud that you never let me go, even though I am the lousiest person when it comes to staying in touch. I love how I can sum up the last 10 decades with one really tacky and now embarrassing photo of us, in our cotton taants at Shilpakala and not fake-candid laughing at something random. But I also hate how these 10 years have changed us as individuals and thus our values and lives as well. I am so proud and often in awe of how you juggle between being a responsible daughter, sister, wife, mother and also an entrepreneur. You understand how important my ambitions, career wise, are, and have never given me grief over why I'm always at work. I also missed you a lot on the day of my wedding but I understand that Baby I is a handful. I can never forgive myself for missing his birth, but he shall forever be a piece of my heart because he is more than just a part you and a smidgen of his dad! Don't ever let me go!
TM, you came in my life in a time when I was just learning how to get back on my feet again. I was clueless, jobless and was glad to see a familiar face during the admission exam that we both had sat for. We went to the same school for years, yet we had never spoken, until at the ripe age of 28. I was adamant, that we had to be friends and look at us now! The last year hasn't been kind to you, but I have nothing but respect for your parents for having raised a responsible, loving, doting daughter like you. As a friend, you are my confidante, judgement free zone, and I am afraid that the day you get married, your Dad and I will stand in a corner, ball and wail in sadness, even before you enter the venue. I always look forward to our monthly confidence and morale boosting and venting sessions.
I never had to experience bullying until I got to university, that too at the hands of 3 very specific #meangirls. None of you ever thought twice before spreading rumours about how I dressed, to who I associated with, body, fat and slut shaming me on social media, and how it affected me. To all of you, I gift you my forgiveness. Undergrad days were hard for all of us. If any of you still wonder about me, knock me, because I know one or two of you are still on my social media just to keep tabs, for the sake of knowing if I'm failing in life or not.  
SA, I have never met someone with a heart as big as yours. All you ever see are your own flaws but I wish you could see yourself through my eyes. Kind, compassionate, thoughtful and a sense of snarky humour that takes everyone by surprise, every time! Almost all the saris that I now can say are mine, have a memory of you weaved into its threads, somewhere. Never let the world rob you of the goodness in your heart, protect it by all means, also write a book please! In 2020, I ask the universe to shower you with growth, happiness, love and endless cuddles from little purr babies.
NRR, we don't talk anymore, and I never told you why I cut you out of my life. You saw me love really hard and how it shattered my world. You saw me at what I thought would be my lowest lows, highest highs, and even witnessed my broken heart and its trillions of pieces heal again. In the midst of it all, I struggled to hold onto our friendship simply because I always knew being in your life meant always being reminded of past pains. Whether you agree or not, your hands were tied. That pain that led to the decision of having to end our friendship was one of the most agonising things I have ever done in the last 10 years, and it still lingers. I miss our stayovers and weird combinations of eating sausages with pickles. I wish you only the best in life and hope no one ever takes advantage of your amazing heart.
To my annoying friend, SMIS. I miss laughing with you, or us teaming up to bully others. To you, I will always be the devil incarnate, but to me you have always been someone I learnt the most from, work wise. I can always rely on you to pick out all my mistakes, throw them at my face, hurt my feelings, but somehow in the process, still manage to always drill the message through that there's only one way to go and that is up. I am grateful to have seen your caring side, while comforting me during some of the toughest times of 2018.
I was planning on not giving into the stupid craze of looking back at the 'decade gone' social posts, until the better half did exactly that with a midnight post, but took it a step further by mentioning how 2019 was all about my witty one liners that are still a phone call away, whenever he needs them. Thus, I make the exception of including him in this list. Dear A, we've known each other for half of the last decade, you taught me how to love and trust again and to never fear taking the plunge. Your sense of humour is annoyingly entertaining, to my trusty co-captain, "I miss you too."
Photo: Collected