Seasonal pickles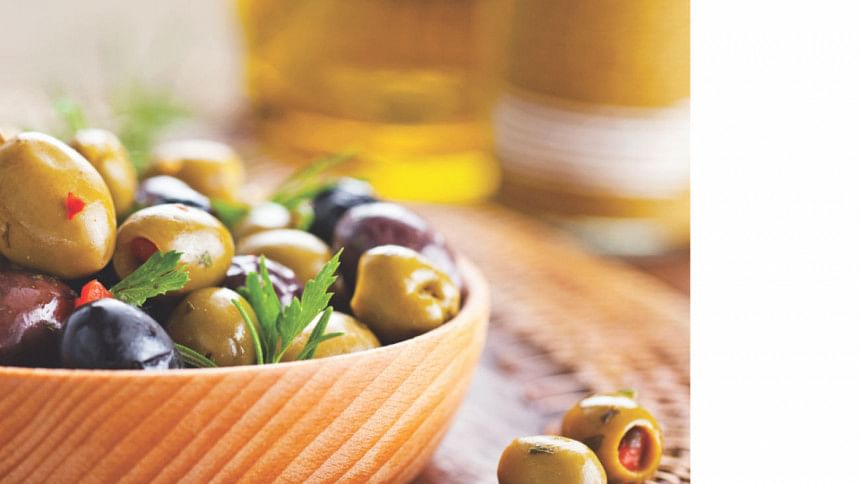 The kitchen bazars are now flooded with a variety of fresh vegetables. To make best use of them while they last, pickling them is a good option. The following are quite simple, hassle free preparations (although not necessarily made from winter vegetables) and will last a long time with proper preservation.
Smash Red chilies pickle
Ingredients
500gm ripe red chillies
150gm fresh tamarind
50gm salt (approximately)
1 tbsp turmeric powder
1 tbsp salt
50gm garlic paste
1 tsp roasted fenugreek seed powder
4 tbsp oil, 1 tsp mustard seed
1 tsp cumin seed, 1 tsp black gram
1 tsp Bengal gram
2 pieces dried red chilli
8-10 curry leaves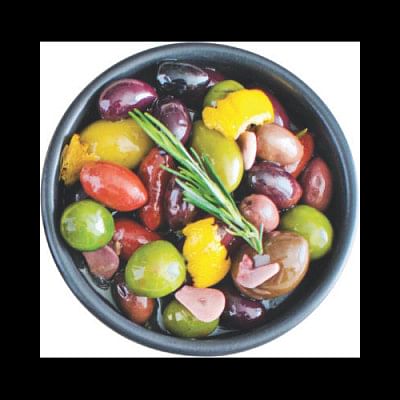 Method
Rinse thoroughly the chillies, take them into a plate. Keep them under sun light until you find no traces of water. It takes around 15-20 minutes. Now they are clean and dry. Remove the stalks. Take fresh tamarind, remove the fibers, shells and seeds. Take a clean dry plastic or glass container. Arrange the tamarind as a layer at the bottom. Roughly chop the red chilies. Take red chillies into chopper and make into a coarse paste. Grind them in batches. Add salt and mix well. Now add chopped red chillies as a layer on tamarind. Sprinkle turmeric powder and a teaspoon of salt over it. Cover the container tightly, and leave it for 2-3 days. After 3 days tamarind will become soft because of the moisture in red chillies. After 3 days separate the red chillies layer from tamarind and keep aside. Now take the tamarind into a grinder, and add garlic paste and make into a fine paste. Then mix together the tamarind paste, chillies paste and fenugreek powder with the help of a spoon. (Taste the pickle, add salt if necessary). Now put the combined mixture into a grinder, and run the mixer for just two second. Store in refrigerator and take small portion of the pickle whenever you want. Step-2: You can also, in a pan, heat some oil and when it starts smoking, add mustard seeds, cumin seeds, split Bengal gram, black gram, dried red chilies and fry until they stop spluttering. Add curry leaves and add some prepared red chilies pickle. Mix well and serve.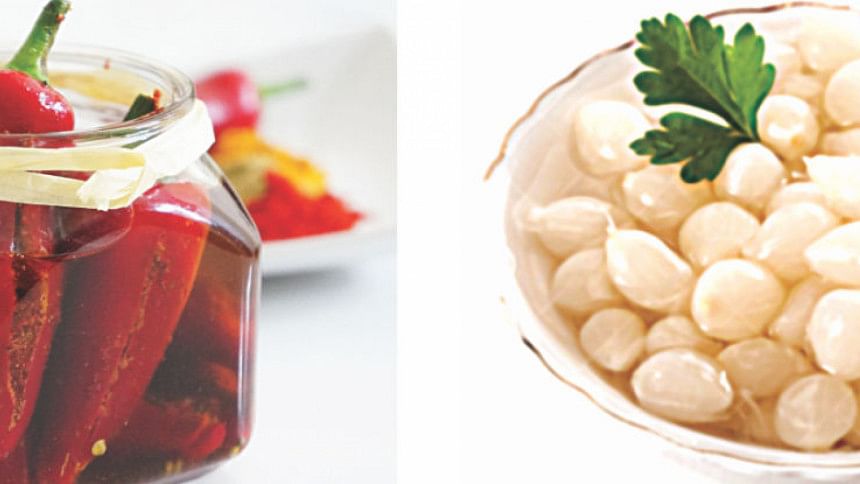 Onion pickle
Ingredients
4 tbsp mustard oil
8-10 green chilies slit
2 inch ginger (round slice)
8-10 garlic clove crush
½ tsp asafetida
1 tsp mustard seed
300 gm small size onion whole
1½ red chilli powder
½ tsp fenugreek seed
½ tsp dried mango powder
½ tsp turmeric powder
1 tbsp salt
4 tbsp vinegar
2 tbsp sugar
Method
Heat mustard oil in a non stick pan till smoke point. Then turn off the heat. Add asafoetida and mustard seeds and when it splutters, add the green chillies, ginger and garlic. Cook on high heat for 2-3 minutes. Add onion and sauté. Add red chilli powder, fenugreek powder, dried mango powder, turmeric powder, salt and sugar. Mix them well. Turn off the heat, add the vinegar and mix well. Transfer into a glass bottle and use as required.
Garlic pickle
Ingredients
300gm garlic
200gm vinegar
2 pieces dried red chilli
½ tsp mustard seeds
50g sugar
8-10 pieces peppercorn
Method
Peel the garlic cloves. Fill sterilised jars full of garlic. Add red chilli. Pour the vinegar into a pan, add sugar, mustard seeds and peppercorn. Stir to help the sugar dissolve. Boil for two minutes. Then pour the vinegar over the garlic. Pop on a lid and tuck in after a fortnight. They will last for up to a year.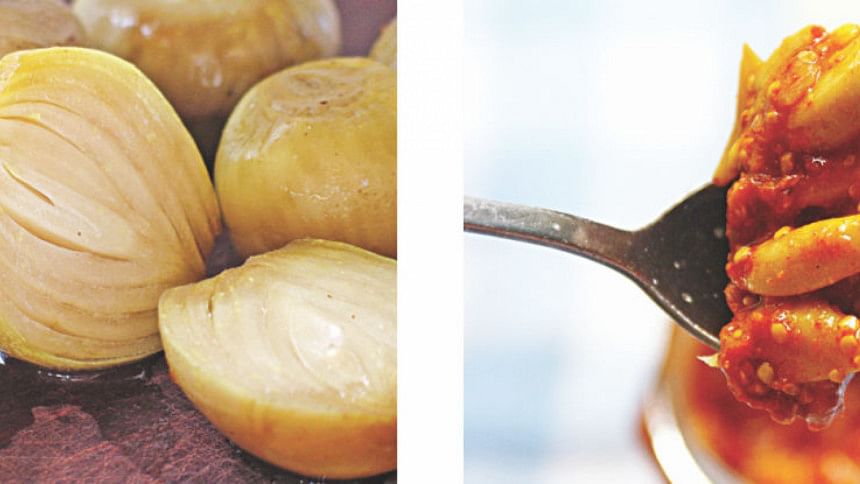 Marinated olives
Ingredients
1kg preserved green olives
500gm preserved black olives
2-3 garlic cloves, crushed
1 chilli chopped
1 tsp dried oregano
1 large piece fresh ginger(cut into thin strips)
1 tsp black peppercorn
1 tsp fennel seeds
3-4 strips of lemon rind (cut into small pieces)
Large quantity of extra virgin olive oil
Method
In a bowl mix the garlic, chilies, ginger, oregano, fennel, peppercorn and lemon rind together. Add the olives and coat them with the marinated mixture. Place the olives in sterilised jar and pour olive oil to cover the olives. Keep for a couple of days before eating. They should keep for a week in cool and dry place.
Photo: Collected