Savouries on the side
KEEMA POTLI
Ingredients
1 cup flour, 2 tbsp semolina
Salt to taste
¼ cup ghee
For stuffing —
2-inch ginger; 3 to 4 green chillies
2 tbsp oil (to deep fry springs)
1 tsp cumin seeds
400g mince beef/chicken
1 tsp chilli powder; 1 tbsp coriander powder
1 tsp cumin powder; ¾ cup yoghurt
1 tsp garam masala
A few fresh coriander leaves
Method
Knead together flour, semolina, salt and ghee with warm water to make stiff dough. Keep covered for thirty minutes. Divide the dough into twenty balls. Chop green chillies and coriander leaves. Heat two tablespoons of oil in a pan and add cumin seeds. Then add mincemeat and sauté till half cooked. Add a little water, as required, to prevent charring.
Add chopped ginger, green chillies, red chilli powder, coriander powder, cumin powder, and salt and mix well. Cover and cook on low heat for 15 minutes. Then add yoghurt.
Cook on high heat for 10 minutes, stirring continuously. Cook till the mince is fully done and completely dry. Sprinkle garam masala and coriander leaves and mix well. Cool.
Divide into 20 portions. Roll the dough balls into small puris (3-inch diameter). Place a mince portion in the centre. Apply a little water, a little away from the edges and shape like a hollow ball. Seal by pressing them, or bring the edges together, tie the ball with cooking vine.
Heat sufficient oil in a pan and deep fry the mince balls on medium hot oil till golden brown. Serve with chutney.
Note: To make cooking vine, blanch spring onion greens in hot water for 5 seconds and refresh in iced water. Then drain on towel and wipe dry and use it.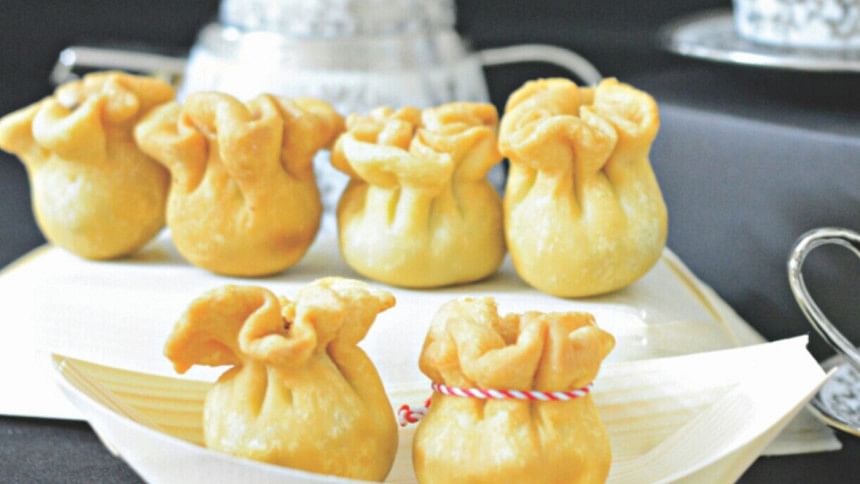 PANCAKE MONEY BAG
Ingredients
For the pancake money bag —
125g flour
2 eggs, 120ml milk
Salt to taste
30g butter, melted
30g blanched and pressed spinach, roughly pureed
For the stuffing —
100g diced chicken breast
10ml olive oil, 5g chopped garlic
25g white onions
100g button mushroom, diced small
50g grated cheese
50ml fresh cooking cream
5g chopped parsley
Method
To make pancake, whisk together flour and eggs in a large mixing bowl. Gradually stir in the milk and 120ml water. Then fold in the spinach puree and mix well. Add salt and butter, beat until smooth. Adjust batter consistency. Heat a greased griddle and prepare thin pancakes.
For chicken and mushroom stuffing —
Sauté chicken with olive oil, garlic and onions. Add mushroom, cook until water evaporates. Add cream and cheese. Season and add parsley. Set aside. Lay pancakes on a flat surface and stuff with chicken-mushroom stuffing, bring the edges together, tie the money bag with the cooking vine and serve with dipping sauce.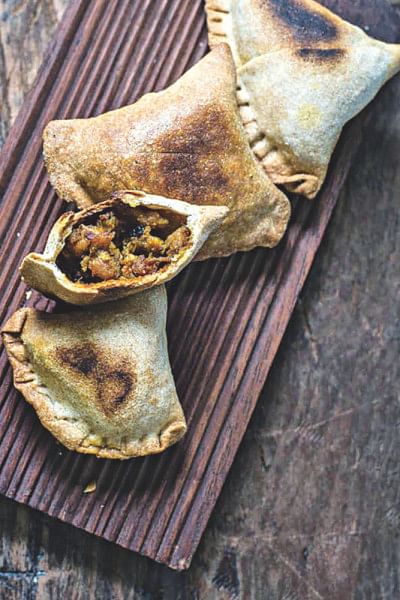 STUFFED PEPPERS
Ingredients
1 large red bell pepper
1 cup cooked short-grain rice
200g mince beef, 1 tomato, chopped
1 tbsp olive oil
2 cloves garlic, crushed
1 onion, chopped
¼ cup fresh basil, chopped
¼ cup fresh parsley, chopped
Salt and pepper to taste
Method
Preheat oven to 180 degree C. Cut bell pepper, remove seeds, and the inside. Cook the rice. Heat oil in a frying pan and fry onion for 5-8 minutes, or until golden. Add garlic and cook for 1 minute. While you are frying the onions, mix tomato, basil, and parsley into the rice. Season with salt and pepper. Add onions once they are done. Spoon the filling into the peppers and place on a baking tray. Bake for 30 minutes, or until the peppers are soft and the filling is golden brown.


SMOKY FISH KABAB
Ingredients
300-400g fish (pomfret/king fish)
16 pieces stuffed olives
16 pieces baby onions
2 medium sized tomatoes, 2 tbsp oil
Marinade —
1-inch piece ginger, 3 tbsp lemon juice
1 tsp crushed peppercorn
Salt to taste, 2 tbsp brown sugar
Method
Clean and cut fish in fillets (boneless flat pieces). Wash fish fillets and cut into one inch sized cubes. Peel baby onions. Cut tomatoes into halves, deseed and further cut into one inch sized cubes. Grind ginger to a paste. Mix lemon juice, crush peppercorn, salt and brown sugar. Marinate fish cubes, tomato cubes, and baby onions in this for an hour. Skewer onto a toothpick or satay stick the marinated cubes in this order: fish cube, baby onion, stuffed olive and tomato cube.
Arrange toothpicks on a wire rack and cook on grill top and bottom for eight-ten minutes. Baste with boil and cook on grill top and bottom for four minutes more. Serve immediately.
Photo: Collected