The perfect formula for those perfect dinners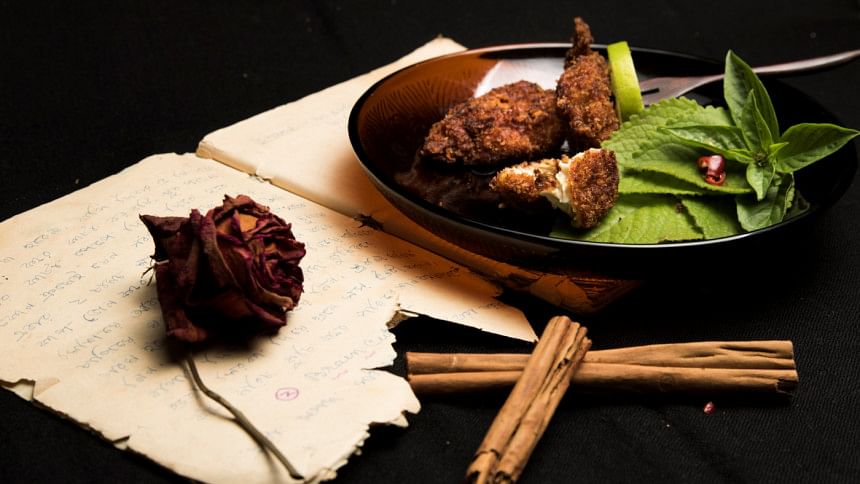 CHICKEN BREASTS WITH BABY VEGETABLES
Ingredients
4 chicken breasts
3 tsp butter
1 tbsp olive oil
8 small onions (cut half)
2 cups chicken stock
12 baby carrots
8 baby turnips (shalgam)
2 bay leaves
8 baby potatoes
½ cup baby fresh peas
Salt and pepper
Method
Cut deep slashes through the chicken at intervals, and sprinkle with salt and pepper. Heat the butter and oil in a wide sauce pan, add chicken breasts and onions, and fry, turning for 3-4 minutes until golden brown. Add the stock and bring to boil, then add the carrots, turnips, and bay leaves. Reduce the heat, cover and simmer gently for 20 minutes.
Stir in the peas and cook for further 5 minutes. Check if the chicken and the vegetables are tender and the juices of the meat run clear when a skewer is inserted into the thickest part of the meet. Remove and discard the bay leaves, adjust the seasoning to taste and serve with new boiled baby potatoes. You can use any kind of vegetables like, sweet potato chunks, sweet corn, beans, or whatever you have in hand.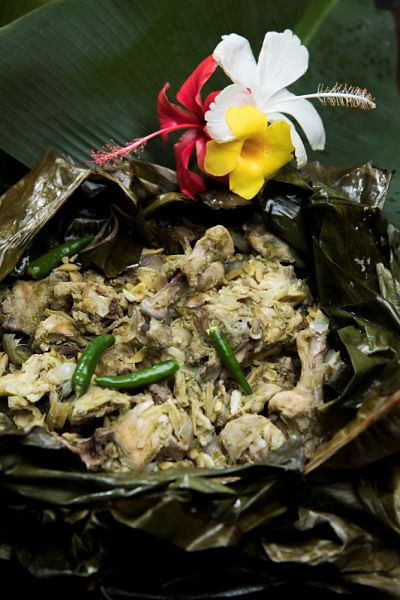 PRAWN SHASHLIK WITH APPLE SAUCE
Ingredients
12-16 prawns, medium size
1 tsp curry powder
1 tsp pepper corn crush
Salt to taste
2 tbsp lemon juice
2 medium size capsicum
2 medium size tomatoes
2 medium size onions
2 tbsp oil
For apple sauce —
1 medium sized onion
1-inch piece ginger
2 medium sized green apples
1 tbsp lemon juice
1 tbsp oil
1 bay leaf
2 tsp curry powder
¼ tsp white pepper powder
Salt to taste
Method
Peel, devein, wash and pat dry prawns. Marinate them in curry powder, crushed pepper corn, salt and lemon juice and refrigerate until required. Wash, halve, deseed capsicums and cut into 1-inch sized square pieces. Wash and cut tomatoes into quarters, deseed and cut each quarter into two. Peel, wash and cut onions into quarters, and separate onions segments. Mix capsicums, tomatoes and onions pieces with marinated prawns and refrigerate for 15-20 minutes. Skewer the marinated prawns and vegetables on an eight-inch wooden skewer. Heat a non-stick pan, brush with a little oil and place the skewer prawns. Cook them on medium heat, turn occasionally, for 5-6 minutes, or till prawns are just done. Serve hot topped with apple curry sauce.
For apple sauce
Peel, wash, and roughly chop onions and ginger. Wash, core and roughly chop green apples. Mix the apples with lemon juice to prevent discolouration. Heat oil in a non-stick pan, add bay leaf, chopped onions, and ginger. Stirring continuously, for 3-4 minutes, or till it turns brown.
Add chopped green apples with one cup of water and boil. Reduce heat and simmer for 5-6 minutes, or till the apples are cooked and soft. 
Add curry powder, white pepper powder, and salt to taste. Cool, remove the bay leaf and purée the apple mixture.
Pass it through a sieve and keep warm.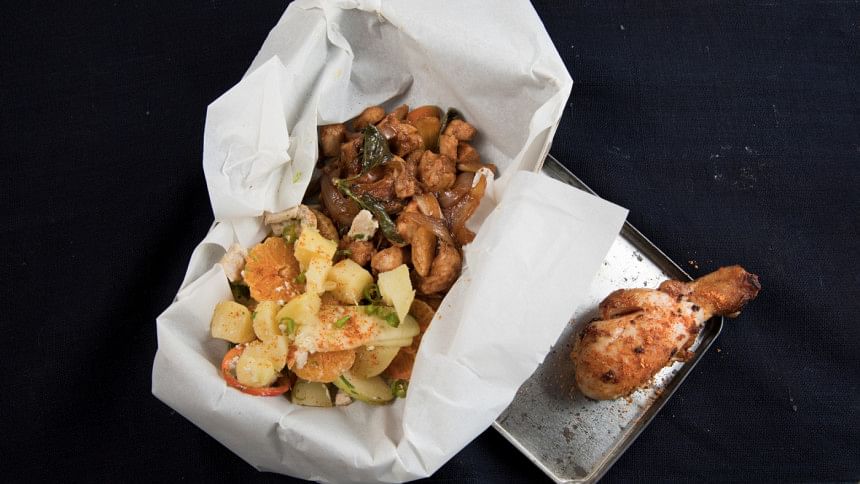 SWEET and SPICY FISH
Ingredients
750g pomfret
1 tsp turmeric powder
2 medium size onions
4-5 green chillies
1 tsp cumin seeds
1 tbsp coriander seeds
1-inch piece ginger
8-10 cloves garlic
1 cup coconut scraped
8-10 whole red chillies
5 cloves
2 pieces of cinnamon
2 tbsp vinegar
2 tbsp oil
3 tbsp tamarind pulp
Salt to taste
Method
Clean, wash, and slice fish into half-inch thick slices. Marinate the fish with salt and turmeric powder for 15 minutes. Chop onions finely, slit green chilies into half. Dry roast cumin and coriander seeds. Grind coconut, red chillies, cumin and coriander seeds, ginger and garlic, cloves, and cinnamon with vinegar.
Heat oil in a pan, add onions, sauté till golden brown. Add ground coconut masala and cook on high heat for 2-3 minutes, stirring continuously.  Add 3 cups of water and bring it to a boil. Stir in slit green chillies. Place marinated fish slices gently into the gravy and simmer for 5 minutes.
Stir in tamarind pulp, dissolved in half a cup of water. Add salt and cook on low flame for 5 minutes. Serve hot with steamed rice.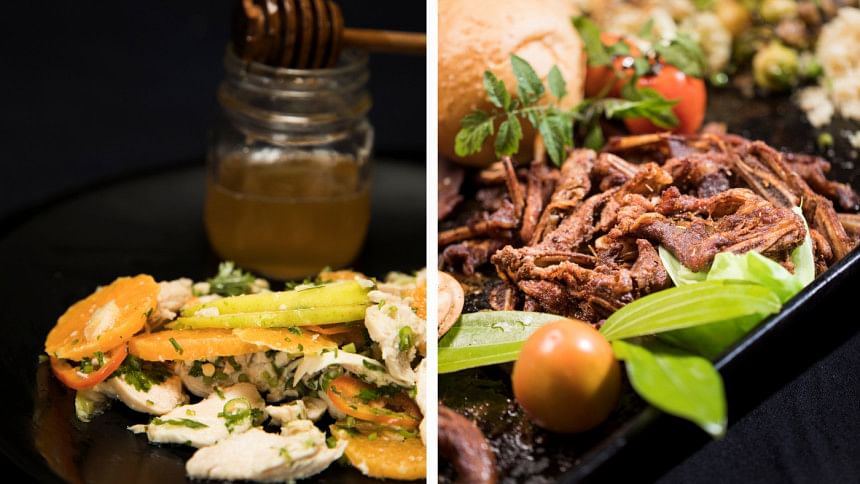 CREAMY APPLE CHICKEN
Ingredients
2 tbsp plain flour
4 chicken legs
1 tbsp olive oil
2 tbsp butter
1 large onion, sliced
1 cup chicken stock
1 cup apple juice
2 tsp whole grain mustard
5 tbsp cream
2 red apples (cored and thickly sliced)
Salt and pepper, as required
Chopped fresh parsley, to garnish
Mashed potatoes to serve
Method
Spread out the flour on a plate, and season well with salt and pepper. Toss the chicken legs in the seasoned flour, shaking off any excess. Heat oil and half of the butter in a large frying pan. Fry chicken legs over a high heat, turning occasionally, for 10 minutes, until golden brown all over.  Add the onion and fry for 1-2 minutes. Pour in the stock and the apple juice, then cover and simmer for 30 minutes, until the chicken is cooked through, and the juices run clear when a skewer is inserted into the thickest part of the meat.
Remove the chicken from the pan, cover and keep warm. Bring the liquid in the pan to boil and boil rapidly until reduced by one third. Stir in the mustard and cream, and simmer for 5 minutes until the sauce thickened. Heat the remaining butter in a small frying pan and fry the apple slices for 2-3 minutes, until tender and golden. Transfer the chicken and fried apples to plates, pour over the sauce and garnish with parsley.
Serve immediately with mashed potatoes.
Photo: LS Archive/Sazzad Ibne Sayed