Savoury chaats for chilly evenings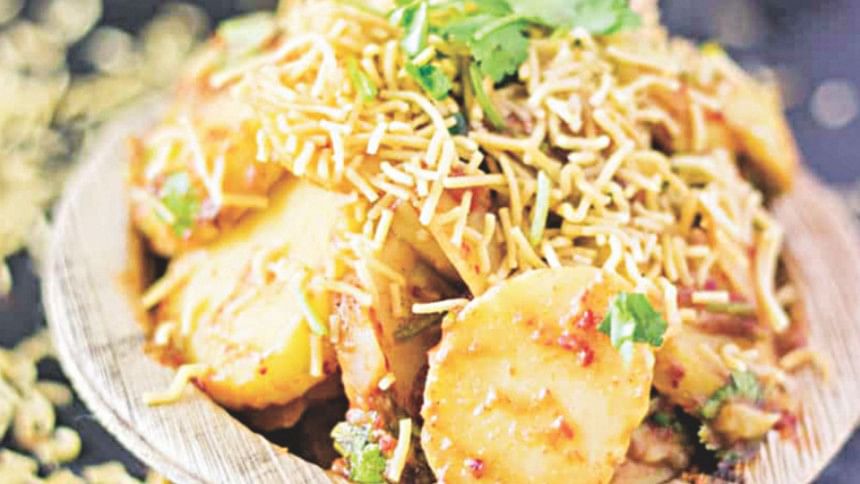 ALOO/PAPRI CHAAT
Ingredients
3 cups water
½ kg potato cubes
½ tsp salt
For tamarind chutney
½ cup water
½ cup tamarind
¼ tsp salt
½ tsp red chilli crushed
½ tsp ginger powder
½ tsp cumin powder
1 tbsp sugar
1 tsp corn flour
3 tbsp water
Mix spice
1 tsp roasted and crushed red chilli
1 tsp roasted and crushed cumin seeds
½ tsp black salt
Salt, if required
Assembling #1
½ tsp red chilli crushed
1 large onion chopped
2-4 green chillies, chopped
3 tbsp lemon juice
Assembling #2
Whisked yoghurt, as required
Tamarind chutney
Spice mix
Sev (available in markets)
Papri (follow my recipe below)
Chaat masala, Green chilli
Method
In a pot, add water, bring it to boil, add potatoes, salt, mix and boil until tender; strain and set aside.
For tamarind chutney
In a pan, add water, tamarind, and mix. Add salt, red chilies crushed, ginger powder, cumin powder, sugar and mix well. Dissolve corn flour in water, mix well and add it in pot and mix, cook for 1-2 minutes. Remove tamarind seeds and set aside.
Mix spice
In a bowl add crushed red chilli, crushed cumin, black salt, and mix well. Mix spice is ready for chaat.
Assembling #1
In boiled potatoes add salt, red chilli crush, chopped onion and green chillies, and lemon juice and mix well.
Assembling #2
In a serving bowl, add potatoes, yoghurt, tamarind chutney, special spice mix, sev, papri, yoghurt, chaat masala, green chilli and serve.
HOMEMADE PAPRI
Ingredients
3 cups plain flour
½ cup ghee/oil
1 tsp salt
1 tsp ajwain/caraway
1 tbsp corn flour
Water, as required
Method
First mix all dry ingredients into flour and mix well. Now add oil and mix it nicely. It seems like crumbs in the end. Now add water gradually in it and make dough. 
Apply some oil in the bowl and few drops on the dough and cover it with a damp cloth. Rest it for 30 minutes. Now make 3 to 4 balls, as you like. Roll it and spread it as much as possible. It should be 1/8 inch thick.
With the help of cookie cutters or a glass, make round pellets of dough and prick them with a fork. Heat oil in a wok and fry them on medium low flame. Place a strainer in a dish and put them in it after frying and cool them down to room temperature.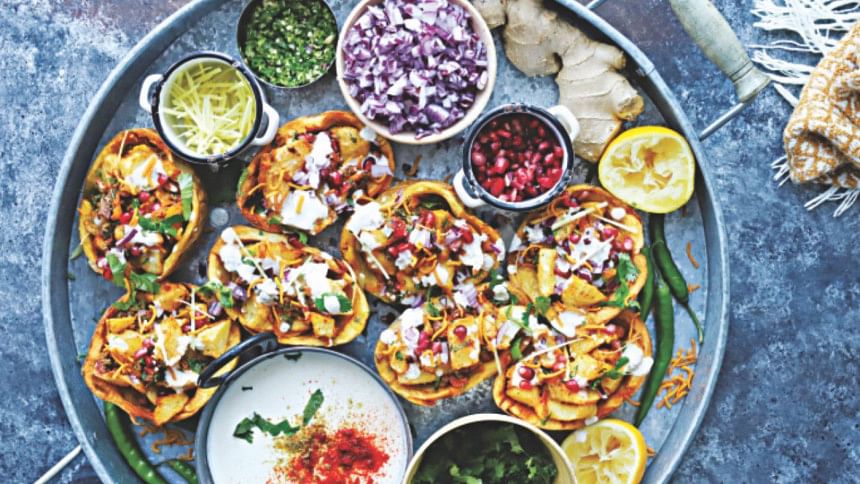 ALOO MASALA CHAAT
Ingredients
3-4 pieces medium potatoes, boiled, peeled and quartered
1 tsp oil
1 tsp cumin seeds
1 inch ginger, chopped
2 green chillies, chopped
2 tomatoes, chopped
2 tsp lemon juice
1 tsp red chilli powder
1 tsp cumin powder
1 tsp coriander powder
2 tbsp fresh coriander leaves, chopped
Salt, to taste
Sev, for topping
Method
Heat oil in a pan, add cumin seeds and sauté, add ginger and sauté for a minute. Add green chillies and mix. Add tomatoes, mix and cook till it turns pulpy. Add lemon juice, chilli powder, and salt, mix and sauté for a minute. Add ½ a teaspoon of cumin and coriander powder, mix and cook for 2–3 minutes. Remove from heat and set aside. Take potatoes in a bowl, add chaat masala, remaining cumin and coriander powder, and add cooked masala and one teaspoon coriander leaves and mix well. Transfer the chaat on a serving plate. Top with sev and coriander leaves and serve.
ALOO CHANA CHAAT
Ingredients
½ bunch chopped mint
1 bunch chopped coriander
1 tbsp red chilli powder
2 green chilli, chopped
1 onion chopped
½ cup garbanzo (kabuli chana) boiled
2 potatoes (boiled and cut them into pieces)
1 tsp lemon juice
Salt to taste
2 tbsp sweet tamarind chutney
3 tbsp pomegranate seeds
1 tsp cumin powder
Method
Take a bowl, add potatoes, kabuli chana, chopped onions, chopped green chillies, red chilli powder, chat masala powder, chopped coriander, mint, lemon juice, salt, sweet tamarind chutney, and add pomegranate seeds, add freshly roasted powder of cumin seeds, mix all together and serve.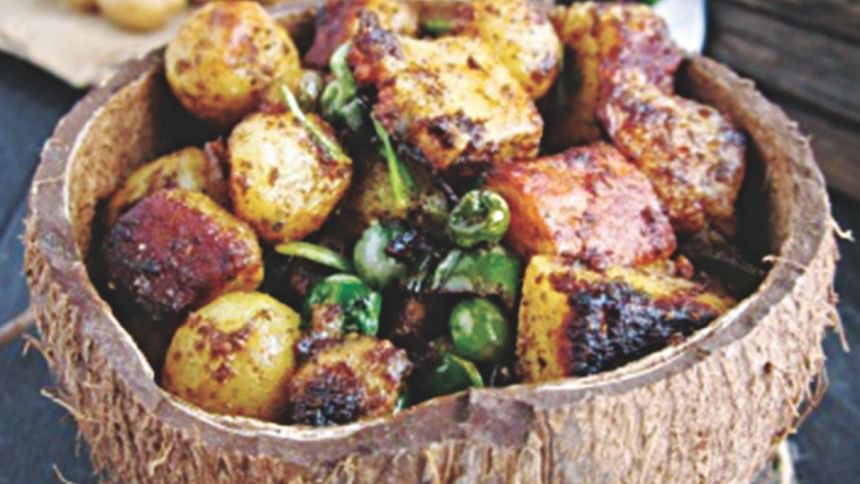 CHATPATA ALOO
Ingredients
24 baby potatoes, boiled and peeled
2 tbsp coriander seeds
16 black peppercorn
1 tbsp cumin seeds
1 tsp fennel seeds
5 Kashmiri dried red chillies
1 tbsp oil
½ tsp asafoetida
½ tsp nigella (kalonji)
1 tsp white sesame seeds
1 tbsp chopped garlic
1 tsp red chilli powder
¼ tsp turmeric powder
1 tsp dried mango powder
1 tbsp coriander leaves for garnishing
½ tsp chaat masala
Salt to taste
Method
Grind together coriander seeds, peppercorns, cumin seeds, fennel seeds, and red chillies to a fine powder. Heat oil in a pan, add asafoetida and mix. Add nigella seeds and sauté for a minute. Add sesame seeds and garlic, mix and sauté till fragrant. Add potatoes and toss. Add chilli powder, turmeric powder, and dried mango powder, toss to mix and cook for 2-3 minutes.
Add the prepared powder and mix well. Add some water, mix and cook till it dries. Add coriander leaves, mix and cook for a minute. Add salt and chaat masala and mix well. Garnish with coriander leaves and serve hot.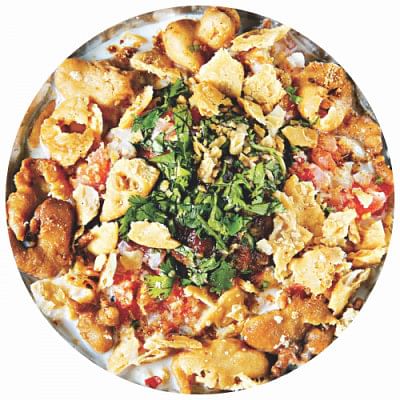 ALOO TIKKI CHAAT
Ingredients
1 onion, finely chopped
½ capsicum, finely chopped
½ carrots, finely chopped
½ cup boiled green peas
3 boiled mashed potatoes
½ tsp raw mango powder
½ tsp gram masala
½ tsp ginger chili paste
 ½ cup chopped coriander leaves
1½ tbsp corn flour
Salt to taste
For topping
Chilled churned yoghurt
Tamarind chutney
Coriander mint chutney
Cumin powder
Red chili powder
Sev
Method
Heat oil, add onion, capsicum, green peas, carrots, and sauté and quickly stir fry the vegetable. Remove from heat and let it cool. In a bowl, add mashed potatoes, salt, mango powder, garam masala powder, ginger chilli paste, coriander leaves, and cooked vegetables and corn flour and mix everything well.
Apply oil to the hands, make a round shaped tikki from a portion of the potatoes mix. Deep fry the aloo tikki in medium hot flame till the tikkis are nice golden brown.
Place the tikkis in a plate and apply churned yoghurt, tamarind chutney, coriander mint chutney, cumin powder, pinch of salt, red chilli powder, sev from top and the aloo tikki are ready to serve.
FRIED ALOO CHAAT
Ingredients
2 large potatoes
Oil, for frying, ½ tsp chilli powder
1 tsp roasted cumin powder
1 tbsp chaat masala
2 tbsp chopped onion
4 tbsp tamarind chutney
2 tbsp mint chutney, 4 tbsp curd
1 tbsp lemon juice
Handful mint leaves
Salt to taste
Method
Wash potatoes. Without peeling, cut them into large chunks. Heat oil and deep fry them till they turn crisp on the outside and soft and cook from the inside. Remove the hot potatoes into a bowl and all remaining ingredients and mix well and serve.
Photo: Collected