Chicken for a change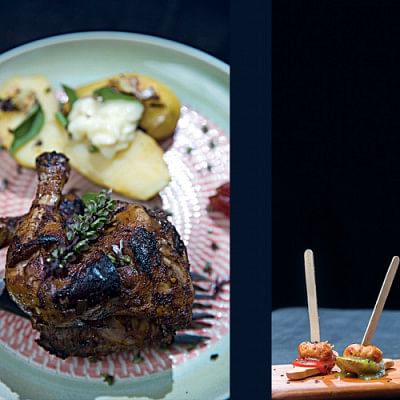 CREAMY CHICKEN SOUP
Ingredients
3 tbsp butter
4 pieces onion, chopped
500g skinless, boneless chicken breast
2½ cups chicken stock
1 tbsp fresh parsley, chopped
1 tbsp fresh thyme, chopped, and extra sprigs to garnish
2 tbsp double cream
Salt and pepper
Method
Melt butter in a large saucepan over medium heat. Add onions and cook, stirring for 3 minutes, until slightly softened. Add chicken, stock and herbs, and season to taste with salt and pepper. Bring to boil, then reduced heat and simmer for 30 minutes until the chicken is tender and cooked through. Remove from the heat and leave to cool for ten minutes. Transfer the soup to a food processor or blender and process until smooth.
Return the soup to the rinsed-out pan and warm over low heat for 5 minutes. Stir the cream and cook for an additional 2 minutes, then remove from the heat and ladle into warmed serving bowls. Garnish with thyme sprigs and serve.
CHICKEN AVOCADO CHIPOTLE SOUP
Ingredients
2 litre chicken stock
2-3 garlic cloves, chopped
2-3 dried chipotle chillies, thinly chopped
1 avocado
½ lime juice
3-5 springs onions, thinly sliced
500g skinless, boneless boiled chicken breast, torn into bite sized pieces
2 tbsp fresh coriander, chopped
1 lime, cut into wedges, to serve
Method
Place the stock in a large saucepan with the garlic and chillies and bring it to boil. Cut avocado in half around the stone. Twist apart, then remove the stone with knife, dice the flesh and toss in the lime juice to prevent discoloration. Arrange the spring onions, chicken, avocado and coriander in warmed bowls. Ladle hot stock over and serve immediately with lime wedges.
CHICKEN WALNUTS SALAD
Ingredients
3 pieces skinless, boneless chicken breasts
1 bay leaf
125g walnuts, halved
½ cup mayonnaise
2 tbsp lemon juice
1 tbsp yoghurt
3 large apples, cored and cut into 1" chunks
150g green or red seedless grapes, halved
75g celery thick sliced
1 -2 pieces lettuce
Salt and pepper
Method
Place the whole chicken breast, bay leaf and ½ teaspoon of salt in a saucepan. Add enough water to cover. Cook over medium-high heat until simmering. Reduce the heat to low, cover and cook for 10 minutes, until the chicken cooks through. Remove the chicken from the heat and leave to cool. When ready to serve, cut into 1-inch cubes.
Preheat the oven to 180° C, arrange the walnuts on a baking sheet and bake for 8 minutes. Leave to cool on a chopping board, then roughly chop and put aside. Put the mayonnaise, lemon juice, yoghurt, and salt and pepper to taste into a large mixing bowl. Whisk to combine thoroughly.
Use a spatula to fold in the apples, grapes, celery, walnuts and chicken, mixing well until evenly coated with the dressing. Arrange a few lettuce leaves on each plate and spoon the salad over the top. Serve immediately.
RED CHICKEN SALAD
Ingredients
4 pieces chicken breast
2 tbsp Thai red curry paste
2 tbsp vegetable oil
175g Chinese cabbage, torn into large pieces
½ cabbage, shredded
2 onions, chopped
2 garlic cloves
1 tbsp rice wine vinegar
2 tbsp sweet chilli sauce
2 tbsp soy sauce
Method
Slash the flesh of the chicken several times and rub the curry paste into each cut. Cover and marinate in the refrigerator overnight. Heat a wok over high heat, then add 1 tablespoon of oil. Add chicken breasts and cook for 5-6 minutes, turning once or twice until the chicken cooks thoroughly. Remove from the heat, set aside, and keep warm.
Heat the remaining oil in the wok and stir fry the Chinese cabbage and cabbage until just wilted. Add onions and garlic, and stir fry until just tender but not browned. Add the vinegar, chilli sauce and soy sauce. Remove from the heat. Arrange the Chinese leaves on four serving plates. Slice the chicken, arrange on the salad leaves and drizzle the hot dressing over. Serve immediately.